2016 Top Training Fins Compared
2016 Jun | By SwimOutlet.com Staff

TRAINING FINS REVIEWED:
Arena Powerfin Pro
Aqua Sphere Alpha Swim
FINIS Edge
Speedo Nemesis
Speedo Breaststroke
TYR Burner
Swimmers use fins for many different reasons, to work on our technique, to hone our speed, to loosen up on recovery sets and, most importantly, to socially kick with friends!
When you are purchasing a pair of fins it is important to keep several things in mind: first and foremost, you want to buy a pair of fins that are comfortable enough to wear for long periods of time; next, you want a pair of fins that will not only help you to make improvements in your best strokes, but also to help you work on your weaknesses or inefficiencies. I have tested six very different pairs of fins that are all available at SwimOutlet.com.
This review highlights what I liked best about each of them during my week of testing in early June 2016, listed in alphabetical order. For other reviews I've done, check out my Open Water Goggles Review and Snorkel Comparison Test.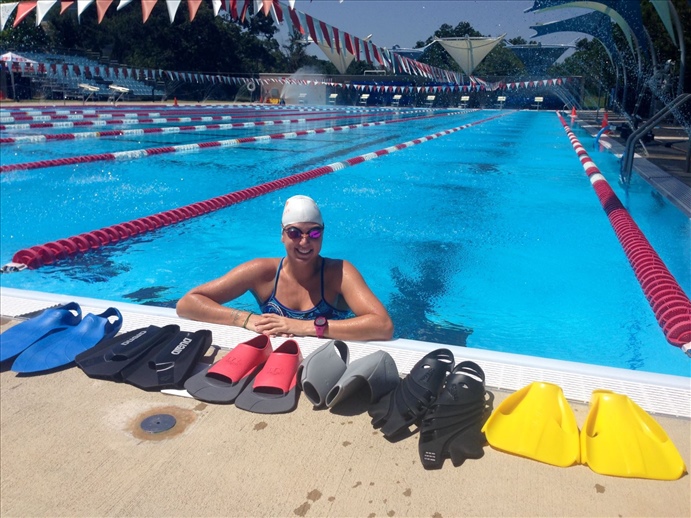 ARENA POWERFIN PRO SWIM FINS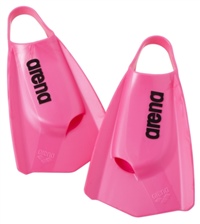 Size: 10-11
For the Powerfin, I tried on size 10-11. The Powerfin was definitely the firmest fin of the bunch, they did not have much give while I was kicking or swimming. A firm and non-forgiving fin is a great option for a sprinter. As a sprinter you want a fin that immediately responds when you kick your feet so that you can get up on top of the water to swim with a big motor behind you. These fins run small though, so I would suggest going up at least one size.
Pros: Quick response when kicking.
Cons: They run small.
AQUA SPHERE ALPHA SWIM FINS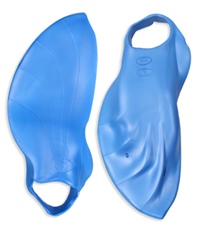 Size: L
I reviewed these in a size Large. While these Aqua Sphere fins look strange and could probably double as an Aquaman costume accessory during Halloween, they are very comfortable to swim in. They were the most buoyant fins of the group! My feet were effortlessly floating on the surface of the water while I was swimming. These fins are a great option for someone whose legs tend to sink or for a triathlete who has tired legs from training and struggles to keep their kick going throughout the entirety of a workout.
Pros: Very bouyant.
Cons: They are really foamy and soft so not as powerful while kicking.
FINIS EDGE FIN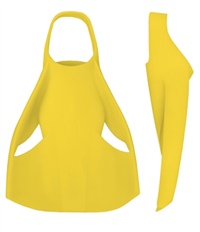 Size: L
The Finis Edge fins were not only very comfortable (I reviewed a size L) but I love their design. The fins have full coverage on the top of your foot, but leave an opening on the bottom of the fin for your toes to grip the water. This open toe hole gives you enhanced proprioception – or more simply, awareness of your body movement – and forces you to focus more on the up and down portion of the kick. This fin is a great option for any swimmer trying to even out their kick. I am calling all you IM'ers, distance freestylers, butterfly and backstroke specialists who must emphasize the up-kick just as much as the down-kick.
Pros: Works a different range of muscles, specifically the hamstrings.
Cons: Shorter fin length.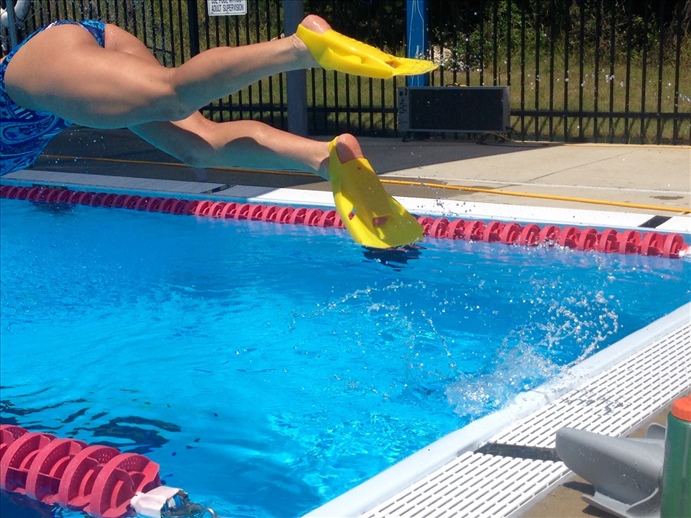 SPEEDO NEMESIS SWIM FINS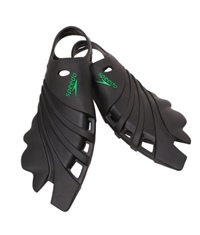 Size: XL
Speedo never lacks innovation when it comes to their product line and the Nemesis fins are no exception. I tried their XL size in this fin. While they may look weird on dry-land they have a purpose in the pool. The Nemesis fins are comfortable, buoyant and have a unique minimalistic heel cage design. Because these fins cover very little of the bottom of your foot and heel they are a great option for anyone who may get cramps while kicking with fins. These fins also force you to use your hamstrings, which can be a hard muscle for many swimmers to target in the pool, I highly recommend trying them out!
Pros: Unique design.
Cons: A little worried about fin durability but would need a few months to know for sure.
SPEEDO BREASTSTROKE SWIM FINS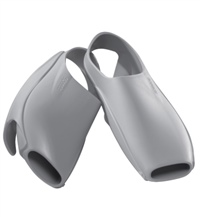 Size: L
I was excited to test out the Speedo Breaststroke fins (large size), because I have never worn a pair before and I used to be a breaststroke specialist. These fins do not disappoint. They are very comfortable and are very effective at improving your breaststroke kick. It is essential for breaststrokers to have strong inner and outer thighs in order to have a powerful kick and these fins force you to strengthen those muscles without hitting the gym. They are also helpful in reminding you to completely close each kick in order to get the most out of every stroke revolution.
Pros: They target specific breaststroke leg muscles.
Cons: This is not a pair of fins you want to overuse.
TYR BURNER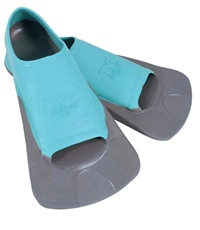 Size: L
The TYR fins are the most basic and traditional looking fins that I reviewed this week. I tried on a size large. They are super soft, very flexible and they mould really well to your feet. They look and feel just like a zoomer fin because of their short front end. These fins are a great option for a long distance swimmer looking for a little extra support from their kick at the end of a long set. They are also a great choice for beginner swimmers just getting used to wearing fins while swimming.
Pros: Super comfortable.

Cons: No high tech features.
Win the swim fins of your choice from the fins above. Just tell us in the comments below what set you like to use fins for and you will be entered. One entry per person, winner selected at random. Entries close 11:59pm on July 8.
Top Training Fins Compared 2012 – The Gangloff Review
 
TRAINING FINS REVIEWED:
FINIS Zoomers Gold Swim Fins
Speedo Biofuse Training Fin
TYR CrossBlade Training Fin
Sporti Training Swim Fins
HEAD Swimming Energy Swim Fin
Arena Tech Fin
Hi guys, Mark Gangloff here! Welcome to my first product comparison post! I thought hard about which review I would like to do first, and decided to start with fins for several reasons. My primary reason is that fins are probably my favorite piece of equipment. It is very difficult to create high speeds during training and putting on fins instantly gives you that speed you are looking for. Also, during longer swims, I believe it helps you maintain better form throughout the course of a set or workout.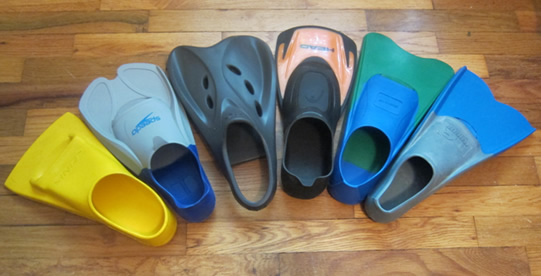 In this review, I have decided to focus on the "Training Fin" or what can be considered a "short fin." I train with these fins not only because of the additional speed that I mentioned earlier, but also because using the Training Fin allows for a very natural kicking motion. Often times with a longer fin, you cannot maintain the same kicking frequency that you can with a Training Fin. The training fin gives me the additional speed I am looking for without getting too far away from what my kick will be when the fins are taken off.
Below are the fins I ordered, with my favorite fins at the top of the list. Please understand that everyone wants to get different qualities out of their fins, so read each review to pick the best Training Fin for you. Let's get started!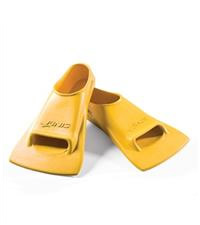 Fit
FINIS has been making Zoomers for a long time and there is a good reason for that. You know what you are going to get out of these fins: it is a very high performing, comfortable fin. The first question almost everyone asks when trying on a fin is, "Will this fin fit correctly?" My answer is "Yes." The fit of the fin is snug, but not too tight. FINIS has done a great job at making the "rubber" firm enough to kick fast with, but not too hard as to hurt your feet. As you will see in other reviews, this is not an easy task.
Performance 
These fins are probably the shortest fins in the group. Still, when you start kicking with them, they are going to give you some nice propulsion. Probably the best part about these fins is that when you start putting some torque on them, they stay on your heels. The other major reason I like these fins is because you can move your feet fast with them. The reason these fins are on top of my list is they best fit my goals of giving you speed, while staying true to what the kick will be when you take the fins off.
The only other thing to be mindful of is that these fins are not going to be the best for longer more endurance sets when your kicking frequency is slightly lower. You may want to look for a longer blade if that is the case.
Pros
Comfortable, true to size, great foot speed
Cons
Not the best for longer sets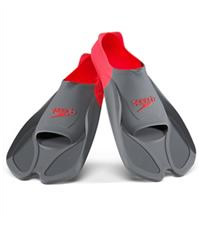 Fit 
I was pleasantly surprised when I put these fins on for the first time. The fit was very good. While I know this is not a review for the Speedo Optimus Training Fin, I do have to mention it. In the past I have tried to use the Optimus and while others I swam with did get the fit right, I could not. The XL was too tight and the XXL would slip off my heels when going fast. I say all of that to applaud Speedo for adjusting the sizing with the Biofuse Training Fin.
Performance 
As a whole, these fins fit great. Like the Zoomers, the fit is snug but not too tight. When you want to go fast, the fin is firm enough to give you a quick response yet small enough to keep kick frequency high. I like these fins because the blade is slightly longer than the Zoomers, so they are better for sets that are a little longer.
I went back and forth on which fin to put first. But ultimately, I chose the Zoomers because the rubber on the toe portion (see picture below) of the Biofuse is very hard.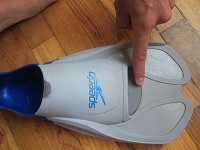 My first three toes hung over the edge of that hard rubber and it began to hurt my feet when I pushed off the walls. Now this was easily taken care of. It took me about 5 minutes with a nail file, but I took down the sharp edge and it was no problem after that. All-in-all, a very good fin.
Pros 
Longer blade, true to size
Cons
Plastic is hard/sharp, may need to be filed down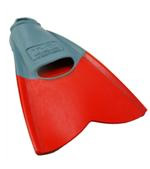 Fit
When I first put this fin on, it was pretty tight. Now I will say, I wear a size 13 shoe and the largest size on SwimOutlet's website is size 11-13 so I am at the top of this range. I would agree with many of the SwimOutlet customers' reviews that you may have to go up a size, especially if you are at the top end of the size range. 
Performance
Though the fin was tight it did perform well when I started using it. This fin has the longest blade of all the fins I am reviewing, so it does hold a lot of water when kicking. The rubber is very firm from the toe to mid-foot (see picture below).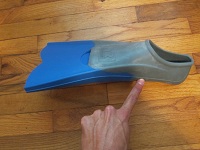 From mid-foot to the heel, the rubber is much softer. This is the best -- and the worst -- thing about this fin. Because the rubber changes so drastically, the fin lags behind when you kick down by bending at the interchange of the two rubber densities. Simply put, the fin bends in the middle when you kick down.
If you are a swimmer that does a lot of lower speed and longer sets, then this may be a great choice for you. If you are doing a lot of high intensity and shorter bursts of speed, then this may not be the fin for you. Because of the training I do, I like my fin to be a little bit more responsive and not have as much lag / bend when kicking down. Take into account the type of training you will be doing and remember you may have to size up. 
Pros
Long blade, good for longer set
Cons
Too small, not great at very high speeds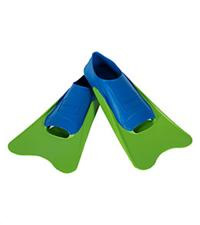 Overall, I would say this fin is very similar in size to the TYR CrossBlade. 
Fit
But there are a few differences that I would like to point out. First, the sizing (11-13) on the Sporti fin was much better for me, being that I am at the top of the size range. The other main difference is that the rubber density does not have the same break or change in the mid-foot area like the TYR Crossblade.
Performance
Again, this is the best and worst thing about the Sporti Training Fin. If you want a fin that is responsive for shorter and faster bursts of speed, then I would choose this fin. There is no lag when you start kicking very fast. But if you want something for longer and slightly slower efforts, then the TYR Crossblade may be for you.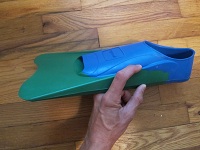 Even though the Sporti Training Fin fits my training style well, the hard rubber on the Sporti does come up too high (see picture to right) on the sides of your feet. Over time, this did give me a little bit of discomfort on the sides of my feet. This is probably the fastest fin in this entire group, but its overall comfort has knocked it down the list.
Pros
Great at high speed, true to size 
Cons
Not the most comfortable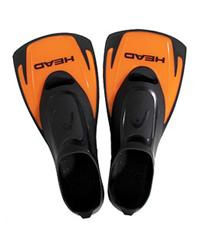 Fit
A couple of the customer reviews on SwimOutlet's website mentioned that the Head Swimming Energy Fin fit a little large. So even though I wear a size 13 shoe, I decided to order size 11-12. I am glad I choose the size that I did, because these fins fit very well for me. It is probably a good idea to size down.
If I were to compare these fins to any of the others that have come before this one, I would say they are closest to the FINIS Zoomers. Head has done some interesting things with these fins that I have not seen before. When you slide the fins on you are putting your foot into the rubber portion of the fin, which is very comparable to the Speedo Biofuse. But the actual blade and bottom of the fin is made of a plastic material. When looking at the pictures, the orange portion is plastic and the black portion is rubber (see pictures below).
Performance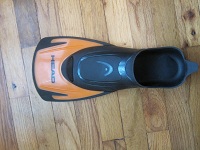 I am not sure if it is because of this plastic, but these fins seem to slip in the water when kicking at a slower pace. When I started kicking very fast, they seem to grip the water a little bit better and that may be the idea behind why they made them that way. For me, I prefer a fin that has a little more hold on the water, especially on the bottom of the fin.
During the up-kick (bottom of your feet), the Head Swimming Energy Fin didn't hold much water -- excuse the pun. When I look at these fins, I do see a lot of potential. The hard plastic mixed with the rubber makes sense to me. I will be interested to see if Head can make some adjustments upcoming versions. 
Pros
Innovative design, good for foot speed
Cons
Too large, does not hold much water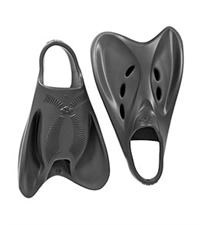 Are you someone that needs the latest and greatest technology? The Arena Tech Fin may be for you. To me, Arena is a brand that is always trying be ahead of the curve. This fin could be in a category all by itself. The design is different, the material is different, and the fit is different than any other fin I've tried.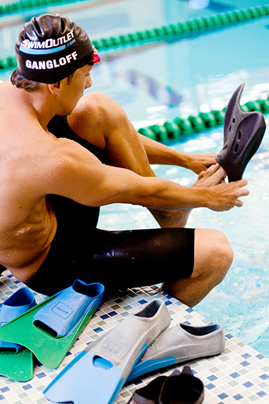 Fit
The first impression that you get from these fins comes when you hold them. When you hold them in your hand, they are as light as a feather. Needless to say, I was very intrigued to try them out.  Like with the Head Swimming Energy fins, the customer reviews on SwimOutlet's site said the Arena Tech Fin would run a little large. I ordered the size 10-12 and they fit pretty well, so consider sizing down. Unlike the other fins in this review, the Arena Tech Fin does not have a heel. Instead, there is a strap that goes around the back of the ankle. I would not consider this much of a positive or a negative -- just a difference.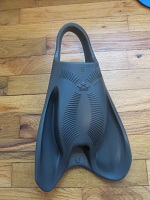 Performance
The material itself is similar to a pair of Crocs, which makes taking these fins on and off very comfortable. Unfortunately, in terms of performance this fin left me wanting more. I did not feel like I was kicking much water on the down-kick (top of your feet) and almost none on the up-kick (bottom of your feet). The bottoms of the fins have a lot of contours (see picture to right), which probably leads to a decrease in overall surface area. This means less water to kick. 
The other thing about these fins is they float – and boy, do they float. When I placed the fin on the water, it looked like it wasn't even touching the surface. I was pretty amazed. This floating leads you too feel your feet really coming out of the water as you swim.
I think this fin will appeal to the technology guru and the distance swimmer that likes to let their legs drag behind them (sorry distance guys, you know its true). Like with the Head Swimming Energy fin, I am excited to see where Arena takes this because they could be up to something great.
Pros
Innovative, comfortable
Cons
Too small, does not hold much water
Final Thoughts
This has been an interesting process for me to review several products side-by-side. I really figured out what I am looking for in a product. Please make sure to read all of the reviews, as each fin is a little different. I hope that I have helped you make the best decision for you and your training needs. Keep swimming fast. Good Luck!
- Mark Gangloff
About Mark Gangloff

Mark Gangloff is a two-time Olympian and Olympic gold medalist in the 4x100 meter medley relay at the 2004 Athens Olympics. He is the U.S. Open national record holder in the 100-meter breaststroke set in July 2009 in Indianapolis and attended Auburn University. He now works as an Assistant Swimming Coach at the University of Missouri. His large hand size is 8.5 inches from wrist to the top of his middle finger and 10.5 inches spread across from his thumb to pinkie.