12 & Under SwimOutlet Tech Suit Review
2021 Feb | By SwimOutlet.com Staff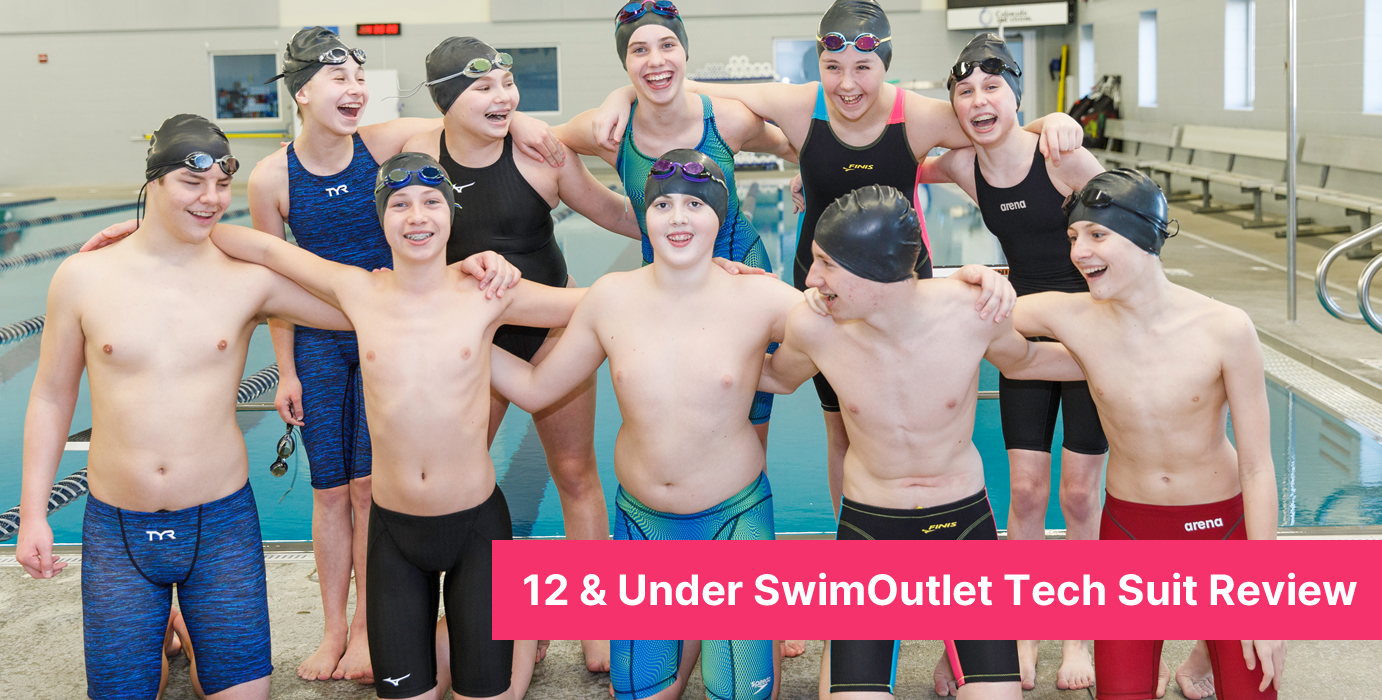 2021 Boys 12 & Under Tech Suits | Jump to Reviews | Shop Boys 12 & Under Tech Suits
arena Powerskin ST 2.0 - Review | Shop
FINIS Fuse Jr. - Review | Shop
Mizuno Stream Ace - Review | Shop
Speedo Vanquisher - Review | Shop
TYR Thresher Baja - Review | Shop

2021 Girls 12 & Under Tech Suits | Jump to Reviews | Shop Girls 12 & Under Tech Suits
arena Powerskin ST 2.0 - Review | Shop
FINIS Fuse Jr. - Review | Shop
Mizuno Stream Ace - Review | Shop
Speedo Vanquisher - Review | Shop
TYR Thresher Baja - Review | Shop

Note, If you are interested in reading our review on elite-level tech suits, visit our 2020 Tech Suit Review


Editor's Introduction
Thanks so much for checking out our 2021 12 & Under SwimOutlet Tech Suit Review!
This is the ninth year of the annual review and first-time ever we are working with an age group swim team and it's also the first year our reviewers have focused on 12 & Under compliant tech suits.
The main reason for the different format this year is the new USA Swimming rule change for younger age group swimmers. This rule change has led to a new category of race suits from the top brands geared towards 12 & under swimmers. 
You can read the full USA Swimming rules about 12 & Under legal suits here including a link to a list of compliant and non-compliant suits. Our own SwimOutlet introduction to the new 12 & Under Tech Suit Rules can be found here.
We hope you as the reader will find this a fun and useful way to learn about information while you are shopping for this category of racing suits.  



How the Review Process Worked
Our suit reviews featured 5 boys and 5 girls at the Mariemont Aquatic Club in Cincinnati, Ohio. They tested the suits between January 15-February 15, 2021 and scored each suit on a score of 1-5 (1-Unsatisfactory; 2-Satisfactory; 3-Good; 4-Very Good; 5-Outstanding) across six different categories for each suit: 
Fit

Looks + Design

Comfort + Ease to Put On

Materials + Fabric

Compression

Overall Impression
All of our swimmers were aged 11-14 and, as you can imagine, none are either professional swimmers or writers.  So even more critical than in years past is to view the review as just one tool in your race suit purchasing decision along with several other resources at hand: brand information, word of mouth, customer service feedback, past experiences with suits, sizing charts, suit videos and more.
And remember, everyone has different preferences for their suits and different body types meaning there are varying options and opinions for all the suits out there!
In the end, we want our 2021 12 & Under SwimOutlet Tech Suit Review to help swimmers with their suit purchasing decision.
We averaged the scores out for each suit by category and listed them for each. Please note, for the FINIS Fuse Jr., we dropped two sets of male and female reviews due to our reviewers being bigger than the youth size range (6-14) available in the Fuse Jr.
Thanks again for checking out the SwimOutlet Tech Suit Review -- enjoy the reviews, happy swimming & fast times!



12 & UNDER BOYS TECH SUIT REVIEWS
arena Boys Powerskin ST 2.0 Tech Suit
Price: $90

Fit 4.2

Looks + Design 3.6

Comfort + Ease to Put On 3.5

Materials + Fabric 4.0

Compression 3.5

Overall Impressions

4.1
The arena Powerskin ST 2.0 has been around for a few years now and is one of the staples in the arena line-up. It's a perfect suit to fill that 12 & under segment: affordable, fast and high-performance all blended into a very versatile suit.
This suit finished right in the middle of the pack among the boys' suit scores during our test but the overall enthusiasm for the suit appeared greater then the final average score. For fit, one reviewer noted that the Powerskin ST 2.0 "Felt exactly how a speed suit should fit!" while another wear-tester highlighted that "it pretty much molds to your body." One small criticism was the tightness around the leg holes, but another added "the suit fit well once I got it over my knees."
This suit can no doubt be worn by a variety of swimmers. "It's tight and slick, so I would probably recommend it for a sprinter," said one. Another felt it had more broad appeal based on its versatility: "I would recommend this for a competitive swimmer who is putting a lot of laps in or has back-to-back races and it's comfortable; in a meet, it won't move around and you can stay focused on the swim. It's versatile and would work for all strokes."
One of the suit's best category scores was the all-important "overall impression" score highlighted by two perfect 5's among the reviewers. It "makes me feel like I am gliding through the water," complimented one of the youngest reviewers in the bunch. Another pointed out that: "I feel confident because I feel like I look good in the suit." 
The strongest words came from one super-impressed 14-year-old who gave it a perfect five in the overall category: "it's the nicest suit I've ever worn. Of all the suits, it's the #1 for me." Now if that's not an exclamation point, we don't know what is!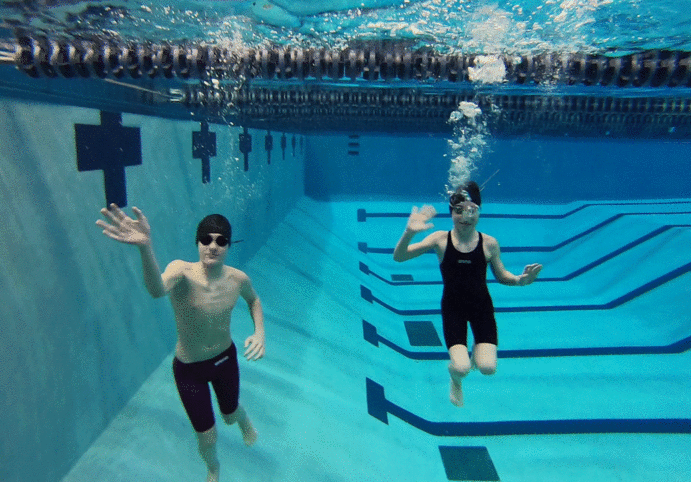 FINIS Boys Fuse Jr. Tech Suit
Price: $120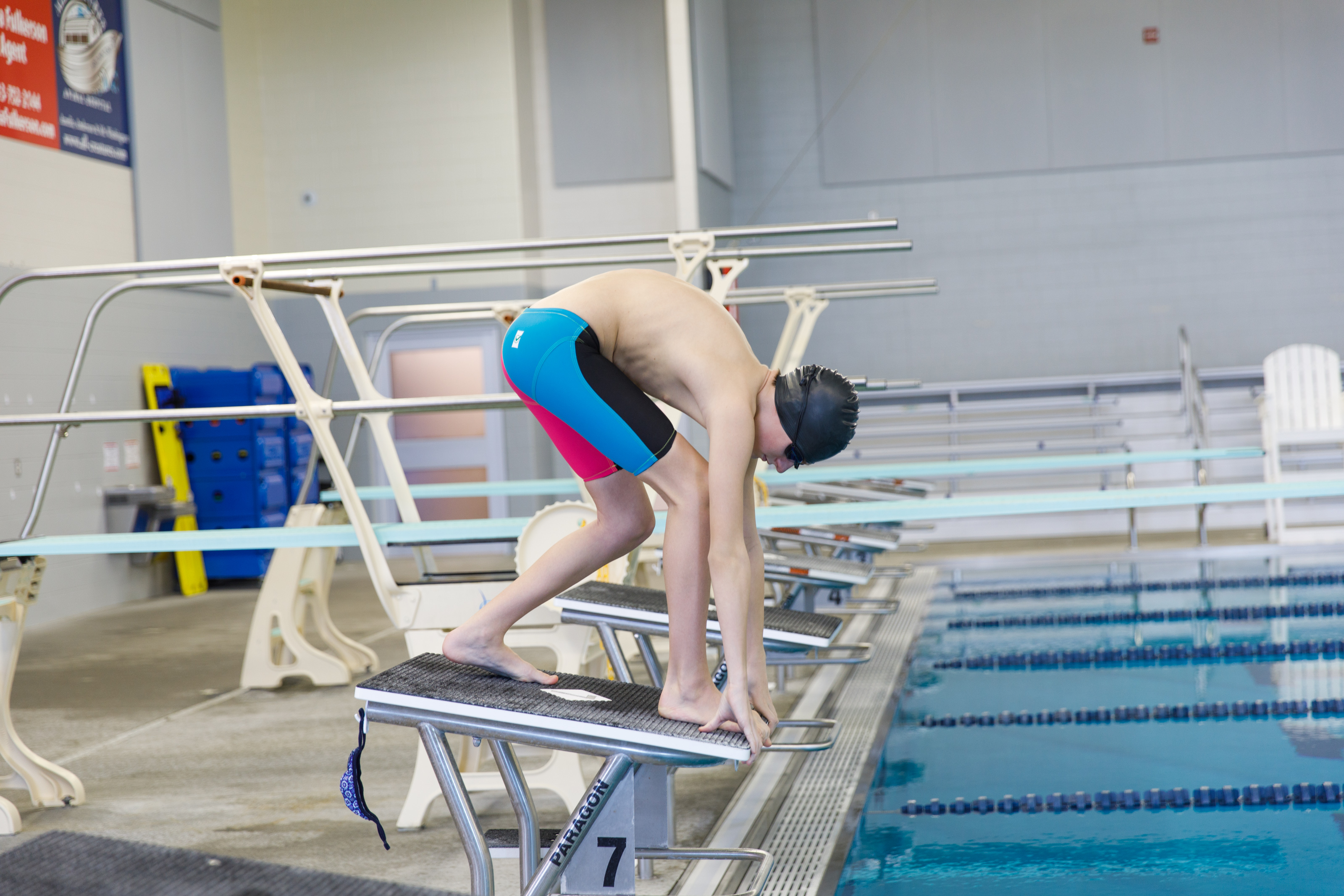 Fit 2.7

Looks + Design 3.3

Comfort + Ease to Put On 2.2

Materials + Fabric 3.2

Compression 3.9

Overall Impressions 3.2
This suit is the Jr. version of the bonded FINIS Fuse tech suit for swimmers older than 12. Designed with the intent of lasting a full season, the fabric is very durable, featuring hydro-reflective properties, flexibility, compression and UVA/UVB protection. Using the required stitched seams for swimmers 12 & under, it also uses silicone edges to provide a comfortable non-slip grip on the legs without limiting range of motion.
With Fuse Jr. sizing aimed at 12 & under and several of our reviewers a bit older, we did encounter some mismatches. Most important in the design of the Fuse Jr.  is that most swimmers under the age of 12 are not used to the fit and compression of a technical suit. [Editor's Note: Older swimmers spend 10–20 minutes to put on the tech suit and younger kids need to realize it might take them five minutes or more to properly put on a suit like the Fuse Jr.]
FINIS designed this suit with a fun combo of blue and pink color called Cotton Candy and one reviewer remarked "I really liked the colors and the compression of the suit," but did add "...everywhere except the waist." 
Several reviewers commented on difficulties with fit around the waist, mentioning it felt like the "suit was going to fall off" -- but in the end, the Fuse Jr. stayed on for everyone and the compressive qualities of the Fuse Jr. ended up being one of its strongest suits: "I would recommend this suit for a swimmer that wants their legs to be compressed as much as they can," said one of our wear-testers. "It makes me feel like my legs are the focus," added another.

This suit finished with several scores of 4 in the all-important compression category and perhaps this reviewer's final comment is the most important of all: "This suit made me feel like I was swimming so much better than in a regular suit." 
We asked FINIS about the tighter fit issues and they highlighted that they developed the Fuse Jr. to fit true to size, even using sizes 6 to 14 to make it easier for parents to relate to a size that might correspond with the swimmer's age. If the swimmer is of average size, the size and age would correspond but if the swimmer is larger or smaller than their age, they would adjust accordingly. 
In the end, if the fit works for you and you like leg compression in your suits, then the compression and durability of the FINIS Fuse Jr. might be exactly what you're looking for!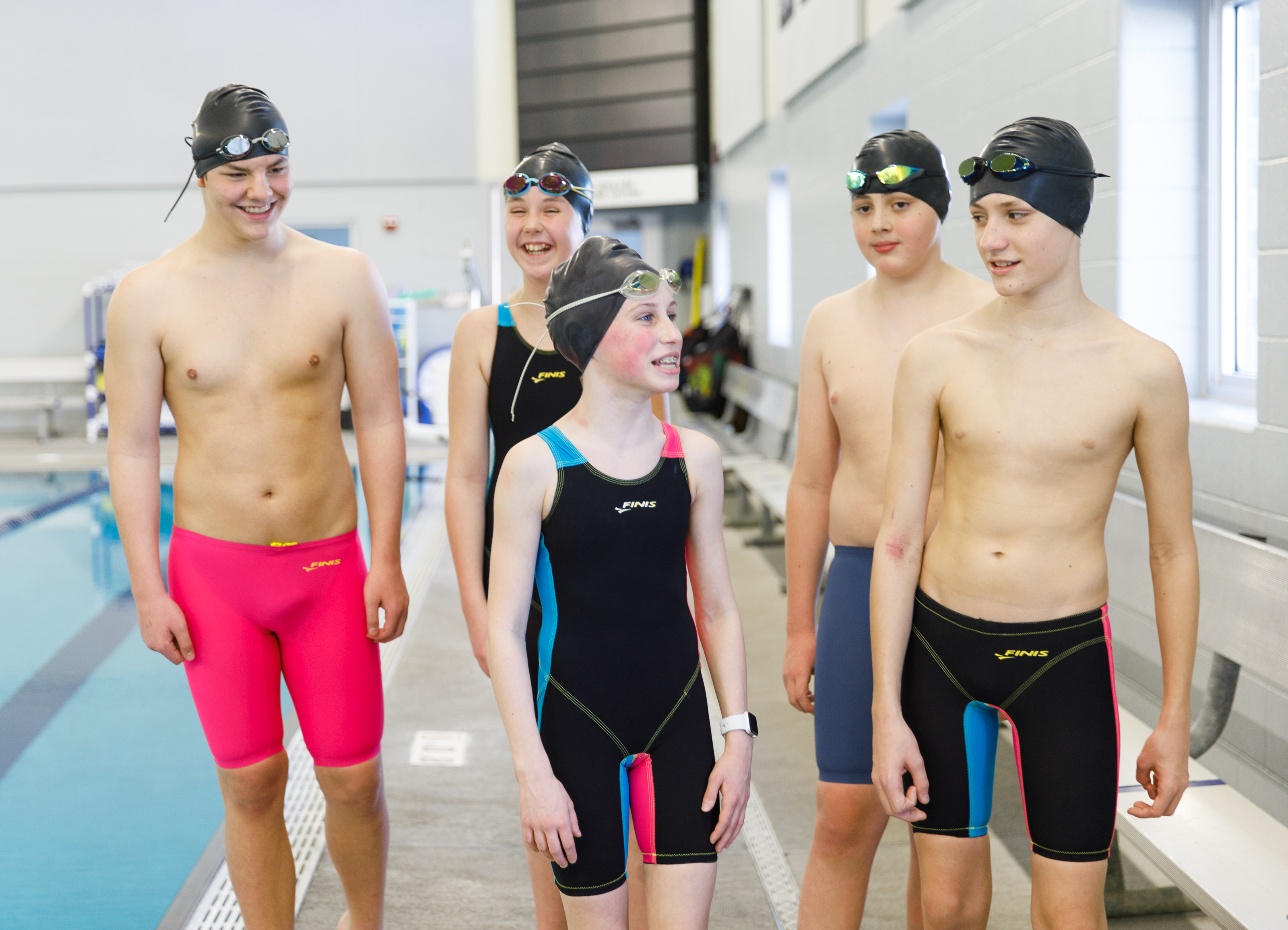 Mizuno Boys Stream Ace Tech Suit
Price: $80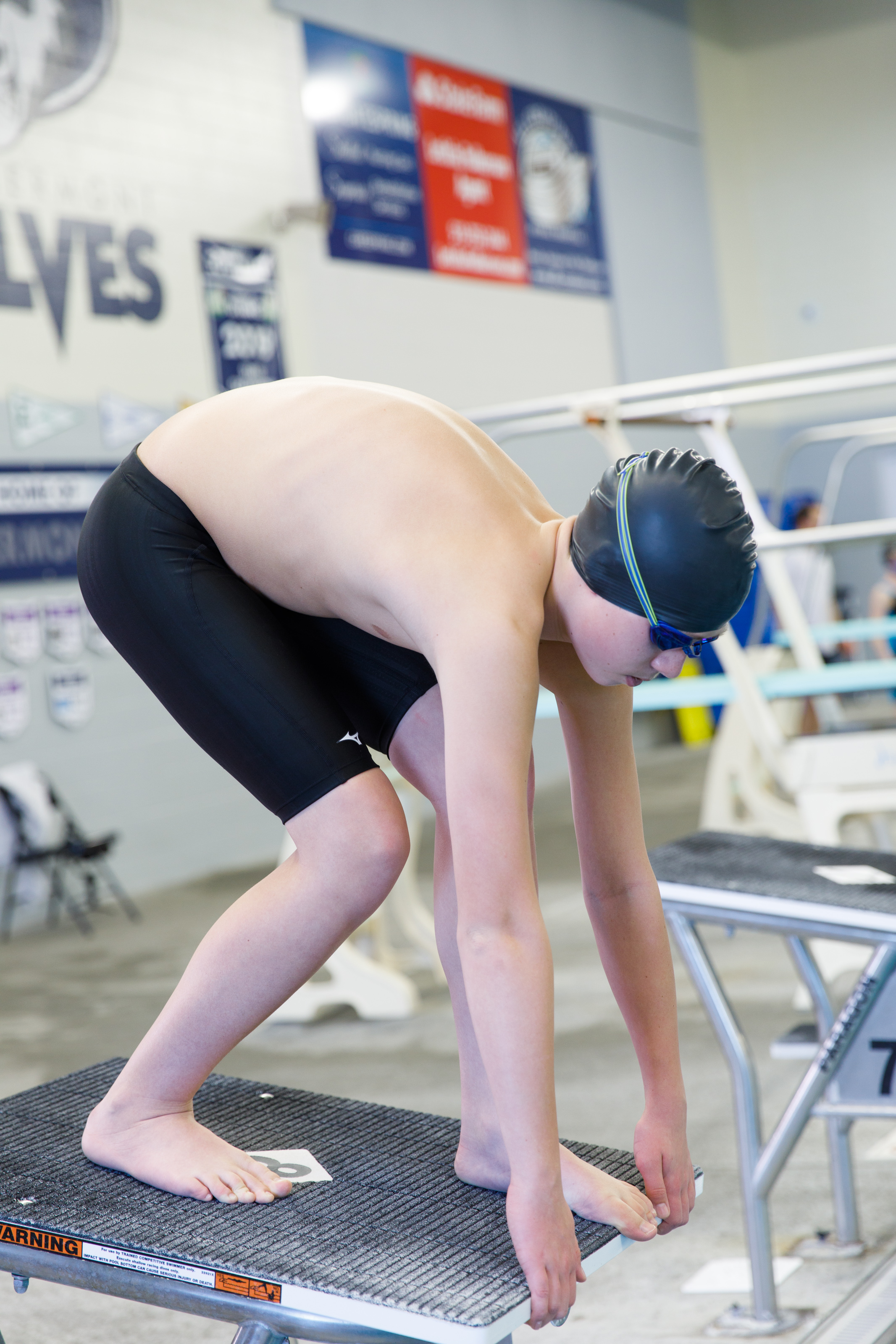 Fit 3.5

Looks + Design 3

Comfort + Ease to Put On 3.9

Materials + Fabric 4

Compression 3.3

Overall Impressions 3.6
Mizuno has really made a statement over the past half decade on deck at major events, especially on the men's side, with the roaring success of its signature Mizuno GX-Sonic line now into its fifth generation suit. The Japanese brand has just started introducing their mid-tier and training suits to the U.S. market, so we were excited to see the feedback on the Stream Ace which was launched in 2020.
Currently only available in all black, the Mizuno Stream Ace jammer not surprisingly scored a bit lower on "Looks & Design" without too much pizzazz there. But it notched it's best score in the "Materials" category with a 4, perhaps underscoring Mizuno's breakthrough into the elite ranks of racing brands with its top-rate fabrics. "I really liked the slick materials," noted one observer. 
Two reviewers noted that they loved the blend of compression AND comfort with both of them highlighting that this suit is "great for a breaststroker" and "I loved that when swimming breaststroke the suit is stretchy and flexible enough that swimming breaststroke is easy to perform." And sure enough, comfort was its second-highest category score after materials and fabric.
In the end, looks can be deceiving in a suit that seems to perform better than it appears at first glance: "When I got this suit I felt like this was just your ordinary suit, but when you put on the suit it feels compressed and comfortable."
If the brand adds the option for a pop of color, or an eye-catching print, then Mizuno could have itself another hit like its found with its GX-Sonic, especially in a category in which Mizuno is currently priced as one of the biggest values of the bunch.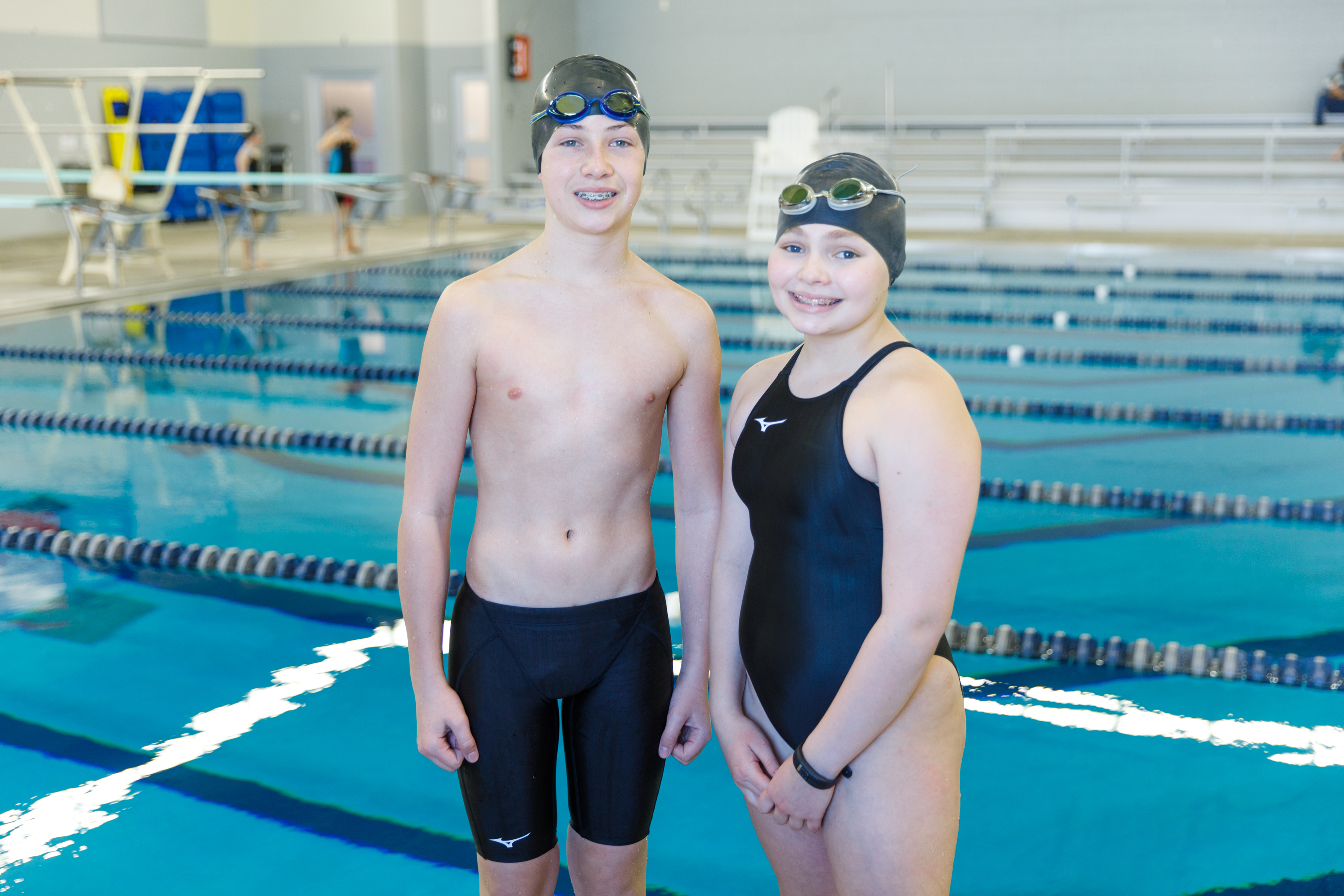 Speedo Boys Vanquisher Tech Suit
Price: $100-$110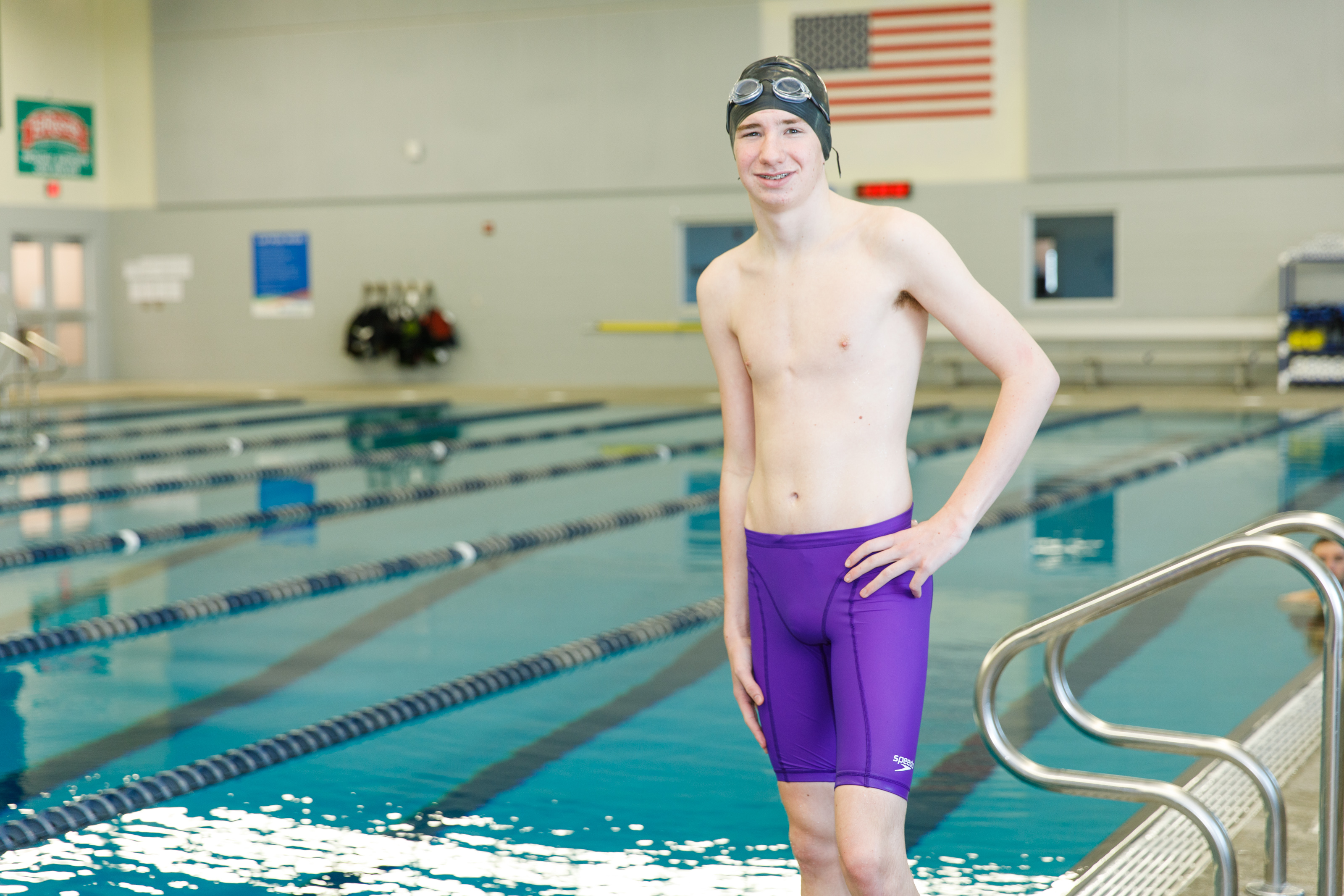 Fit 4.0

Looks + Design 3.8

Comfort + Ease to Put On 4.1

Materials + Fabric 4.0

Compression 4.1

Overall Impressions 4.3
As one of the brand leaders in the sport of swimming, it was no surprise that Speedo rolled out its new Speedo Vanquisher entry-level racing suit, which is 12 & under-compliant, around the time the new age group tech suit rule went into effect September 2020. Available in black, several colorways (purple and pink) and a psychedelic print that looks different up close then it does from afar, there are several options to choose from.
Its design was quite popular among our reviewers, combining performance and style all in one: "The one thing that I love best about this suit is the design, because it makes the swimmer stand out. This suit made me feel that I was going to win my race with style." One wear-tester noted that the suit not only made him feel fast but "cool" as well, but another reviewer countered that it "it was too bright for my taste."
Reviewers generally lauded the suit's versatility with most of them highlighting this suit as especially suited for longer distance swimmers: "I would recommend this suit for a mid-distance or distance swimmer," said one wear-tester. Another highlighted that "it's good for people who are in the water a lot because it fits comfortably, has the right amount of compression and I feel like it is well-made and will last long."
The Vanquisher doesn't have the sticky rubber material that grips around the leg holes that most racing suits do, which is a benefit for comfort but does set it apart from most of the jammers in this test.
No matter if you are a sprinter or a distance swimmer, this could be the suit for you: "Any swimmer could perform well in this suit and I liked the length where it hit on my leg." 
In the end, the Speedo Vanquisher overall is greater than the sum of its parts. All of its categories averaged between 3.8 and 4.1 average scores except the all important "Overall Impression" where the Vanquisher notched an even higher 4.3, tying it with the TYR Thresher Baja for the best Overall Impression score among the boys suits.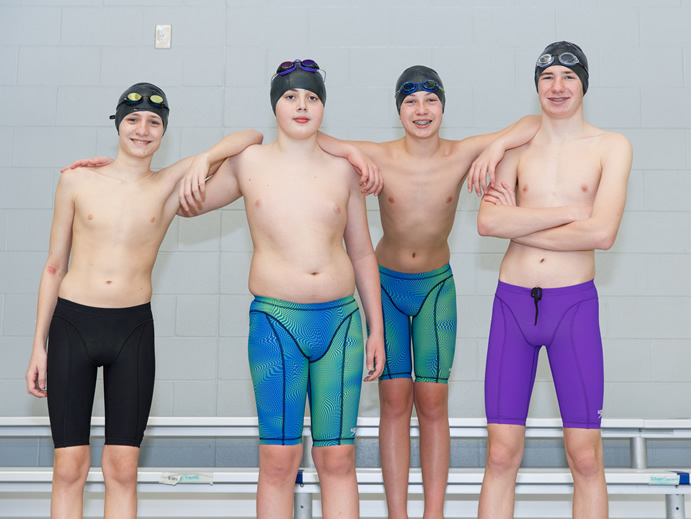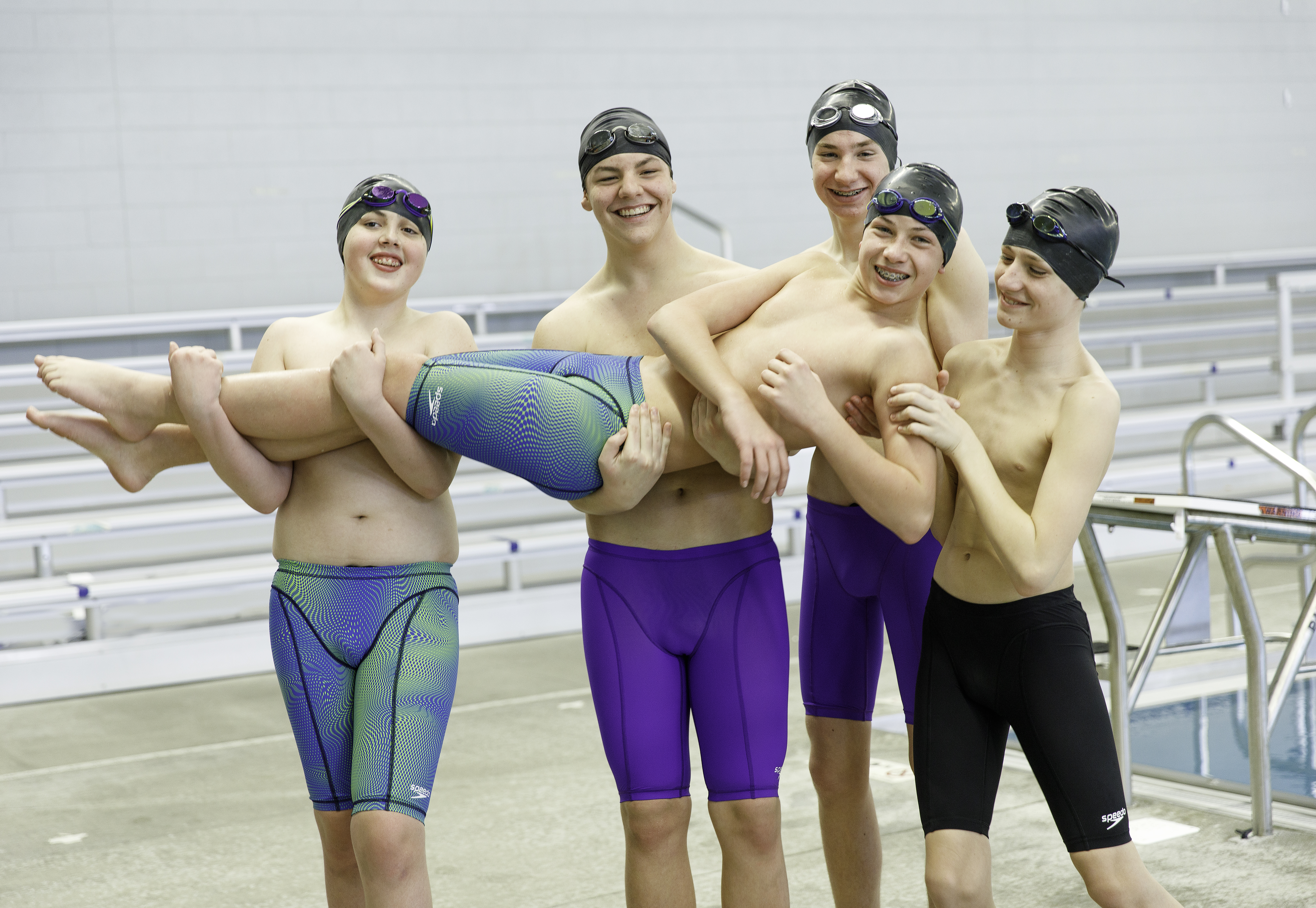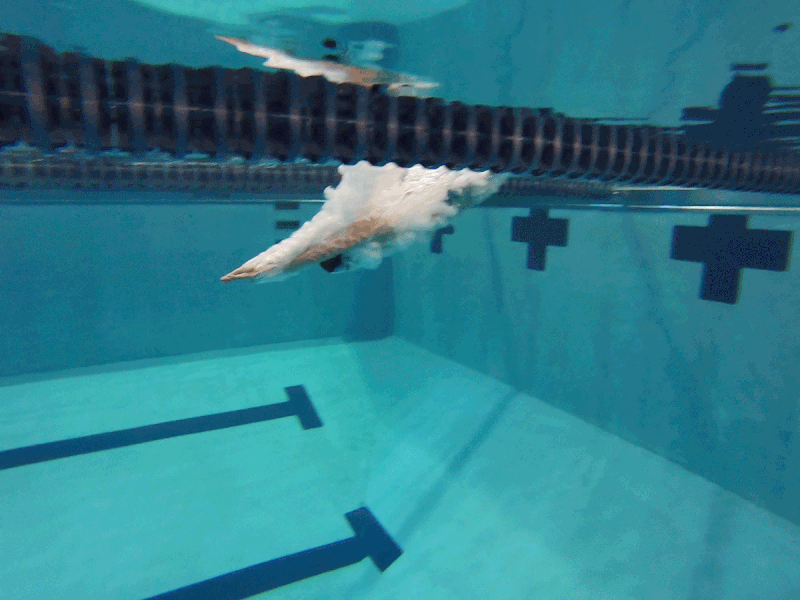 TYR Boys Thresher Baja Tech Suit
Price: $99.99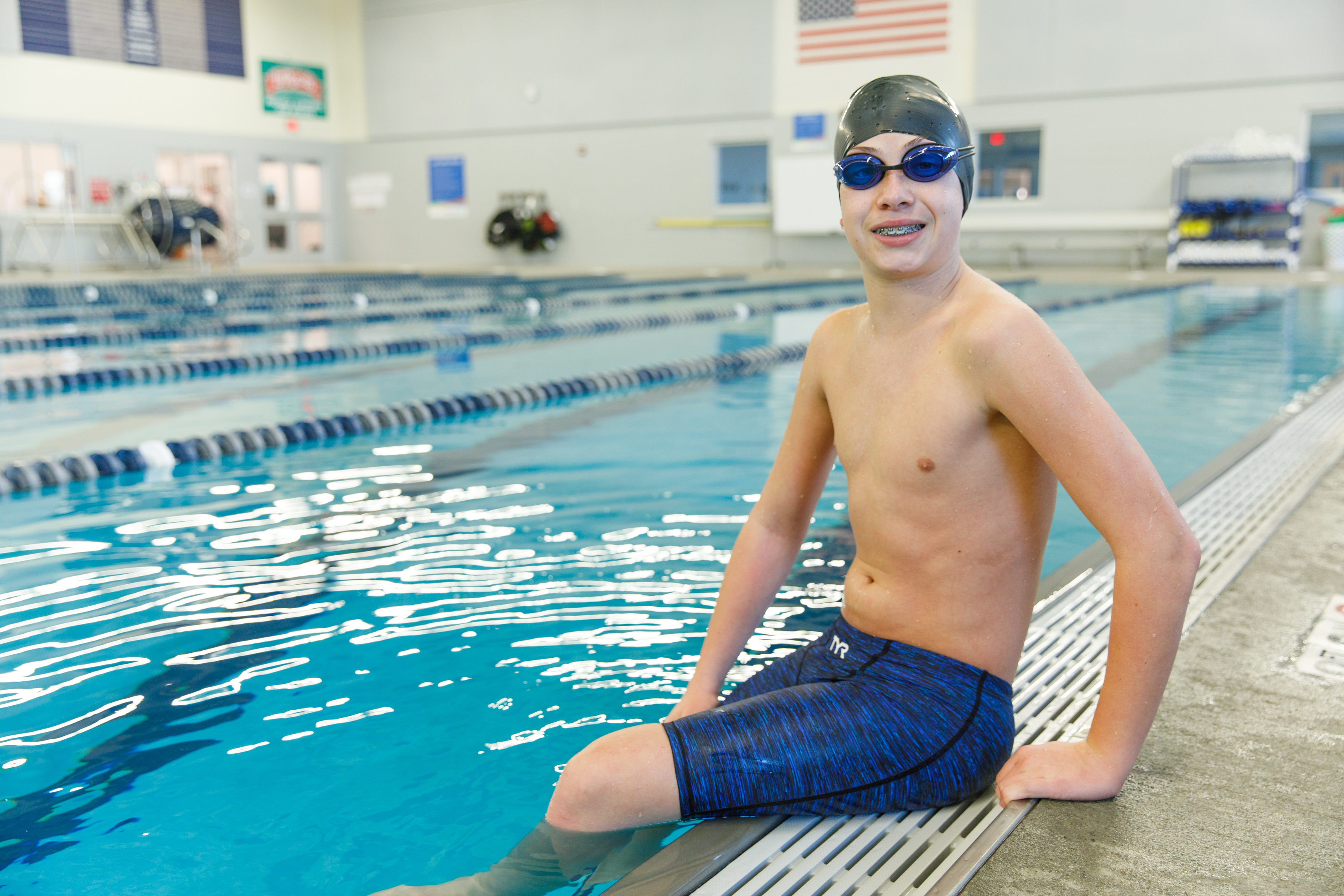 Fit 4.3

Looks + Design 4.2

Comfort + Ease to Put On 4.0

Materials + Fabric 4.1

Compression 3.5

Overall Impressions 4.3
The TYR Thresher has been on the market for several years. TYR decided to re-engineer the suit into the TYR Thresher Baja as its 12 & under compliant tech suit, offering embedded hydrophobic fiber to maximize performance by reducing drag in the water. 
It came out an overall winner in the boys category in a virtual tie for first with the Speedo Vanquisher on Overall Impression score (4.3) and edging ahead of Speedo by just .01 (4.05 to 4.06) if you take the average across ALL scores for boys jammers as a tiebreaker.
Reviewers loved the Thresher Baja's design, giving it high marks all around. "I loved the colors and design," said one. Another reviewer pointed out that even the (typically-boring) black print looked cool given it's abstract design: "I liked the unique color (all black) and how it fit and stayed in place as I moved."
The comfort of the suit was something several of the wear-testers pointed out: "It fit tightly at the start, but as I swam in it, it felt comfortable around my waist." For some it was perhaps a bit TOO comfortable and smooth. It's lowest-marks came in the compression category finishing with an average score of just 3.5.
But words like "glide", "fast" and "smooth" were written frequently in the TYR Thresher Baja reviews. "It made me feel like I was gliding through the water when I was wearing  it," said one reviewer.
"It made me feel fast while I swam and I feel like my swim was very smooth," wrote one of the 14-year-old wear-testers -- and ultimately highlighting that for these 12 & under category suits, compression isn't always the key to a reviewer's heart like it often is in elite tech suit reviews.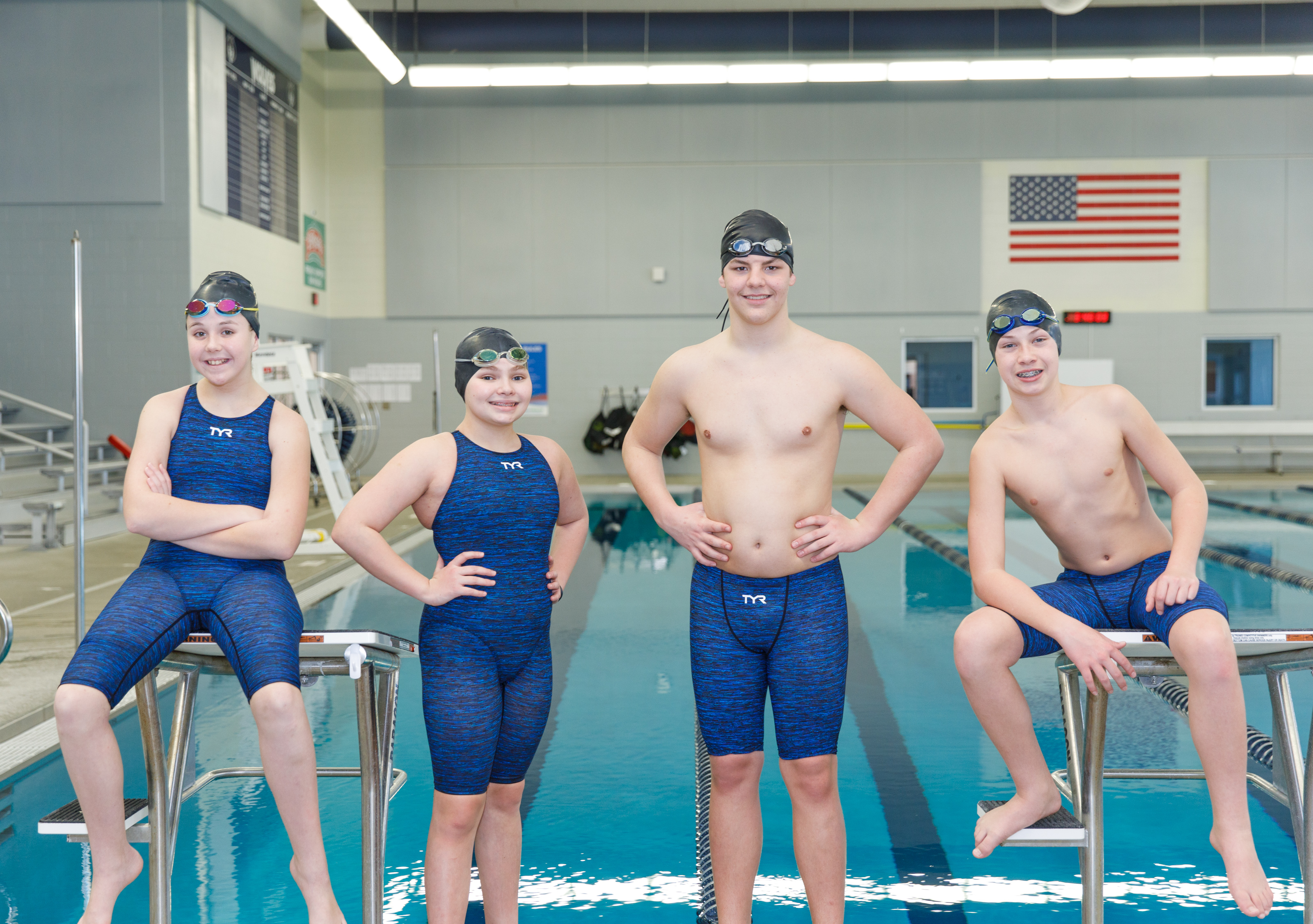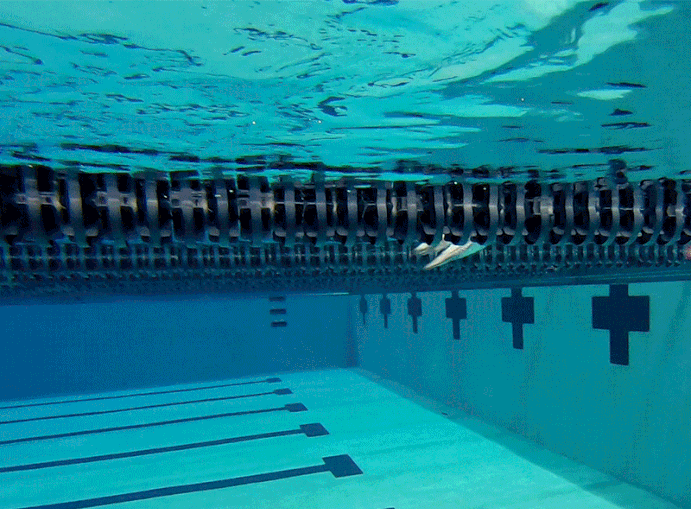 12 & UNDER GIRLS TECH SUIT REVIEWS
arena Girls Powerskin ST 2.0 Tech Suit
Price: $130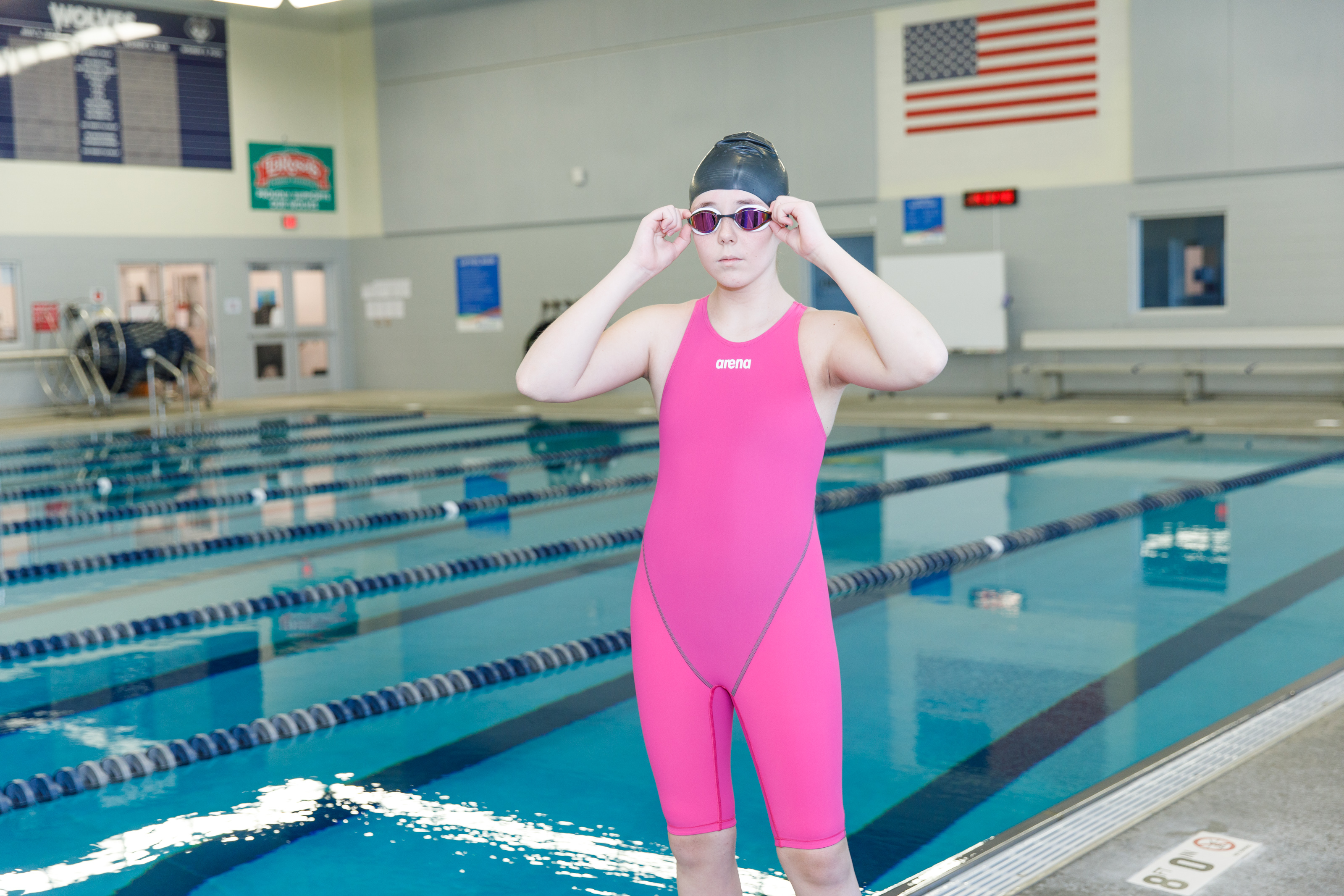 Fit 4.9

Looks + Design 4.3

Comfort + Ease to Put On 4.9

Materials + Fabric 4.9

Compression 4.2

Overall Impressions 4.8
The arena Powerskin ST 2.0 Open Back has been around for a few years and arena has had time to perfect it into a winner for this year's suit review, as it positions this suit as its go-to for the 12 & under compliant entry. It certainly made an impression!
The girls kneeskin was the overall review winner among all 10 suits (boys and girls) garnering high praise from the female reviewers in all categories and notching nearly perfect scores of 5 across the board in Fit, Comfort and Materials. And no other suit on the boys or girls side came very close to the Overall Impression score of 4.8 for the arena Girls Powerskin ST 2.0 either.
So why did this suit come out on top? High marks and praise for its materials -- especially the hydrophobic qualities -- along with standout marks for overall fit and comfort for racing.
"I loved the material of the suit the best. It repelled water well and helped me swim well," said one of the female reviewers. "The water wicked away from this suit really well as I swam," added another. "The material of the suit repelled the water droplets really well."
"The legs on this suit were the most comfortable of the group"..."I liked how comfortable it was"..."most comfortable suit I've tried" were just three of the comments among the five. Positive comments about the straps and their comfort and positioning only added to the high scores for Fit and Comfort categories. 
The Powerskin ST 2.0's versatility was also a top feature: "Given how comfortable this suit was, I'd recommend it to any swimmer – all strokes and distances."
Another reviewer echoed that sentiment: "The comfort of the suit would be beneficial for all races -- including middle or long distance races or IM."
"This suit is amazing for any type of swimmer. The suit is nicely designed for anyone and everyone who wants to wear it," is how one wear-tester summed it up. Even for those that felt the suit was tight, they added "but not uncomfortably so." But one swimmer did point out that you should make sure you're prepared for a suit  "feeling tight on your legs."
Given all those accolades wrapped up together in one package, plus several years on the market to perfect the product and the racing pedigree of arena, it's perhaps no surprise that the arena Powerskin ST 2.0 was the overall winner in this year's 2021 SwimOutlet Tech Suit Review.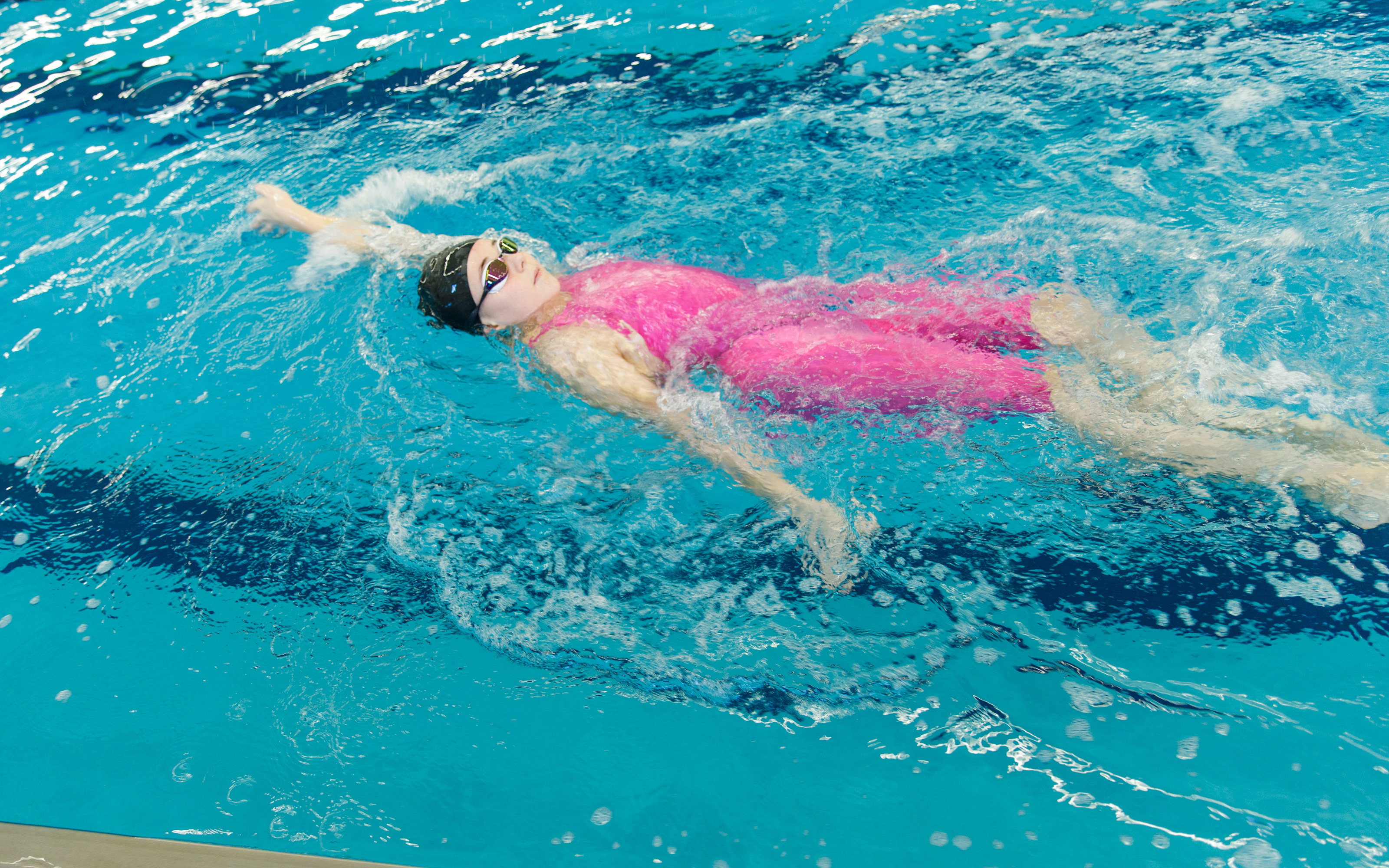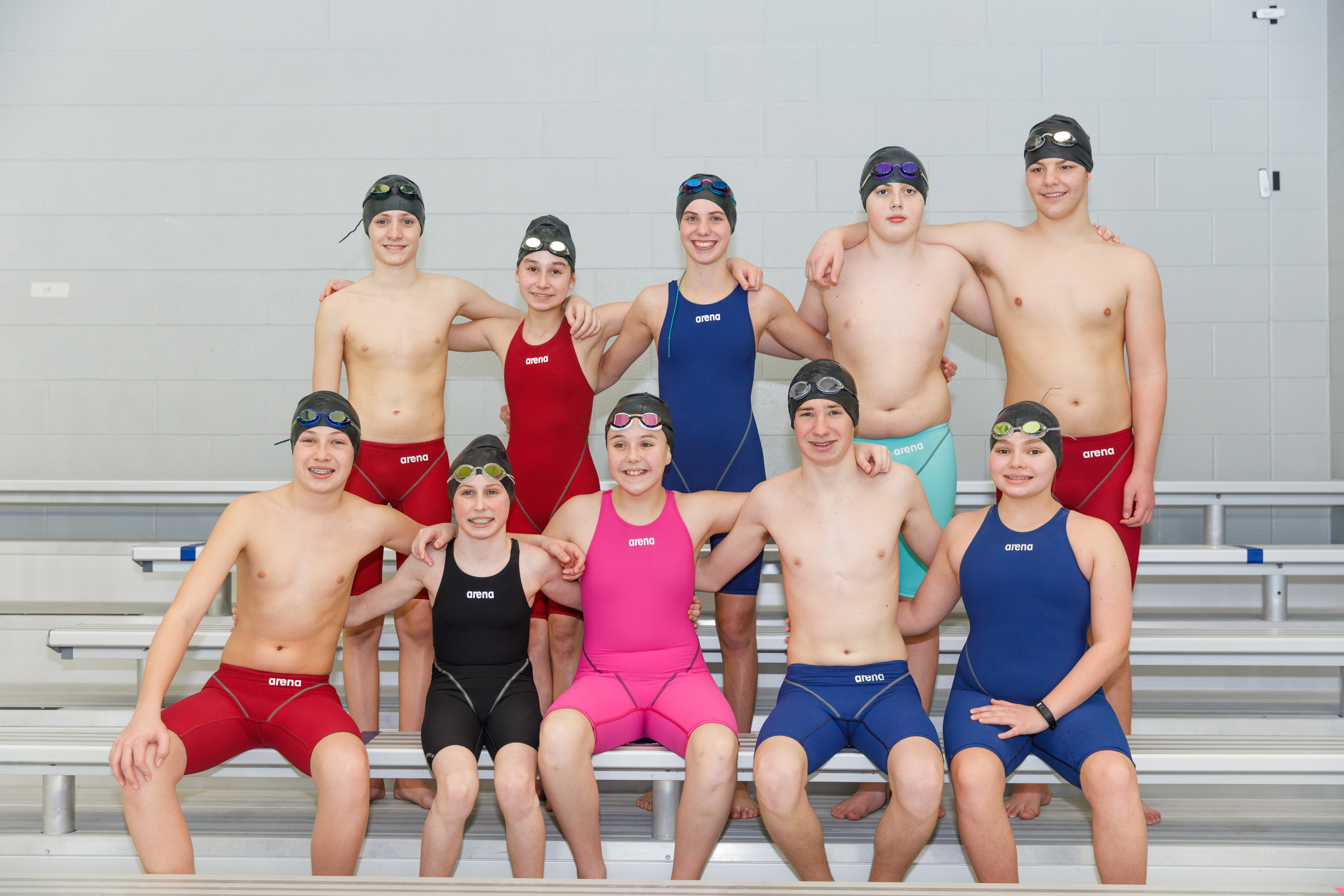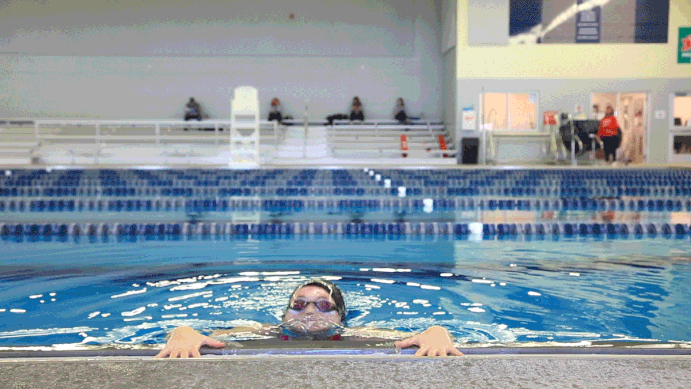 FINIS Girls Fuse Jr. Tech Suit
Price: $150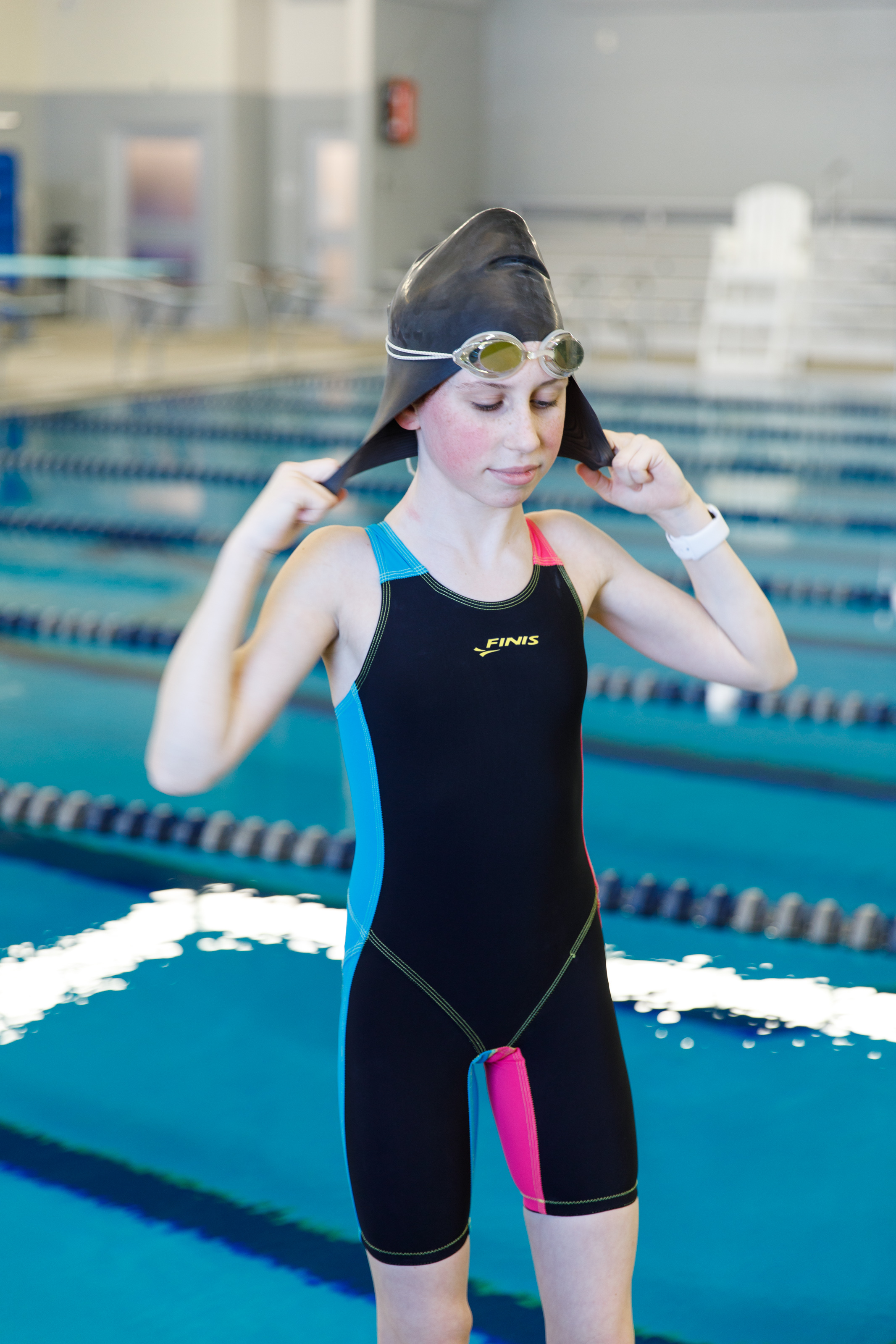 Fit 3

Looks + Design 4

Comfort + Ease to Put On 2.0

Materials + Fabric 3.7

Compression 3.7

Overall Impressions 3.16
This suit is the junior version of the bonded Fuse tech suit for swimmers older than 12. Designed with the intent of lasting a full season, the fabric is highly durable while still offering flexibility, compression and UVA/UVB protection. With its focus on 12 & under ages, the Fuse Jr. was outside of the size range for two of our female reviewers.
FINIS works with American freestyle and backstroke star Oliva Smoliga who races in the high-end FINIS Rival 2.0 but keeps the Fuse on hand for test sets and practice because of its durability, compression and flexibility. Not surprisingly, the Fuse Jr. received some of its highest marks for compression similar to its male counterpart, garnering an average score of 3.7.
With its eye-catching "Cotton Candy" pink and blue colors, the Fuse Jr. made an instant impression on our female reviewers. "I really liked the bright colors"... "Loved the color combo"... were just two of the comments from our group as it scored a 4. 
It's important that young swimmers realize it might take 5 minutes or more to put on a tech suit in order to get fit and compression right. For a suit like the Fuse Jr., it needs to be pulled up fully on the lower back and waist to assure the straps are comfortable over the shoulders. Proper compression distributed across the legs and buttocks helps lock in the core for powerful swimming. [Editor's note; elite swimmers often spend up to 20 minutes putting on suits!]
The suit's good scores for design and compression were weighed down a bit by ease to get on and overall comfort. Several swimmers highlighted some difficulty with getting the suit on and two reviewers noted that the legs on the kneeskins were the shortest of the bunch -- but another highlighted the water-repellency: "this suit made me feel quick since it repelled water so well."
The sizing available is "true to size," according to FINIS, based on youth sizes 6-14 to make it easier for parents to relate to the size that may correspond with the swimmer's age. The feedback from most of the reviewers was to size up at least one size with the Fuse Jr: "I would definitely recommend that swimmers try the suit out before a big meet since the fabric is so restrictive at first," emphasized one reviewer. "I would suggest perhaps going up at least one size on this one." A suit "developed especially for 12 & under smaller swimmers" is how one wear-tester succinctly put it.
We asked FINIS about the tight fit and they noted that without experience of putting on racing suits and swimming with compression, figuring out a tech suit for younger swimmers is not an easy task -- but ultimately the benefits of core compression will make the performance better.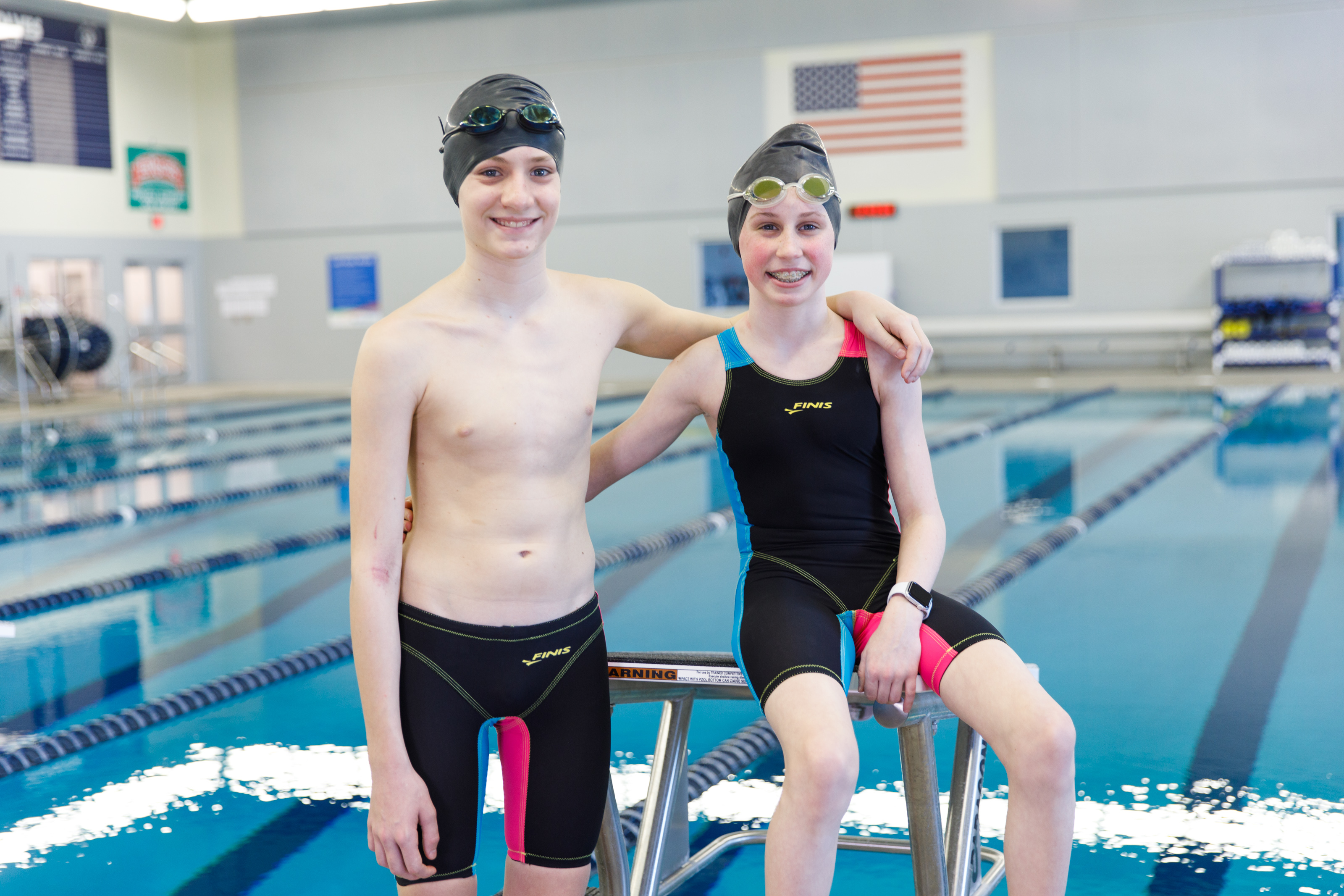 Mizuno Girls Stream Ace Tech Suit
Price: $115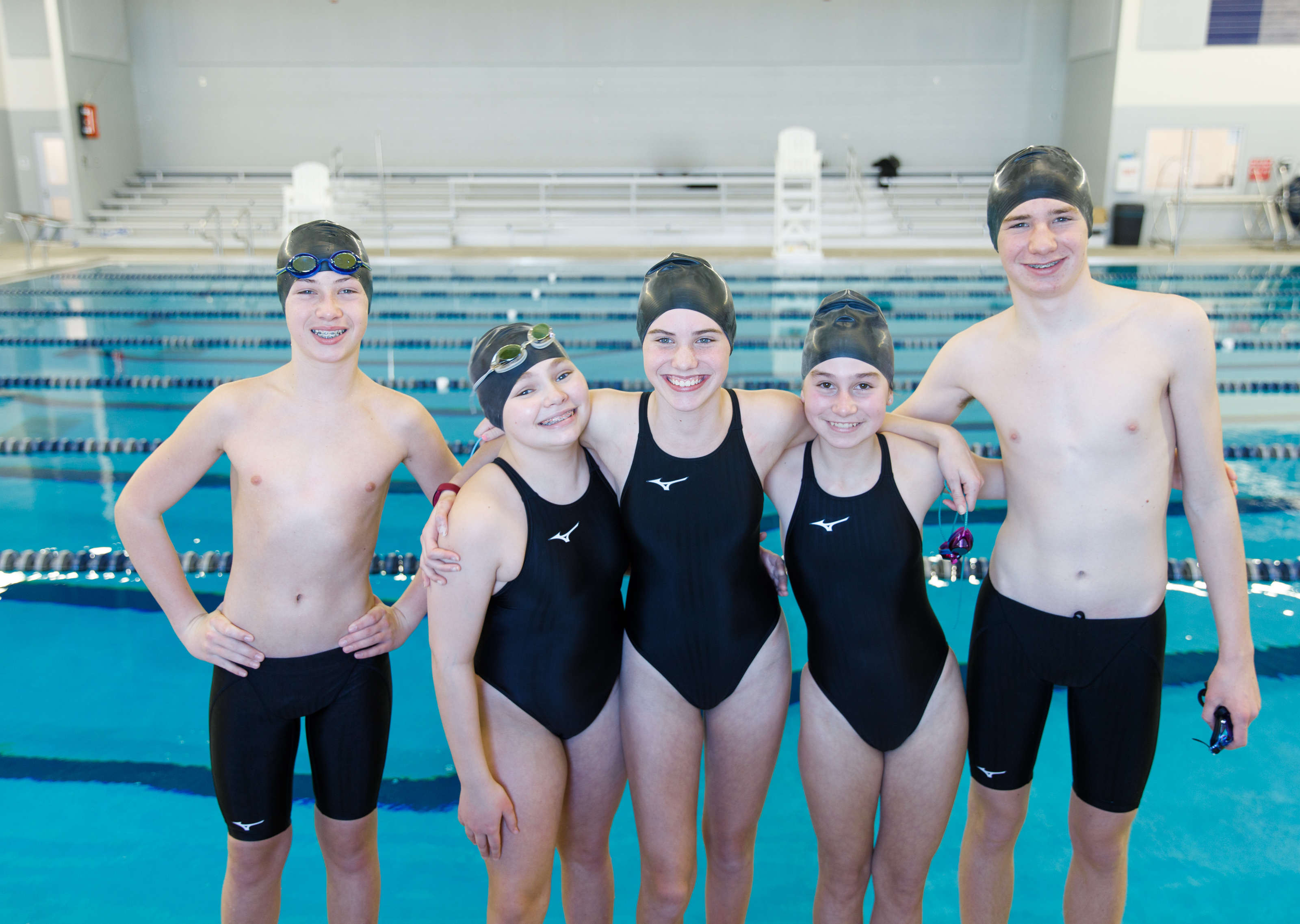 Fit 3.5

Looks + Design 4.2

Comfort + Ease to Put On 4.6

Materials + Fabric 4.6

Compression 3.3

Overall Impressions 4
Mizuno has a lot to live up to given the on-going success of its top-end Mizuno GX-Sonic suit. The girls Mizuno Stream Ace outperformed its boys counterpart in this review with impressive scores for Comfort + Ease To Put On, Materials and a much better score for Looks & Design. 
The Stream Ace was the only non-kneeskin one-piece in the test and reviewers commented "how slick it was" and how much they loved the "freedom I felt" in that cut. Mizuno's Race Cut "gave me more freedom when I was kicking since the legs were open". But one wear-tester "didn't love how little coverage there was on the bottom" in this one-piece design. One reviewer also felt the straps could have been more comfortable but did enjoy the incredible leg freedom. 
In that sense, Mizuno is making a targeted play here for the women's Stream Ace -- offering  a one-piece training suit cut with high-quality materials and construction that also passes the 12 & under compliant rules. 
One reviewer pointed out that the Mizuno Stream Ace felt more like an "everyday suit" than a race suit compared to the others in the test, but also noted that "it's great for those who don't want a kneeskin suit but still want a higher-quality race suit." 
The generally high marks for materials underscores Mizuno's attention and dedication to fabric development but one reviewer noted that the fabric does feel "thin". That's not necessarily a bad thing as another pointed out: "The fabric on this suit didn't retain much water after it was rinsed out, meaning that this suit would be great for someone who is swimming in a prelims/finals meet with very little time for the suit to dry out between sessions."
So who is this suit best suited for? "I would recommend this suit for an IM-er; the cut makes it great for multiple different strokes. This suit had a great material and made me feel like I had barely anything on at all and I was able to move through the water very swiftly in this suit."
"I'd recommend this suit for... distance swimmers, or swimmers who are uncomfortable wearing kneeskins."
In the end, this suit might be defined mostly by what it's not for this particular category -- not a kneeskin. Whether that's a positive or a negative depends entirely on your preference.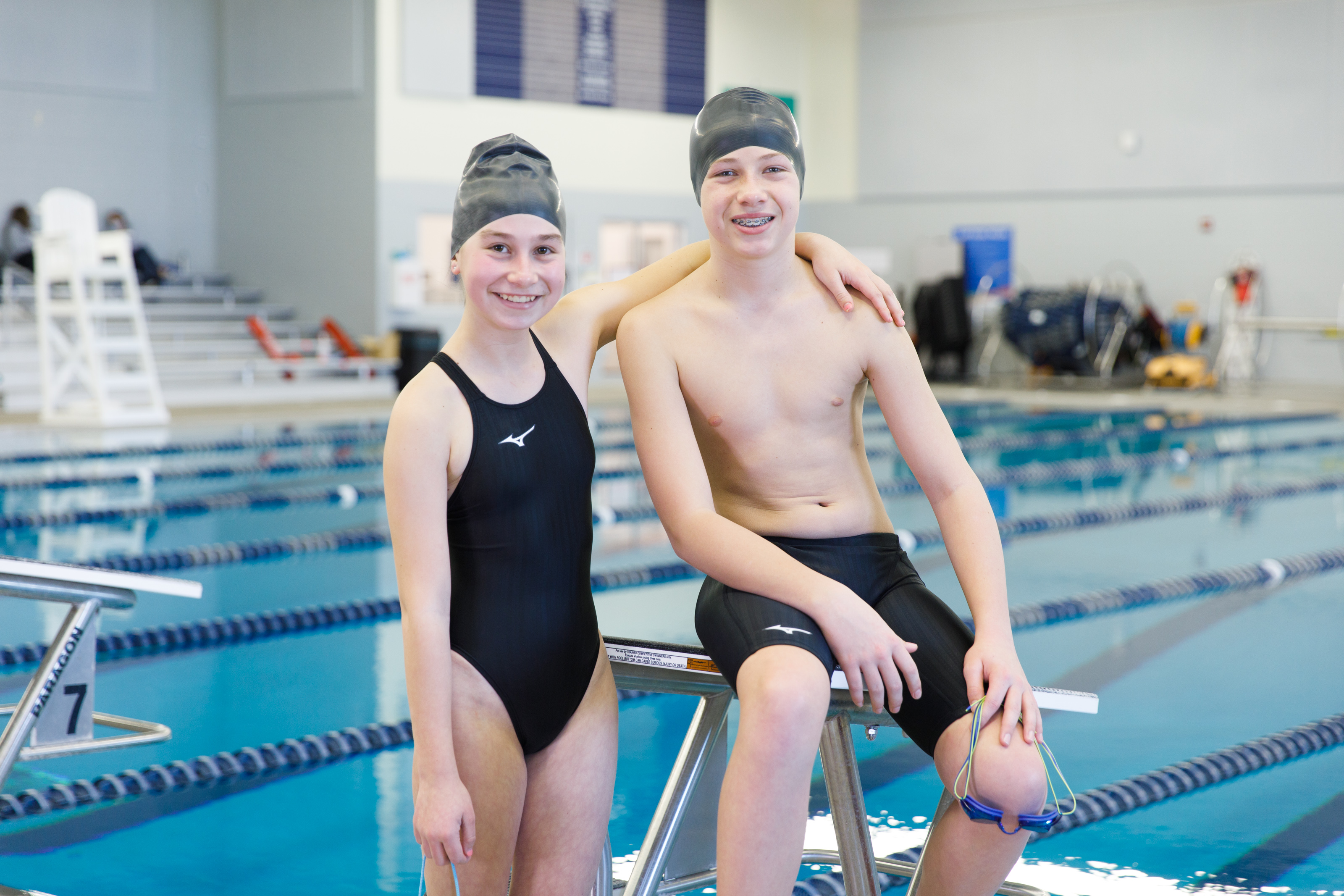 Speedo Girls Vanquisher Tech Suit
Price: $140-$150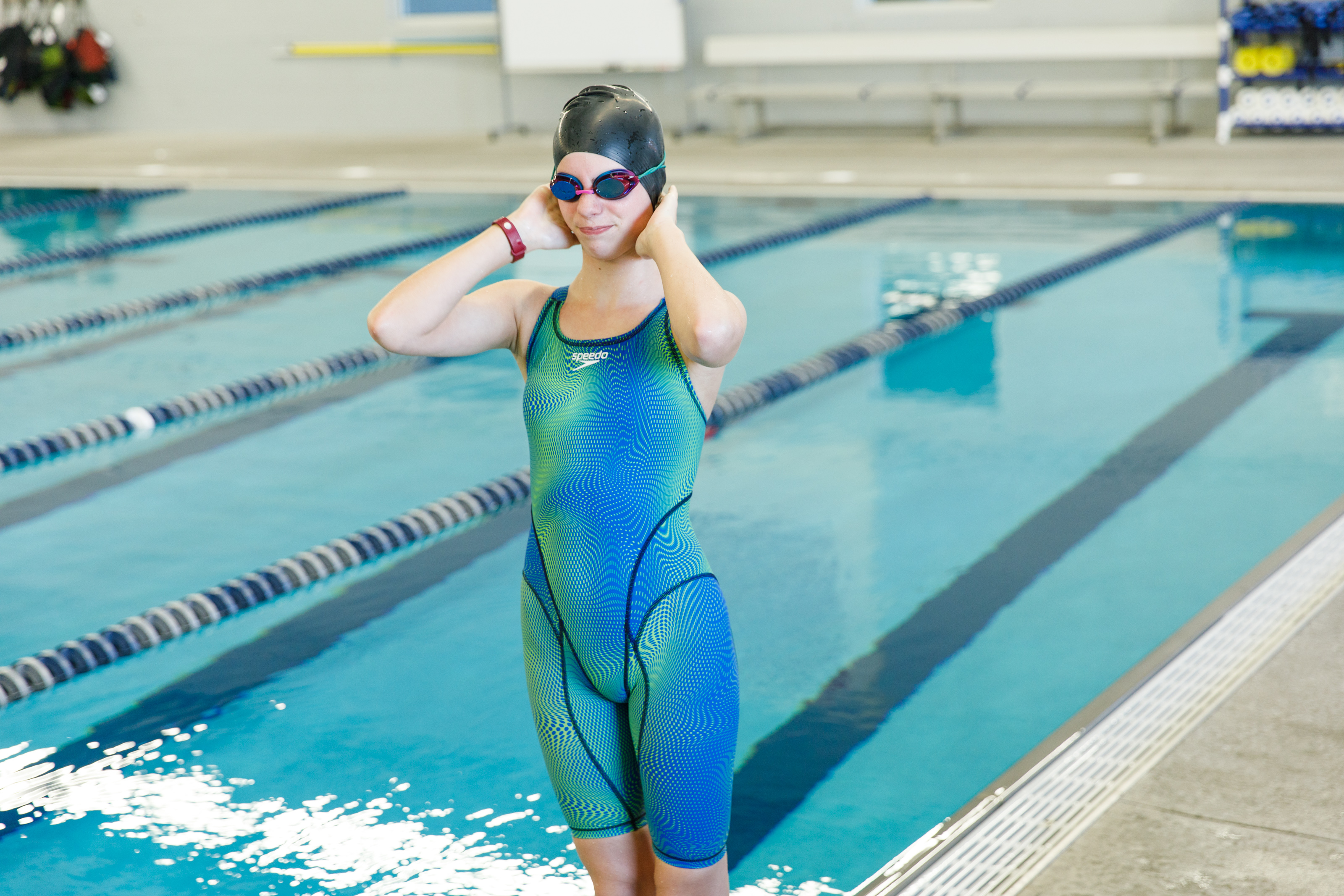 Fit 4.4

Looks + Design 4.7

Comfort + Ease to Put On 4.1

Materials + Fabric 4.2

Compression 4

Overall Impressions 4.3
Speedo's new Vanquisher suit is an entry-level race suit for all ages featuring a targeted muscle support system for optimized movement, an optimized range of motion, and Powerplus fabric. It is designed to fit a lower price point for swimmers looking for a comfortable race suit that still provides a good level of compression. It's also 12 & Under compliant and was unveiled at the time of the rule change last September. Given that it shares the same name with the massively-popular, industry-leading Speedo Vanquisher goggle could give us a hint that Speedo is expecting big things from this suit.  
Among our reviewers, the Speedo Girls Vanquisher Kneeskin was a definite winner in the style department with a nearly perfect score for Looks & Design. Swimmers can choose from standard black, various color pops or a printed version ($10 more) so there's something for every design taste. "I liked the bright color" noted one reviewer, while another pointed out that "the bright lining on the inside" was a really cool touch. 
Our wear-testers generally had high praise for the fit. "I loved the cut of the suit and how it was put together the most. It was very comfortable and you could barely feel the suit in the water," read one summary. 
And if there was a category score focused solely on straps, the Speedo Girls Vanquisher would have won hands down. No suit garnered as much praise for the fit and comfort of its straps like this one did. It seems high-performing and comfortable women's straps have become a signature on all of Speedo's women's race suits.
"The straps on this suit were the most comfortable of the tech suits," lauded one. "Love those straps," commented another.
The Vanquisher mostly appeals to all types of swimmers and several wear-testers pointed out how they could barely feel or notice the suit in the water -- a true testament to the fit and fabric. "I think this suit would be good for someone who wants a multiple-wear suit. Very versatile!"
One item worth noting is that lack of rubbery or sticky material at the bottom of the leg holes. It was the only kneeskin in the group without this characteristic and while not necessarily a negative, it is something to consider when making your tech suit buying decision. 
One female reviewer said it was hands-down her favorite in the bunch: "Fabulous! As I was swimming, everything felt perfect -- not too tight or too loose. Felt like a great quality suit for the money."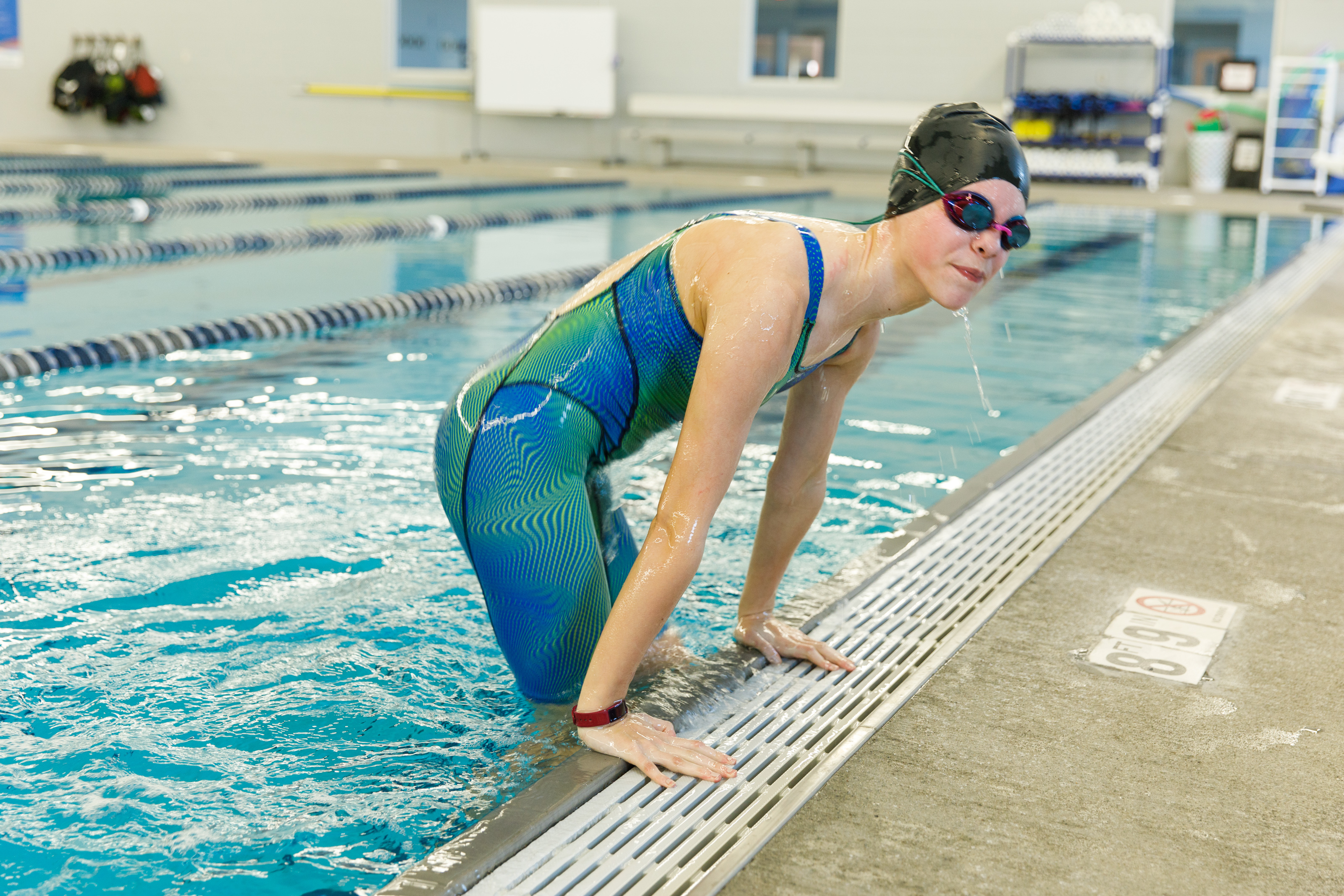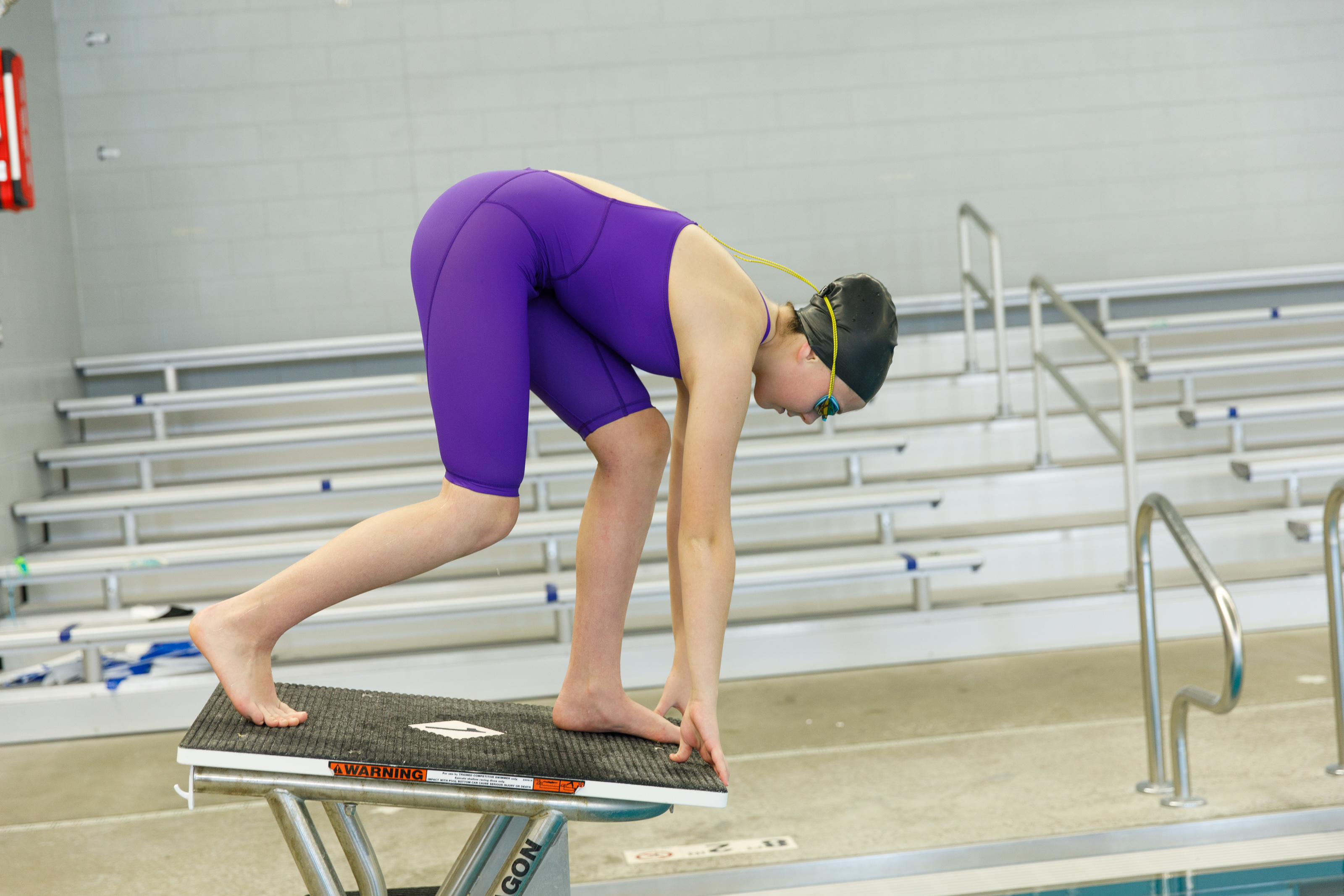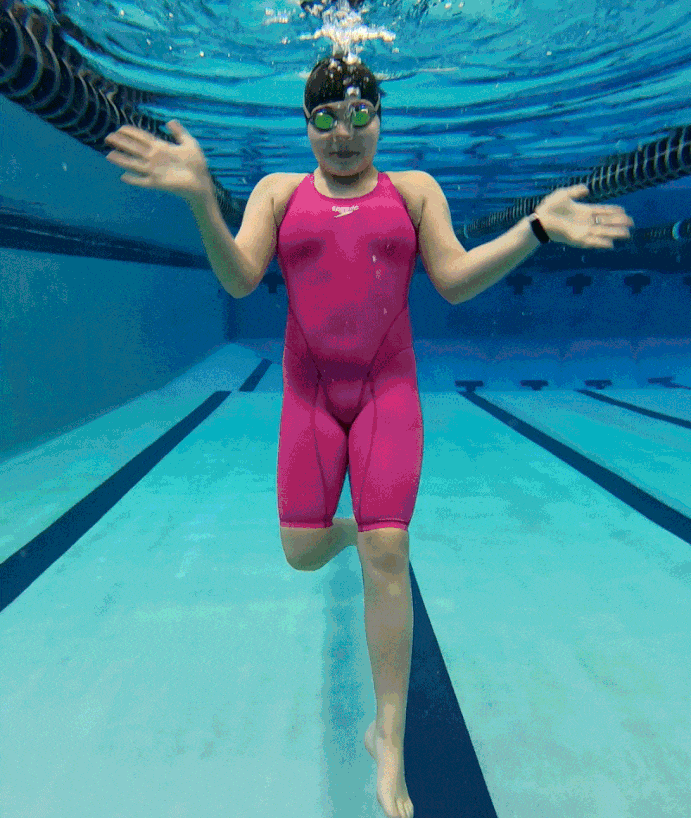 TYR Girls Thresher Baja Tech Suit
Price: $149.99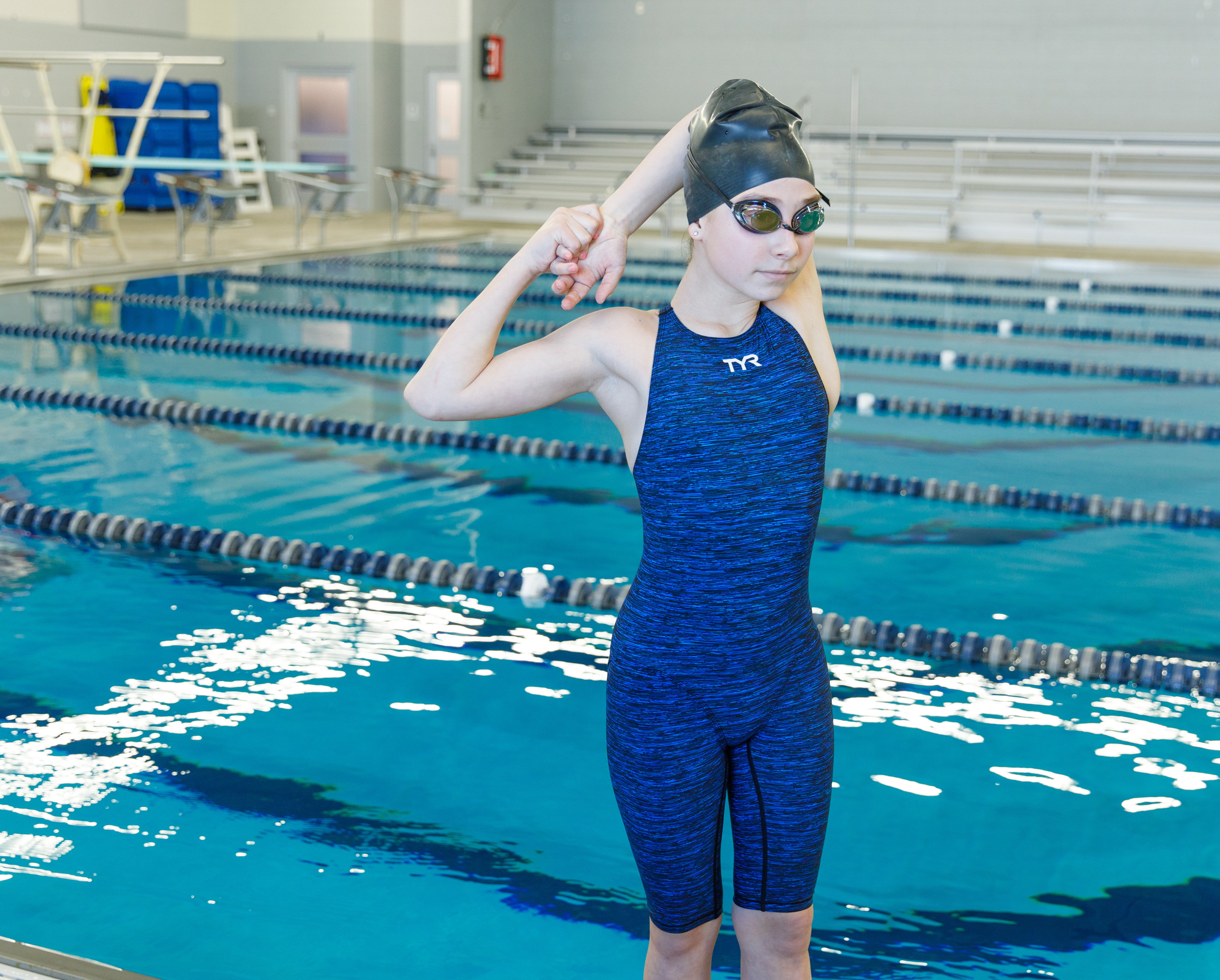 Fit 4.5

Looks + Design 4.9

Comfort + Ease to Put On 3.9

Materials + Fabric 4.6

Compression 4.6

Overall Impressions 4.5
The group of female reviewers loved all aspects of the TYR Thresher Baja Open Back across the board as it finished with excellent scores in every category and was one of only two suits to nab a near perfect 4.9 rating in the entire test. 
For the Thresher Baja it was in Looks + Design where it scored that near-perfect 5 and with multiple color offerings and a subtle but cool design it's easy to see how most reviewers "really liked the pattern of this race suit" while another said "LOVED the design!"... "You could probably match your team's color pretty well" with the Thresher Baja.
Most reviewers commented on the excellent compression of this suit, a category in which it finished with the highest average score among all suits both male and female. That tightness and locked in feel made one reviewer "feel really quick in the water" while another said "I felt great in this suit in the water -- good compression but still able to move my arms well."
One of the 13-year-old reviewers said the "smaller opening in the back made it feel snug, but not uncomfortable. It made my core feel more stabilized!" Translation, TYR has done a good job of walking that fine line of good compression without making it uncomfortable. It's a tricky balance for any manufacturer. It "is very sturdy and feels really secure," is how one reviewer put it.
Several of our wear-testers suggested that you may need to size up one size (or even two) but once you get it right, it had a comfortable feel in the water even if it was a bit less comfortable outside of the pool. The most frequent criticism was around strap comfort -- a little too tight with one reviewer who called the TYR Thresher Baja her "favorite suit overall in the test" still lamenting she would "have liked more elastic style straps."
Finishing with an Overall Impressions score of 4.5, TYR has done something right with this newly relaunched Thresher Baja. It's a suit for "all distances - including the IM" although one reviewer emphasized that with the increased compressive feel, it might not be as well-suited for breastrokers. "Great for age group and high school swimmers looking for a fast meet suit," was one final observation.