The Expert Review: Open Water Goggles
2014 Jun | By SwimOutlet.com Staff
By Julie Stupp, Olympic Trials finalist

Tell us in the comments below where you will be doing your open water swimming this summer and you could win a pair of open water swimming goggles featured in our review!
Competing in the open water can be very intimidating for many swimmers and non-swimmers alike. The conditions in open water can often be a challenge. The water can be cold, choppy, there may be a current and most of the time it is murky so you have no idea what is lurking beneath you. Not to mention in most races there is a high probability of getting hit in the face with an arm or a leg of a competitor.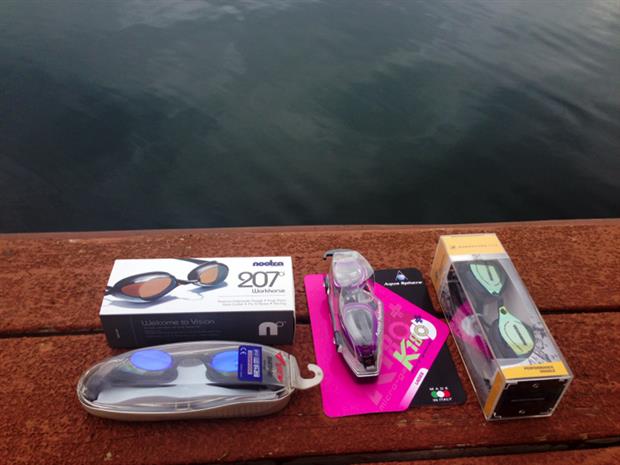 One of the few things you do have control of is what you are wearing and how well you react to the obstacles in the race. Having a great pair of open water goggles can relieve a lot of stress by helping you clearly see where you are going and what is going on around you.
Open water goggles are quite different from pool goggles and unfortunately I learned this the hard way during my first triathlon. I realized there are four main components I need to have in a great open water goggle.
My personal criteria include:
1. 360 Visibility – The most important aspect of an open water goggle to me is having what I like to call "360-degree visibility." This means you have the ability to sight the turn buoys at a great distance, you have good vision clarity in the water and you're able to effortlessly see out of the periphery of your goggle for your competitors.
2. Anti-Fog – The goggles must have a strong anti-fog coating. In the middle of an open water race you don't have time to clear your goggles and no one wants to purchase a new pair for each race.
3. Comfort – This is key, not only because you are wearing the goggles for quite some time, but also because most races have a mass start. During a mass start you may have contact with another swimmer and an uncomfortable goggle can cause some pain or injury to your face and or eyes.
4. Tint – Lastly, tint is very important depending on what time your race starts and what the weather entails.
Nootca 207 ($22.99)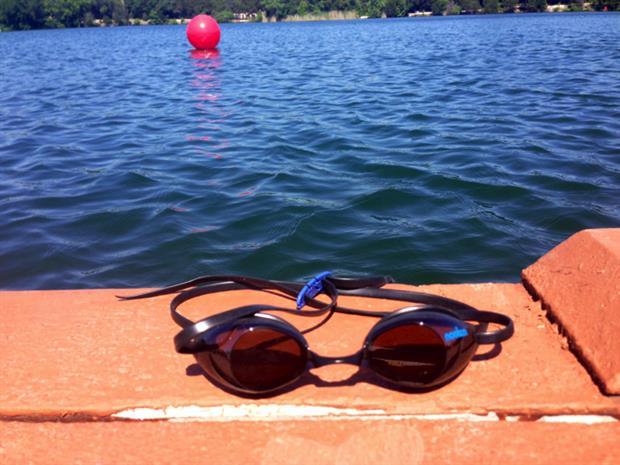 The Nootca 207 had all of the components I want in an open water race goggle with its best feature being excellent 360-degree visibility.
360-Degree Visibility: This goggle definitely had the best clarity of any of the goggles I tried on. I could not only see very well in the water but also when sighting for buoys in a race or in training it was effortless. The periphery vision in the Nootca was also excellent because of the wrap around lenses.
Anti-Fog: The only con I would say is the Nootca 207 didn't have the best anti-fog coating. It stays fog free for a majority of my training swims, but every once and awhile I need to clear the goggles for better vision.

Comfort: This goggle is very comfortable. It has just the right amount of eyepiece cushion and nosepiece flexibility.
Tint: The brown tint on the Nootca was something I have never tried but I loved it. It gives you the ability to swim and see clearly in dark or light weather. I think you could race in this goggle at any time of the day.

Barracuda Fenix ($21.65 – regular, $25.95 – mirrored)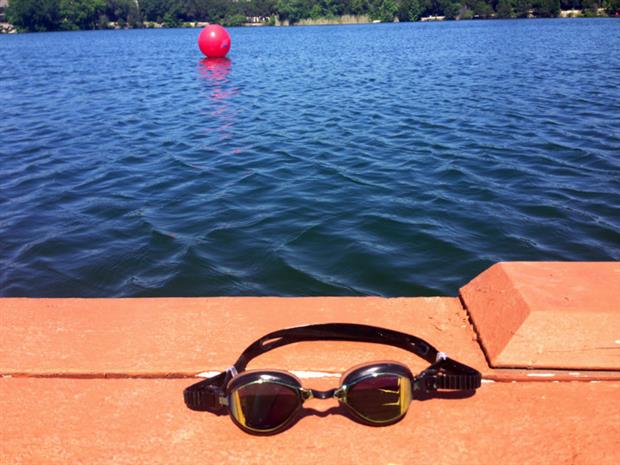 The Barracuda Fenix is definitely the most comfortable goggle I tested in this review.
360-Degree Visibility: The Fenix is a great goggle for open water clarity, but depending on the amount on sunlight during your race, seeing buoys way out in the distance could be a little tougher compared to others because of the dark tint. The Fenix does have a good wrap around lens for periphery vision.
Anti-Fog: The Fenix has a good anti-fog coating, that seems to last for long open water swims.
Comfort: The Fenix has the most comfortable eye cushions of the goggles I tested. The goggles are quite big but they fit really well and create a very comfortable yet strong seal from the water.

Tint: The Fenix has the darkest tint of the goggles I tested. They have a dark reflective tint on the outside of the goggle and create a bluish tint when swimming. This dark tint is excellent for swimming in really sunny weather but on a cloudy or dark morning, it might be a touch too tinted.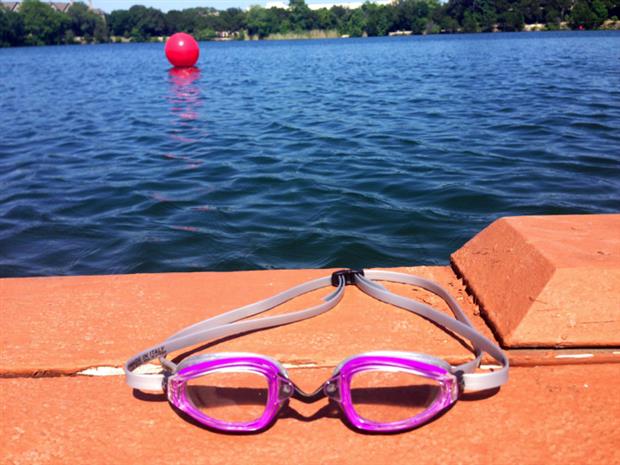 The Aqua Sphere K180+ reminds me the most of a pool goggle in its shape and size, but stood out as a great open water goggle because of its strong anti-fog coating.
360-Degree Visibility: The K180+ clear lenses made sighting buoys and open water clarity easy but they did lack in periphery vision. The lenses don't wrap very far around your eyes at all giving a limited field of vision.
Anti-Fog: The K180+ had the strongest or longest lasting Anti-Fog coating of any of the goggles I tested. The coating helped me swim for over 30 minutes at a time before having to clear the goggles out with a little bit of water. These goggles could be a great long distance training option.
Comfort: The lenses on the K180+ were not the most comfortable because of a lack of eyepiece cushion. The eye piece of the goggles are very firm and very small so they could become uncomfortable in a long swim by putting extra pressure on your orbital bones.
Tint: The K180+ lenses that I tested were clear. They also come with a smoke lens. These clear lenses that I had would be a great option for an early morning race start, when the sun hasn't come up yet.
View Shinari ($19.95)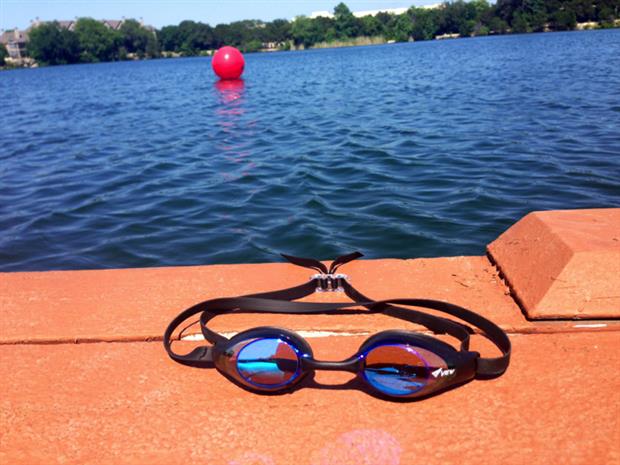 The View Shinari also had a very similar eyepiece shape to a pool goggle, but they had the best level of tint out of the goggles I tested.
360-Degree Visibility: The Shinari goggles are a great option for 360-degree visibility. The light mirrored tint really helped with sighting buoys and water clarity in the sun and the wrap around lenses are excellent for periphery vision. I could clearly spot while wearing these goggles when someone was swimming next to me.
Anti-Fog: The Shinari had a pretty good anti-fog coating that seemed to last for the majority of my longer training swims. I cleared the goggles more often due to a lack of comfort than a fogging issue.
Comfort: The Shinari fit much like the K180+ and could be uncomfortable for long races because of its small and sleek eyepiece shape. The goggles have a flexible yet thin eyepiece cushion that could overtime irritate your orbital bones. But it makes them very streamlined.
Tint: The Shinari mirrored lenses have the perfect reflective tint on the outside. It is light enough for an early morning sunless race start and dark enough for a sunny race start. The inside of the lenses create a brownish, blue hue when looking through the goggles and the color combination must be the perfect blend because it made sighting on a sunny or a cloudy day effortless.
Don't forget to tell us in the comments below where you will be doing your open water swimming this summer and you'll be entered for a random drawing to win a pair of open water swimming goggles featured in our review! All entries must be received Wednesday, June 18 at 11:59pm. One entry per person per email.
Read the 2018 Top Open Water Goggle Review here.