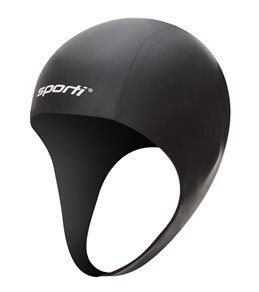 SALE! UP TO 20% OFF
Sporti 3mm Neoprene Hood Swim Cap


in

neoprene swim caps

loading more items... NEOPRENE SWIM CAPS
Taking on chilly waters? Sometimes you need a little more than a wetsuit. When you swim, 30% of body heat loss comes through your head. The cold can make focusing on the race more difficult—even when you're at your physical peak.
Consider a neoprene swim cap to go over or beneath your regular cap during open water swims and triathlons with colder water. These caps provide great insulation for your head. Some come with chinstraps for security and additional warmth while others avoid creating any constriction by going underneath a silicone or latex cap.
We offer a number of neoprene caps for you to choose from. Decide whether or not you prefer a chinstrap or one with a different design. All our neoprene swim caps come from quality brands like Blueseventy, Orca, ROKA Sports and TYR.