How to Care for Swimmers' Hair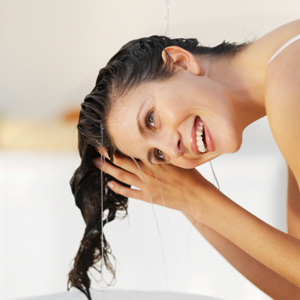 The sign of a serious swimmer is often brittle, bleached out hair. However, most of the damage done by prolonged exposure to chlorinated water can be minimized by following a few simple steps. Men and women can avoid damaging their hair by following the tips outlined in this guide.
Wet Your Hair Before You Swim
Soaking your hair in non-chlorinated water prior to your swim keeps your hair from absorbing chlorinated water once you are in the pool. Since most pools have showers or faucets, this is an easy pre-swim ritual. If you want to protect you hair even more, use a leave-in conditioner (or even sunblock!) before getting in the pool. This will provide more of a barrier between your hair and harmful pool chemicals.
Wear a Swim Cap
A swim cap will not keep you hair dry, but it will help prevent chlorine absorption and sun damage. Latex and silicone caps work equally well when it comes to blocking chlorine, but soft LYCRA™ caps are too porous and let water flow through your hair as you swim. Silicone caps are softer and stretchier, and will pull out less hair. Latex caps grip better, which may be a selling point if you are coating your hair with slippery conditioner prior to getting in the pool.
Rinse Off Afterwards
Washing or rinsing out your hair immediately after a swim will remove a great deal of chlorine buildup. Use special neutralizing shampoos and conditioners to help remove chlorine and other impurities, and consider using a leave-in conditioner to help repair damaged or dried-out hair.
All it Takes Is a Little Effort
Swimmers, water polo players, and aquatic athletes in general may need to spend a bit of extra time preventing chlorine damage and caring for their hair. Luckily, the above tips vastly decrease the chances of damaging hair from sun and chlorine. Even better, they are easy, affordable, and quick.