Day 4 Swimming Worlds: Championships Hit the Halfway Mark
2017 Jul | By SwimOutlet.com Staff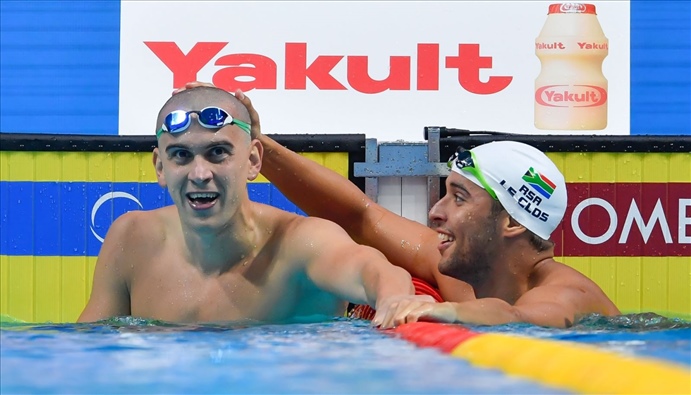 (C) 2017 FINA World Championships
Swimming Worlds Preview
Swimming Worlds Day 1 Recap 
Swimming Worlds Day 2 Recap 
Swimming Worlds Day 3 Recap
Swimming Worlds Day 5 Recap
Swimming Worlds Day 6 Recap
After such a scintillating night of world records and two U.S. golds on Tuesday, it was going to be tough to match the excitement again on Day 4 – but there were storylines abound on Wednesday evening at the Danube Arena – and the U.S. didn't leave without a gold, notching a mixed relay win in the day's final event.
Breaking the hearts of the boisterous home crowd here in Budapest was South African Chad LeClos, who held off Hungary's Laszlo Cseh to win back the 200m butterfly title he won in London 2012 and Barcelona 2013 before Cseh dethroned him in Kazan and Phelps came out of retirement to win the event in Rio.
With two Hungarians in the final, including 2016 bronze medalist Tamas Kenderesi, the audience was hoping for more, but Cseh appeared plenty pleased with his 13th career World Championship medal to go with his six Olympic medals.
The home crowd was also silenced at the finish of the women's 200m freestyle when veteran Federica Pelligrini of Italy, held off Katie Ledecky and Australian Emma McKeon to win, while local hero Katinka Hosszu faded to seventh out of lane 2.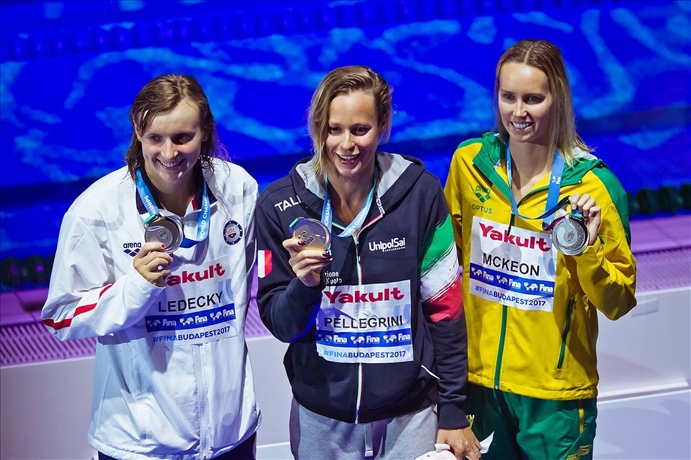 (C) 2017 FINA World Championships
Pelligrini is the world record holder in this event, but hasn't been atop the podium at a Worlds or Olympics since 2011 and the 28-year-old showed her emotions at the finish after she came on strong over the last 100m to win her third 200m world title. Ledecky and McKeon tied for silver.
Adam Peaty proved his 50m breaststroke world record in the semifinal on Tuesday was no fluke and is fast-becoming a huge fan favorite here in Budapest. Breaking the 27-second barrier for his second straight swim – but just missing his previous best of 26.95 – Peaty won his fifth overall world title. At just age 22, he might just be the best men's breaststroker of all time already, provided he can collect another Olympic medal or two down the road.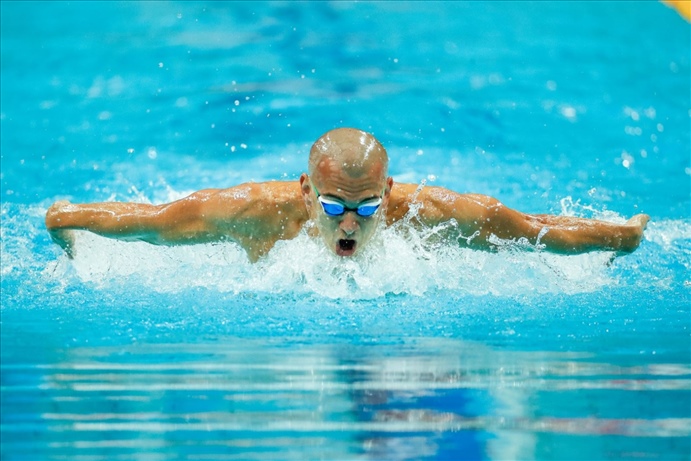 (C) 2017 FINA World Championships
The final individual event of the night was the men's 800m freestyle, which was won by Italy's Gabriele Detti in an incredibly close finish for such a long race. The top three were all within about a second and a half. Poland's Wojchiech Wojdak took second with Italy's Gregorio Paltrienieri taking third. Detti won bronze in both the 400m and 1500m in Rio and the 800m will be added in Tokyo 2020 for the first time to the Olympic program. Perhaps that's just the right distance for Detti to grab gold.
Like the men's 800m, the mixed 4x100m medley relay is an event added to the Olympic program for 2020 and it's a fun event that offers see-sawing leads and unique relay combinations in the four legs. Fans will love this one in Tokyo. The U.S. went with 100m runner-up Matt Grevers at backstroke, world champion Lilly King at breaststroke, Caeleb Dressel at butterfly and Olympic champion Simone Manuel at freestyle and cruised to a relatively easy victory. Australia was second with China and Canada tying for third.
With the end of Wednesday's program, the U.S. is still dominating the overall medal count in the swimming pool halfway through the competition, but these Championships are proving that the big international stars in the sport step up when the pressure is on. Stars like Adam Peaty, Sun Yang and Sarah Sjoestrom just seem to be getting better and better -- and big things await them and other standouts over the final four days of competition.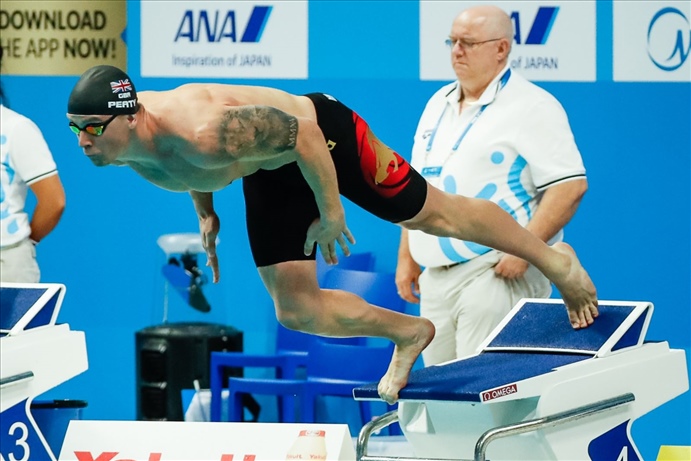 (C) 2017 FINA World Championships