Day 3 Swimming Worlds: Records Fall!
2017 Jul | By SwimOutlet.com Staff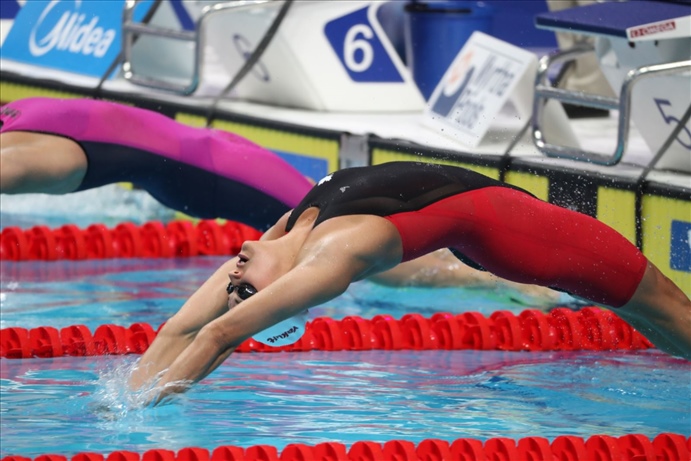 (C) 2017 FINA World Championships
Swimming Worlds Preview
Swimming Worlds Day 1 Recap  
Swimming Worlds Day 2 Recap
Swimming Worlds Day 4 Recap
Swimming Worlds Day 5 Recap
Swimming Worlds Day 6 Recap
After a night with no gold medals, Katie Ledecky and Lilly King won a pair of world titles for the U.S. on Tuesday evening to make sure the Stars & Stripes stayed on top of the gold medal count for swimming. It was also a night of silver for the Americans with Townley Haas, Kathleen Baker, Matt Grevers and Katie Meili all finishing second. And three world records topped off another sold out night at Danube Arena in Budapest.
The night opened with China's Sun Yang looking dominant in capturing the 200m freestyle title, coming from behind early to win by almost a full second and grab his second gold medal at these Championships. Haas had a strong swim in the final to nab silver for his first individual medal at a major event – with likely more to come for the talented 20-year-old.
The women's 1500m had special significance this time around as it was officially added to the Tokyo 2020 Olympic program earlier this summer. As expected, Ledecky cruised to the win. She was a half pool length ahead by the halfway mark and finished in 15:31.82, about six seconds off her mark from Kazan two years ago. And after posting the winning time in the 200m semifinals later in the evening, the thought of a 200m, 400m, 800m and 1500m quadruple in Tokyo almost blows the mind!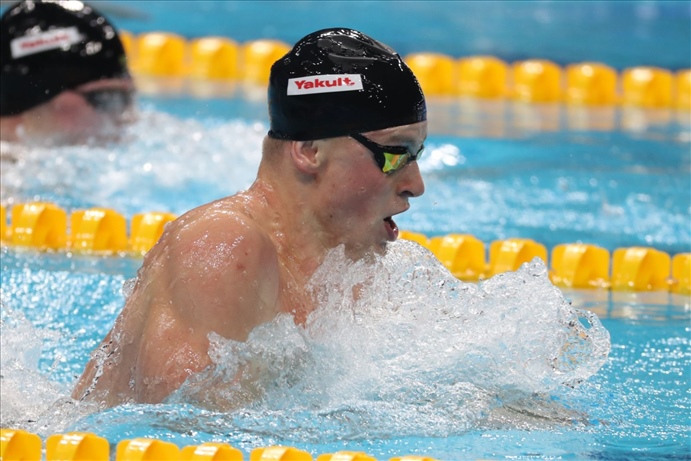 (C) 2017 FINA World Championships
Two scintillating swims next kept the crowd enthused. Adam Peaty continued his incredible run, breaking the 50m breaststroke world record he had set in the morning heats and going under 26 seconds with an astounding 25.95 in the semifinals.
Then Canadian Kylie Masse swam 58.10 in the 100m backstroke final to break the oldest record on the books that was set back at the 2009 World Championships in Rome. Baker touched second to go with her silver in Rio last year.
In perhaps the most exciting race of the night start to finish, China's Xu Jiayu out-touched both Matt Grevers and Ryan Murphy to win the men's 100m backstroke. Grevers led at the turn and finished just .04 off the top step of the podium –proving that he's back in prime form after missing out on Rio last summer – with Murphy another .11 back. Murphy, who looked untouchable at the Games, will have some competition after all over the next Olympic quadrennial both in the U.S. and internationally.
The evening action ended with King setting a world record in the 100m breaststroke and teammate Meili outracing Russian Yuliya Efimova for a 1-2 U.S. finish. King's enthusiastic reaction highlighted her trifecta for the night: a world title, a world record and teammate finishing just behind in second.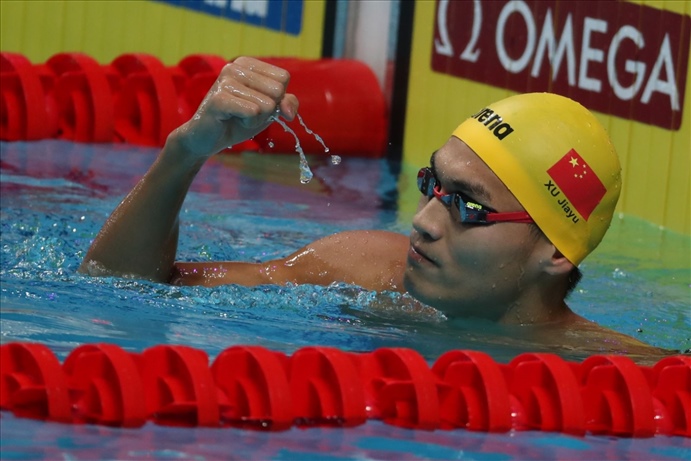 (C) 2017 FINA World Championships