Day 2 Swimming Worlds: Hosszu Steals the Show
2017 Jul | By SwimOutlet.com Staff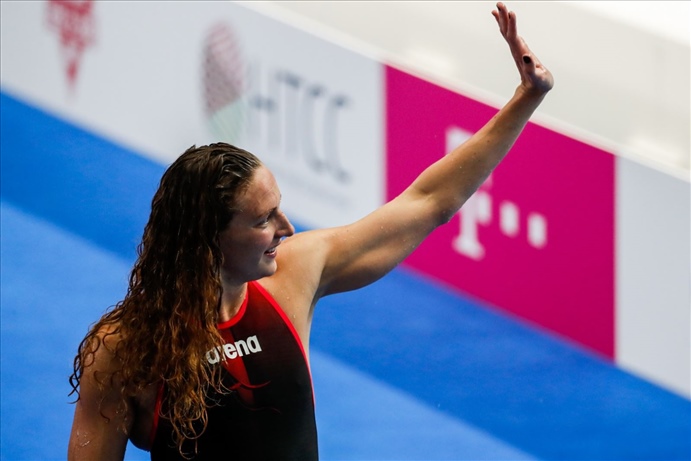 (c) 2017 FINA World Championships
Swimming Worlds Preview
Swimming Worlds Day 1 Recap 
Swimming Worlds Day 3 Recap
Swimming Worlds Day 4 Recap
Swimming Worlds Day 5 Recap
Swimming Worlds Day 6 Recap
Another sold out crowd and another boisterous night at Danube Arena already proving on Day 2 why bringing an event of this size to a swimming-crazy country like Hungary makes for great moments in our sport.
Hungarian national hero Katinka Hosszu led from start to finish in the 200m IM, leading an already energized crowd to erupt in a frenzy of chanting, cheering and rhythmic clapping. Hosszu will no doubt be glad to have a gold under her belt on Day 2, but is expected to compete in at least five more events this week. American Madisyn Cox edged compatriot Melanie Margalis for bronze, as Margalis now has fourth place finishes at both Rio and Worlds.
Hosszu stole the show, but other champions also dominated. A pair of Olympic champions kept their world leading status as both flirted with world records. British breaststroke king Adam Peaty was .11 ahead of world record pace at the turn in the 100m before finishing in a Championship Record 57.47, the second-fastest swim of all-time. American Kevin Cordes nabbed silver and surprising Kirill Prigoda of Russia came out of lane 8 to win bronze.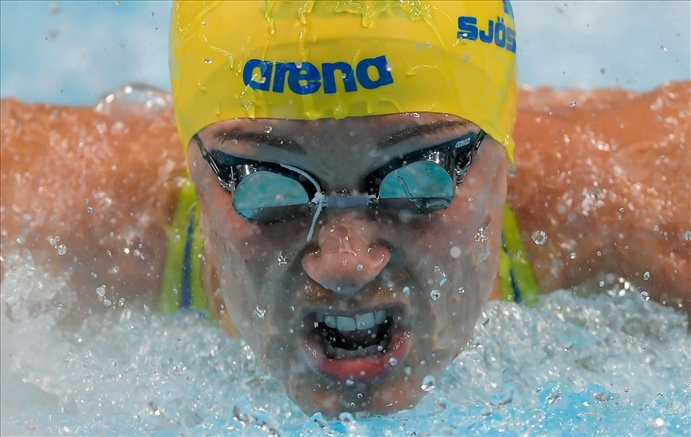 (c) 2017 FINA World Championships
Likewise Olympic champion in 100m butterfly Sarah Sjostrom of Sweden was .34 ahead of her world record pace at 50m and finished in a Championships Record-time of 55.53 to take the title, just missing her world record from Rio by .05. American Kelsi Worrell grabbed bronze.
In a surprising finish to the 50m butterfly final, Britain's Benjamin Proud uncorked a 22.75 to win out of lane six and grab the second world title of the night for Great Britain, which is beginning to look more and more like one of the world powers in swimming these days – reinforced later in the evening when Duncan Scott and James Guy qualified 1-2 for the 200m freestyle final.
Other semifinal action on Day 2 also had some notable results. Ryan Murphy, who looked so dominant in winning double gold in the backstroke events in Rio, will have his hands full in the final on Tuesday night with talented Chinese Xu Jiayu, who touched in at 52.44 ahead of both Murphy and Matt Grevers.  And in the women's 100m breaststroke, Lilly King and Yuliya Efimova will rekindle their rivalry in what was probably the third biggest swim story in Rio last year after Michael Phelps and another swimmer's late night antics. Efimova missed tying the world record mark by .01 in the Semifinal 1 and Lilly King won Semifinal 2 but will no doubt need to be at the top of her game.