What to Look for When Choosing a Women's Tech Suit - The Julie Stupp Guide
2013 Feb | By SwimOutlet.com Staff
Choosing a Women's Tech Suit
By Julie Stupp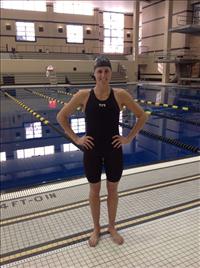 When choosing a racing suit, each individual athlete has their own likes, dislikes and style preference. You can compare choosing a suit to differing stroke techniques. Every swimmer's stroke is built from the basic technique, but every swimmer has their own flair. Just like every suit has a basic cut, but each suit has its own differing high-tech qualities that makes it stand out.
While one particular stroke technique or suit brand works for swimmer A, it may not work for swimmer B. When I choose a suit I look for five main components including: 1.) ease to get in; 2.) fit; 3.) comfort while swimming all four disciplines; 4.) compression and; 5.) durability.
1) Ease to get in
When I am at a major competition I don't want the suit to take me too long (more than 8-10 minutes) to get on and I definitely don't want it to wear me out in the process. If I get too tired while putting on a suit or it becomes a struggle, it is not worth the trouble.
2) Fit
The fit of the suit is very important in competition. For me, the suit must not be too tight in the shoulders and it must be long enough in the legs. If the suit is too tight in the shoulders then I know my muscles will easily fatigue in a race, because of all the tension the suit is causing. The suit's length in the legs is also important to me, because if the suit is too short then it will most likely be too tight around my quads and hamstrings. This tightness can cause a loss of circulation throughout my body, which can cause fatigue and hinder my race performance.

3) Comfort while swimming all four strokes
Because I swim the Individual Medley, I must have a suit that functions very well in all four of the strokes. If the suit is comfortable for only a few of the strokes, it does me no good. I want a suit that will stay in place for the breaststroke, create compression in my core and legs for butterfly and freestyle and one that will resist water in the chest for backstroke. This is a tall order but there are definitely suits that have all of these qualities.

4) Compression
Finding the perfect balance of compression is tricky. If a suit is too tight you can lose sensation and fatigue quickly but if a suit is too loose you run the risk of trapping water in your chest, torso or legs, which causes major drag. I like my suit to be on the tighter side of compression throughout my core and legs, but I don't want it to be too tight in the shoulders or back because then I can lose mobility. If any of these are off balance it could affect my results.
5) Durability
When choosing a suit, I look for one that will last. I would hate to spend several hundreds of dollars on a suit that didn't last me more than one meet. My suit must be able to withstand several races in a day and several meets in a season without losing its high-tech qualities and its shape. 
About Julie Stupp

Julie Stupp is the first athlete in NCAA history to qualify for the NCAA's in both swimming and track & field. She first competed in the U.S. Olympic Trials as a 14-year-old in 2000 and made the final of the 400m IM at the 2008 U.S. Olympic Trials. She is an IM and breaststroke specialist and competed for Auburn University from 2004-2007, where she was an 11-time All-American. She is now an assistant swimming coach at the University of Missouri.