Top Waterproof MP3 Players Compared by Zach Kent of @iSwimWithIssues
2015 Jan | By SwimOutlet.com Staff
By Zach Kent, @iSwimWithIssues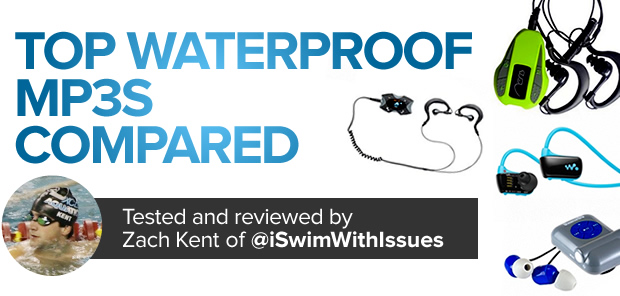 Hey swimmers, Zach Kent here from @iSwimWithIssues! This is my very first review and I have the pleasure of reviewing some of my favorite items—Waterproof MP3 players. It's often difficult to mindlessly swim for hours on end listening solely to the "swoosh" of the water. Don't get me wrong, I love that sound, but sometimes a little music can help you go a long way. Oh, and it's also useful for those times when you want tune out your coach. (I'm not suggesting doing that—it will only end with a long butterfly set.)
Below are the MP3's that I have had the pleasure of testing out, with my favorite Waterproof MP3's towards the top. Understand that a waterproof MP3 might vary based on your stroke and what preference you may have towards placement of the MP3, so I recommend reading all of the reviews to see which one is the best pick for you. All of these are great options but there might be some things in particular that suit your needs.
FINIS NEPTUNE 4GB MP3 PLAYER

Setup
Setup was quick and easy. After taking the FINIS Neptune out of the box, I immediately plugged it into my laptop to start the syncing process. Once that was done, I opened up iTunes to convert my songs to an MP3 file, which is what the Neptune requires.
Performance
The FINIS Neptune is the only device that uses a special "bone conduction technology" that sits on your cheekbone instead of in your ear. At first, I was a little skeptical, but after using it I immediately began to see the plus side of this technology. This was useful, as I did not have to spend as much time fiddling to get the device set up.
The "brains" of the device is set up to go behind your head, and the speakers clip on to your goggles right in front of your ears, and thus hang down to cover your cheek bone. The "brain" has most of the buttons on the device, and there is also a play/pause button on the left speaker. My only gripe is that the buttons and OLED screen are on the back of your head. However, once you learn the buttons it's a breeze.
The FINIS Neptune also ships with a nice carrying case to protect the device when you happen to not be swimming. This player won the Red Dot Design Award in 2013, so you know it's an innovative product you're getting.
Pros
-Loud
-Easy to set up
-Long battery life (6+ hours)
Cons
-Since the earpieces do not actually go in your ear, it's a tad harder to drown out your coach.
-Device can only be used for swimming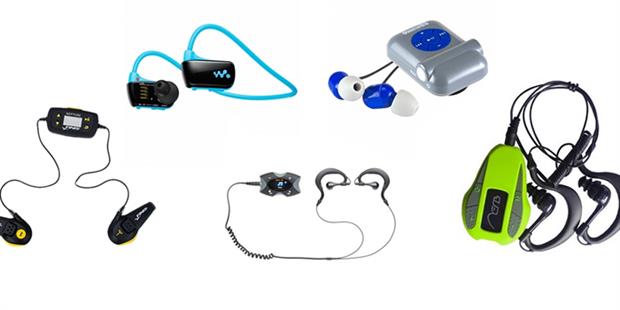 SONY WALKMAN 4GB SPORTS MP3 PLAYER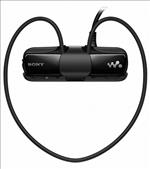 Setup
Setup was similar to the FINIS Neptune. Music had to be dragged, after converting to MP3, from iTunes onto the devices window in Finder (for a mac) or in Explorer (for windows). This device also came with a neat cradle to charge and sync the device (pictured left).
Performance
The Sony Walkman was the easiest device to get working. Simply turn the device on, fiddle with for about 30 seconds to figure out which direction the headphones go on, and you're good to go.
The device also features a playlist feature. Simply hold down the playlist button on the right earpiece and a robotic Siri-type voice comes on to let you know which playlist you are listening to. This is the only device that had this feature, and it is very helpful given the absence of a screen.
Not only can this device be used while swimming, but also while running or doing dry land before practice. I really like that feature. Much of this is due to the device not relying on goggles or a swim cap to hold it in place.
Pros
-Easy set-up
-Multi-sport use
-Long battery life
-Available in 4GB or 8GB versions, for an extra $30.
Cons
-Not quite as loud as I would like. The swooshing of the water occasionally overpowered the audio.
ARENA 4GB SWIMMING MP3 PRO PLAYER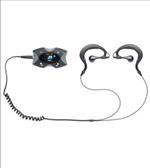 Setup
Setup was exactly the same as the other two. Plugged it in, and used the same converted MP3 files from iTunes by dragging. Easy functionality.  
Performance
As a whole, this MP3 is a great option for those who simply want music while they are swimming or running. The device ships with the device itself, waterproof earphones, an extension cable (to extend the cord length if you are using the device while running), the USB cable and a carrying pouch.
If you're a swimmer who puts their goggles over their cap, this is recommended for you. The device clips on to the back of your head, and the headphones will stick into your ear (quite far, I might add).
I had no problems keeping the headphones in my ear and found them a great tool to get me through a long practice.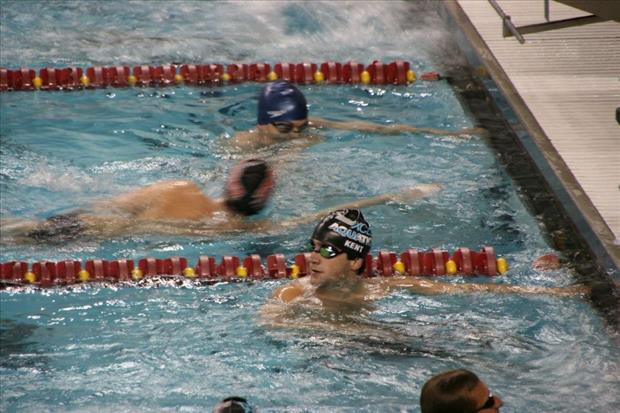 I was very disappointed when I realized that I was not at a Katy Perry concert and actually was in the middle of swim practice. This option gets loud and has some great sound quality.
Pros
- Makes you feel like you're at a concert (very loud).
- Easy setup
- Holds charge well
Cons
- Sometimes headphones would fill with water. Not a problem, just a simple push and they're back to the way Katy Perry is meant to be listened to. Don't go telling too many people I listen to her, though. That's embarrassing.
FITNESS TECHNOLOGIES UWATERG5 4GB WATERPROOF MP3 PLAYER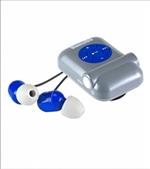 Setup
Setup was the same as the other devices. If you don't want to sync your own songs, you can simply swim using the built in FM tuner.
Performance
This is a very simple device for the simplest of people. Simply put the ear buds in, find the right placement for the device on the back of your head (it clips onto your goggles), and it's ready to go!
Sound quality was good enough to allow me to tune out the one teammate who kept announcing "ONLY 6 MORE" after each set.
I recommend super-gluing the earpieces to the headphones once you find the right sized one for your ears. I ended up yanking mine out, and the earpiece got stuck in my ear! It was fine though—I felt like a FBI agent for a little while.
If you're looking for something simple, go with this one. With a price of $48.95 you cannot go wrong.
Pros
- FM/AM tuner
- Great value for the price as one of the most inexpensive of the bunch
Cons
- Headphones
- No screen 
AERB 4GB WATERPROOF MP3 PLAYER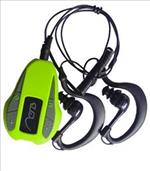 Setup
Setup was the same as the previous devices. Quite quick and easy.
Performance
The Aerb is a simple, inexpensive device with an OLED display. You can listen to your own music, or choose to listen to your favorite AM or FM radio station.
The headphones on this device are the same headphones that are shipped with the Arena Swimming MP3 Pro. While the Arena device pushes out a louder sound, the Aerb is not far behind.
If you're looking for an inexpensive device that you can use while swimming or running, and would like to have an OLED display, then you cannot go wrong with this one. I like the option of being able to choose between the bright green or the more traditional black.
Pros
- AM/FM Radio
- Good Sound Quality
Cons
- This product appeared to use the battery quicker than the others.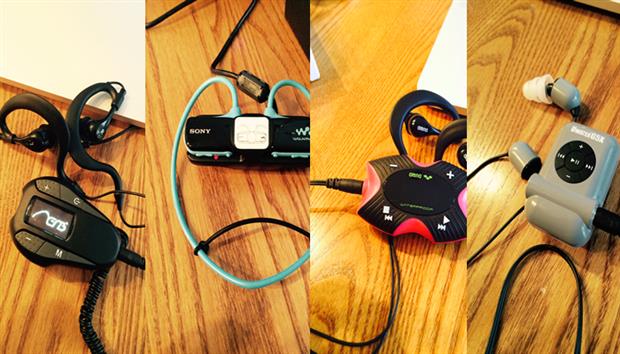 Win a 4GB MP3 of your choice from the reviewed players. To enter, tell us your favorite pump up song before a swim meet. One winner will be chosen at random. One entry per person. All entries must be received by 11:59pm, Jan 14.
[Editor's Note: MP3s are use by elite, recreational and fitness swimmers alike for all sorts of aquatics uses, so rather than ask our elite contributors to review a selection of MP3s, SwimOutlet.com enlisted one of the most popular swim personas on social media to break down the top MP3s.]