Top Swim Backpacks Compared: The Expert Review
2018 Jul | By SwimOutlet.com Staff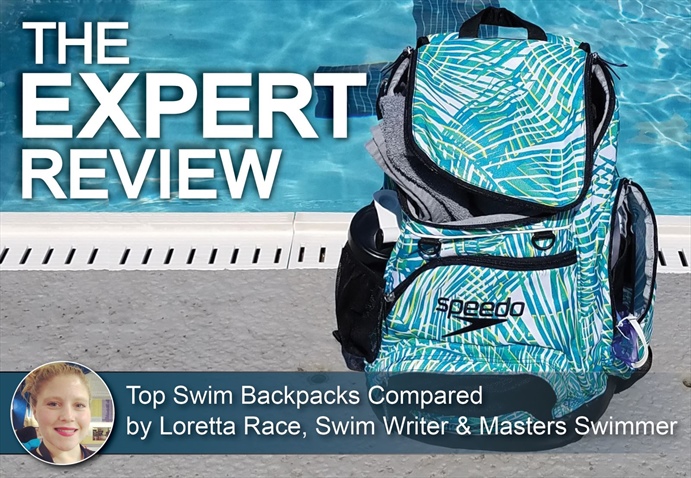 Swim backpacks are ubiquitous on the pool deck. Big enough to store all your swim gear with various pockets and compartments for your items along with a good amount of space for your personal stuff, there are few competitive swimmers that can live without them.
It has been three years since SwimOutlet.com last compared the top swim backpacks, so we reviewed the latest backpacks from the biggest brands this summer. The designs and constructions of these bags have gotten so good that these could be used for other sports and activities as well! Even as a terrific school backpack.
Let's dive in and break down each backpack on its own merits.
SPEEDO TEAMSTER PRO 40L ($79.99)
First Impression: A serious bag for serious swimmers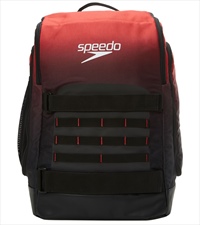 With 'Teamster' in the name, I expected the Pro model to be similar to the traditional Teamster 35L that's been out for a few years, but I couldn't have been more wrong. The Pro edition is a seriously-equipped bag, giving swimmers of all levels a multitude of storage and arrangement options both inside and out.

The inside of the bag owns 40L of storage space, which held my dry suit, gym clothes, gym shoes, cosmetics, and dry clothes with additional room to spare. The bag has a very upright feel and is somewhat blocky, but this means you can use every inch of the large compartment without an angle. There is not a laptop pocket on the inside and the main compartment zipper opens away from you and towards the back similar to the TYR Alliance.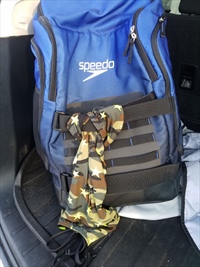 Two pockets adorn the sides of the bag, with one of them having mesh at the bottom for 'wet gear'. The other pocket is identical in size, but has a smaller inner-pocket closed with a zipper that was perfect for my small jewelry. I did miss the Teamster 35L's separate 'dirt bag', however.

The front of the Teamster Pro is what really set the backpack apart in my opinion, as MOLLE webbing and two 'seatbelt'-type straps are positioned for easy access. MOLLE stands for Modular Lightweight Load-carrying Equipment and was first utilized in military backpacks as a way to carry more gear on the outside of the packs. Any number of carabiners or gear clips can be attached to the MOLLE webbing, as could the multitude of bag tags you love you hang from your bag. You can tie anything with straps, too.

The two large straps on the outside are lined with velcro, which enabled me to store my small foam roller and a towel on the outside of the bag. For those long meets, being able to secure these items on the outside frees up a ton of space on the inside of the bag!

Probably my favorite feature of the Pro, however, is the fact that the front panel is waterproof. As someone who goes from coaching a small squad to her own training and then to a full-time job, it's step-saving to be able to secure my wet suit on the outside of the bag and know its moisture is not seeping through fabric and getting other personal items wet while sitting in my car all day.

The color options for this new item are limited since this is the first edition with just basic black, red and blue, all with an ombre-type effect. My guess is that the popularity of this bag will grow quick – and so will the design and color options!

Retta's Rating: A all the way for this trailblazer

 
TYR ALLIANCE 45L ($59.99)
First Impression: Large, but lightweight; your bring-everything bag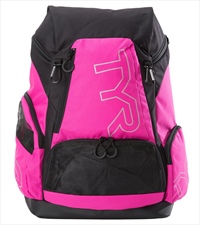 TYR should design the interior of space shuttles or something because the brand uses every little nook and cranny of this Alliance 45L design to maximize storage. The outside of the spacious backpack holds several zippered pockets arranged in various sizes, all fitted with easy-to-grip, almost springy zippers. Multiple pockets are ventilated and each keeps your essentials, such as cell phone, wallet, keys, goggles, caps, and gummy bears within reach.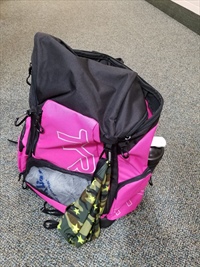 As for the largest compartment, the 45L gives you the packing freedom you never knew you needed, offering enough room to stuff several thick towels or even a parka inside for those long meets. With a change of clothes, towels, a jam-packed cosmetic bag and travel essentials all stored in my Alliance, my blender bottle still slid into the slim mesh pocket on the side, thanks to it having been smartly engineered in elastic material.
An option for wet storage includes a large mesh compartment as the undercarriage, accessible from the front. However, I preferred to hang my wet suit from one of two convenient and extremely practical clips that hang from the front of the bag. The clips proved to be quite the handy place to hang goggles and my key ring, keeping my pool and gym passes accessible without having to dig for it.
The bag is tall, which allows a laptop or other sizeable electronic device to slide into the back slot easily. That particular compartment is nicely padded with different raised cushioning for extra lumbar comfort. The top of the Alliance Backpack opens to the back, which isn't necessarily a bad thing, it's just the opposite of where I inherently grab for a zipper. Also, due to the pockets in front, the main compartment zipper unzips around the top instead of a more pronounced u-design with a bigger opening. A helpful plus is that, for how large the backpack is, the Alliance is surprisingly light on its own, adding no more effort to carry than expected after a tough workout.
Speaking stylistically, the TYR Alliance 45L comes in limited patterns, but does offer an array of two-tone color combinations. My particular bag was a pink and black attack, which gave it a little edge. The TYR logo is emblazoned across the pockets, but it's attractive and not overly gaudy.
Retta's Rating: A for size and ergonomics

 
ARENA SPIKY 2 LARGE ($59.90)
First Impression: Upright bag with just enough storage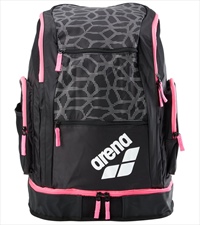 The arena Large Spiky 2 backpack sits at 40L, which is right in between the original Speedo Teamster 35L and TYR Alliance 45L. The large compartment is easily opened by a top zipper that is u-shaped for easy access and can fit several towels, suits, dry clothes and other bigger items. There is a laptop sleeve in the back, but it's a little more basic, with no significant padding or design feature. This main compartment is itself ventilated, with two small slits of mesh on each side. The mesh is barely noticeable, but enough to keep the air flowing into the bag….and your usual pool stink out! The shoulder straps of this bag were particularly comfortable, easily adjustable, and the 'arena' name written down the side is a nice touch.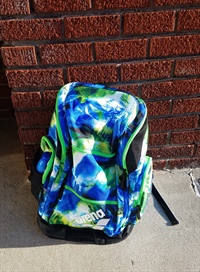 The exterior of the Spiky 2 is outfitted with a good amount of pockets, one of which is mesh, perfect for wet cap and goggles. The side elasticized pocket is ready for a water bottle, which housed my blender bottle just fine. The wet/dry section comes in the form of a compartment at the very bottom of the bag, with a zipper that stretches nearly all the way around. My gym shoes squeezed in this area with no room for anything else and I found it slightly awkward to re-zip once I slid them in there. This part also has a bit of mesh to air things out, although it's fairly small. The backpack's bottom is thicker and textured, which enabled the bag to stay upright most of the time and protect it from the sometimes yucky pool deck.
I was thrilled with the Palms Blue/Green island-vibe pattern of the bag - a very cheery, non-boring color combination that helped me easily pick my bag out among a sea of swimmers' gear stashed in the locker room. However, the fabric composition of the bag made the shell thinner than other bags, which makes me think it may have the potential of ripping if dragged across the wrong part of a bleacher frame. Although perhaps less rugged, the thinner shell does make the bag super light on its own, which made my worked out muscles happy.
Retta's Rating: A- for a comfortable backpack that keeps gear organized

 
SPORTI LARGE ATHLETIC BACKPACK ($26.99)
First Impression: The value swim backpack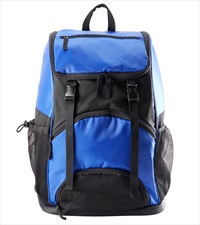 The Sporti Athletic Backpack resembles the Speedo Teamster 35L in its shape and overall size, but is much more generic in appearance. As with the Teamster, the Sporti bag has a u-shaped zipper extending partially in the front of the bag, which makes it easy to stuff larger items in, while several pockets adorn the outside of the pack for the smaller essentials. The main compartment's zipper flap has a convenient pocket that sized my cell phone and earbuds perfectly and my large water bottle was able to fit snugly into the side pocket, secured with a toggle stopper. Two adjustable straps are conveniently situated on the front of the pack and can be unbuckled to hang a wet suit or several pairs of goggles.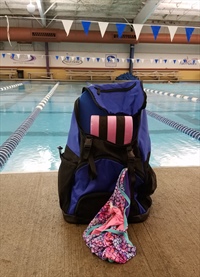 Inside, the Sporti Backpack has a laptop sleeve and also its version of a 'dirt bag' clipped in to store wet gear. As with the Speedo bag, the wet pouch can be clipped to the outside of for complete separation from dry items. The large compartment can fit a couple towels and a dry set of clothes, but a bunched up parka takes up the entire space with no room for meet necessities such as food. The bottom of the bag is made of a solid, textured base that also contains its own compartment with ventilated zippered opening. The fabric of this compartment, however, doesn't feel waterproof to me.
The particular Sporti I tried out had a rich royal blue color which matched well with contrasting black. The Sporti name appears very discreetly on one of the back straps, which I didn't find as soft and comfortable as other bags, such as the arena Spiky 2. Also, there is an almost microscopic mesh sleeve running along one of the straps that I am guessing is meant for a cell phone, but it's impractical for any real storage.
Bottom line, budget-minded swimmers will find this bag fits their needs and can stand up to the bigger names without a hefty price tag – especially if you go through bags pretty quickly! And for Masters swimmers or age group racers, you can get the U.S. Masters Swimming or USA Swimming version of this backpack.
Retta's Rating: B for being a functional, no-fuss bag

 
TYR MUMMY BAG ($19.99)
First Impression: Fully-mesh, fully-functional gear bag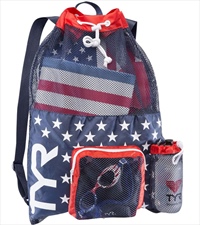 The TYR Mesh Mummy Backpack is my go-to gear bag. It's extremely roomy, allowing me to bring both big and small fins, kickboard, snorkel, 2 different sets of paddles and a parachute with more space to spare.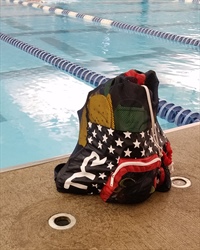 My favorite feature is the small zipped pocket on the outside of the bag. With an old mesh bag I used that was just one big compartment, I would constantly have to dig for my goggles, cap, tempo trainer, etc., but now I can locate these smaller items quickly and easily in their own designated space.
The bag has two backpack straps, of which I usually only throw one on my shoulder. The main compartment closes via a cinch closure with toggle keeping gear inside when I toss it in my trunk.
The one drawback for me is the water bottle compartment on the outside. For me, my blender bottle fits inside and I can cinch the closure around it, but it still fell out when I would sling the bag on my shoulder. Perhaps smaller bottles wouldn't have this issue. Also, this bag is intended strictly for gear; don't stick a towel or clothes in here and expect them to stay dry, as the bag is mesh throughout for ventilation.
The Mummy Backpack comes in several different colors and patterns, which can help you set yours apart from the rest of your teammates so you're not grabbing someone else's by mistake.
Retta's Rating: A, provides ample storage for tons of gear
 

SPEEDO LARGE 35L TEAMSTER ($74.99)
First Impression: Classic, solidly-constructed, dependable Speedo name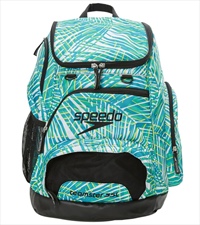 Speedo has long established itself as a leader in swim gear and the latest Teamster 35L backpack is a prime example of how the brand simply 'gets' swimmers. The Teamster 35L is a terrifically-sized bag, giving you room for your big things like towels, suits and food, but it also houses plenty of outside pockets for your little possessions that tend to fall to the bottom of the big compartment. A wallet, phone, ear buds and keys can fit nicely in one of the several side pockets so you can grab them easily. Inside there's a laptop pocket that fit my Chromebook perfectly and kept it hidden away from my other gear. Even if you don't see yourself bringing a bigger piece of electronics with you, this slot can simply give you another spot to stash food or heat sheets.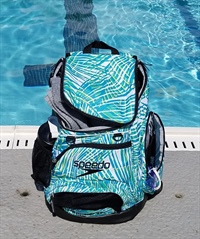 I was also surprised to find a soft little bleacher seat in the back of the bag. That's something I wouldn't think of absolutely needing at a meet, but it's nice to have. Plus, if you leave it in the bag it provides a little cushion on your back for those long hauls from the pool to the hotel (although the back is already plush). The Teamster 35L also has its signature 'dirt bag', which is a convenient option in which to place your wet suit after practice. The rectangular-shaped bag can detach from the inside of the pack to the outside, where it easily clips onto the front d-rings, completely separating the wet items from your precious dry towels and clothes inside .I would prefer to also have a couple of clips on the outside of the bag instead of just the d-rings. But, you still have the separate, ventilated compartment in the bottom of the bag for additional wet items. Although since I typically lift weights close to when I swim I kept my gym shoes in there and they fit just fine, but did intrude in the main compartment space a tad.
Aesthetically this bag is offered in as many colors as there are personalities, with some fun prints mixed in. The Teamster 35L I used was the Bali blue print, which gives a fun, tropical vibe that's perfect for the summer, but can also brighten up the dungeon-y feel of indoor aquatic centers. From a construction standpoint, the stitching is strong and the zippers run smoothly, while the fabric combination is both durable and flexible, with a water resistant bottom. With such a rugged bottom, the bag is slightly heavier on its own than other bags, but not enough for this to be an issue. The bag conveniently stayed upright when I filled it with my gear, which sounds like such a small perk, but as much as we swimmers use these bags, it's a must.
Retta's Rating: A very well-earned A!
 

Loretta Race is a swim writer for various publications and the founder and coach at the Northern Kentucky Swordfish Masters in Erlanger, KY. She swam age group and high school swimming before attending Xavier University.