The Joys of Swim Class with Your Baby
2017 Feb | By SwimOutlet.com Staff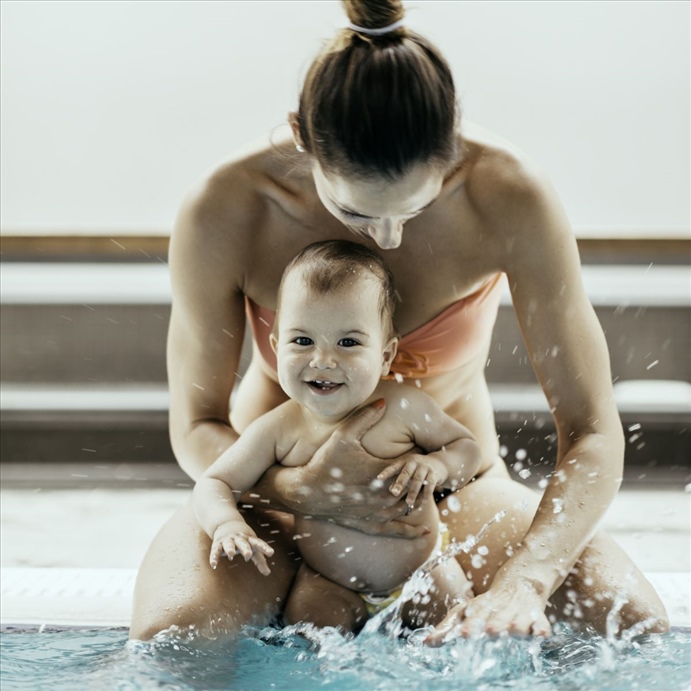 Introducing your baby to water and swimming at a young age has been shown time and again to have benefits for your child as they grow into toddlers and young children -- mostly around water safety, but also physical exercise and mental stimulation.

But what do parents get out of taking their young babies to swim class? Are we just along as chaperones? In fact, signing you and your baby up for swim class together has incredible benefits to you as a parent and can be one of the most fulfilling things you can do together as parent and child!

Here's five reasons you will get joy out of taking your baby to swim class. So if you have a newborn or little one on the way, check out the local pools near you – all of them usually have some sort of baby class. And remember, it's never too late to learn how to swim!

1) New sensations & experiences – There's no question as a parent witnessing your baby experience new activities and sensations is one of the most fun things to watch, whether it's tasting a new type of fruit, a walk out in the snow or petting a dog for the first time. Swim class is like this, except over the full duration of the class. Some kids may know the water from bath time, but it's nothing like watching them in a huge baby pool with toys and other kids.

2) Group environment – Young babies don't often get as much interaction with other little babies until they are perhaps a little older. Especially since 1-year olds can be tiring, fussy and in need of constant attention. But when they are engaged and you are holding them in the pool during a baby swim class, they function really well in this group setting whether it's passing balls to one another or singing songs in a circle.

3) Physical exercise – Let's be honest, an afternoon watching your 1-year-old running around the house or the playground can leave you more exhausted than your toddler. This is not the case if that afternoon is spent in the pool. The exercise will tucker out your little tyke since it's a bit of a different activity and will make him/her go to sleep that much easier. Chalk that up as a benefit!

4) Knowing you are helping your child – Most teaching moments with your baby are incredibly fulfilling for parents – knowing you are helping to give them the tools they will need to live happy, healthy lives. With swimming, you know that you are teaching them a tool that could also help save their lives. Roughly one out of 5 drownings every year are kids under 14. Teaching them to swim can make a huge difference!

5) Learning to Love Swimming – For a lot of parents, returning to the local pool for baby swim might be the first time you are back in a pool in many years. Seeing the wide-eyed babies reminds you what a terrific sport swimming is. We obviously love swimming at SwimOutlet.com so that reminder about our fantastic sport through your 1-year-old is a great thing!