The Expert Review: Top Short Sleeve Open Water Wetsuits Compared
2020 Aug | By SwimOutlet.com Staff
By Dan Cox, Open Water Swimmer, Triathlete & TV Personality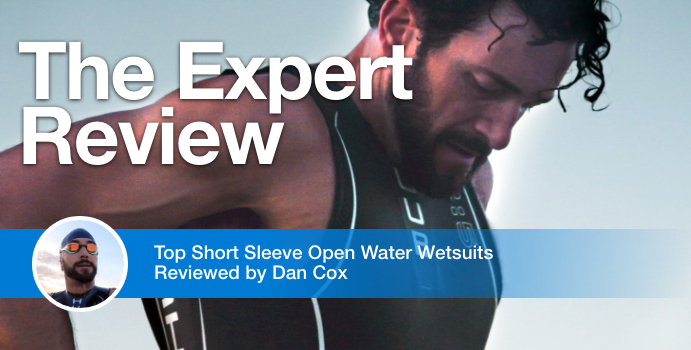 With many pools across parts of the country still closed, open water swimming has become a must for a lot of fitness and recreational swimmers. The funny thing is, once you start open water swimming, it's hard to match that feeling in the pool and most end up loving it, even addicted to it. 
There is something about the movement, challenges of the ocean, and the crispness of mountain lake water that becomes just as much of a reason to get in it as the act of swimming itself. But with open water swimming comes new gear needs. 
If you have been doing triathlons, you most likely have at least one wetsuit and may only use it for races. If you are a pool swimmer, you may not even own one.  
SwimOutlet asked me to test out some of the top sleeveless (plus one full-sleeved) wetsuit geared toward daily (or regular) open water swimming sessions. 
We looked at on and off comfort, buoyancy, tech aspects and more when reviewing each of these suits in Hermosa Beach, California. For reference, I am 6'0", 170lbs and have longer legs for my torso height so generally, wetsuit legs tend to be a little higher above my ankle. I tested all Medium size suits and a couple Medium Tall for brands that had them available.
Remember every person's body type and needs are different and this suit review is just one of many tools to help you in your purchasing decision. Read the brand information, check the sizing charts and even talk to your other friends who have wetsuits to get more information.
Editor's Note: The Expert Review are 100% independent reviews from outside experts not affiliated or employed by SwimOutlet.com, providing their own personal perspective on each of the suits in the comparison test.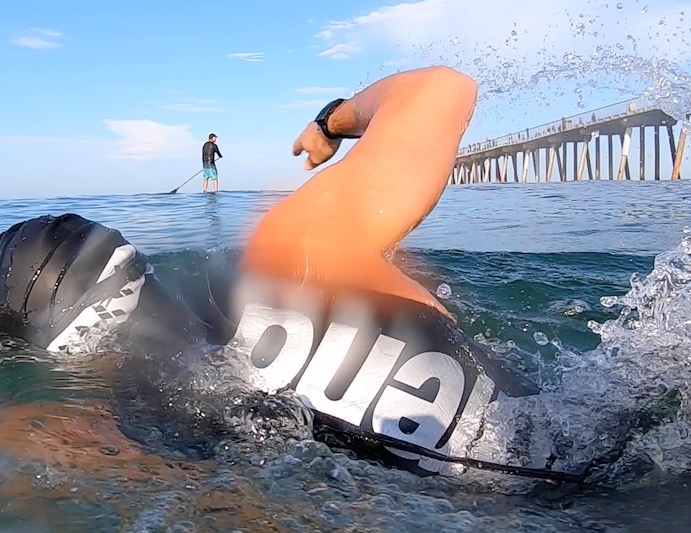 arena Men's Carbon Sleeveless Tri Wetsuit
In true arena style, this suit visually stands out more than any others. Known more for their pool gear, arena really surprised me with this suit. I have always been a fan of their goggles and was very interested to try this suit. This suit was very easy to put on and take off, even wet which was a huge plus. The stretch in the suit was great, I enjoy a free feeling and this suit provided that.  There is also a kind of grid feature on the inside of the suit that seems to allow for even more flexibility especially in the torso. Arm openings are on the larger side, really eliminating any shoulder restriction. Even though this suit felt thinner from a feel and flexible side it still provided the buoyancy of the thicker suits.  
Summary: On the thinner side but still felt warm, very flexible and cool look. Easy on and off. Top-down zipper.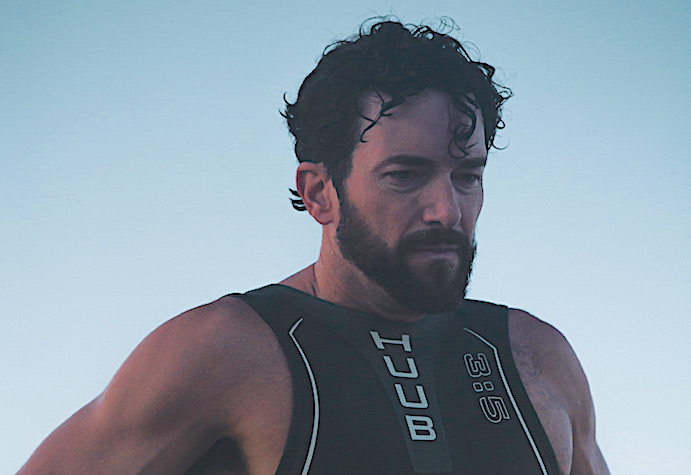 Huub Men's Aegis III 3:5 Sleeveless Triathlon Wetsuit
The first thing I noticed with the Huub was the design with the grey, white and red accents. This suit was on the firm and snug fit side, but not restrictive. The neck was just slightly higher than most in this bunch providing a little more coverage. Really depends what you prefer. In the water, the suit felt great, especially for the thickness. The Huub provided good buoyancy and snugness kept the warmth.  
Summary: Form-fitting, slightly more coverage, and on the thicker side in this group -- but with flexibility.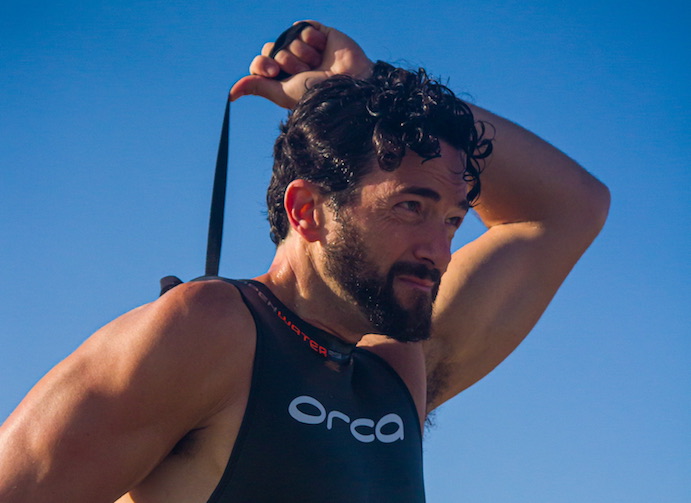 Orca Men's RS1 Openwater Sleeveless Wetsuit
This suit seemed to be right in the middle ground of the thicker and thinner suits. Easy on and off and it felt thicker around the hips with a taper down the legs providing a little extra buoyancy for the hips. It is snug and flexible, and was a great blended suit for different applications. It felt on the warmer side and the arm movement with arm holes on the larger side was great, no restriction. The style of the suit is simple, but does have some unique red/orange graphic and text that are subtle, but add touches of flare.  
Summary: Great taper feel with hips feeling like they had more support, snug fit all round and good movement throughout, no restrictions.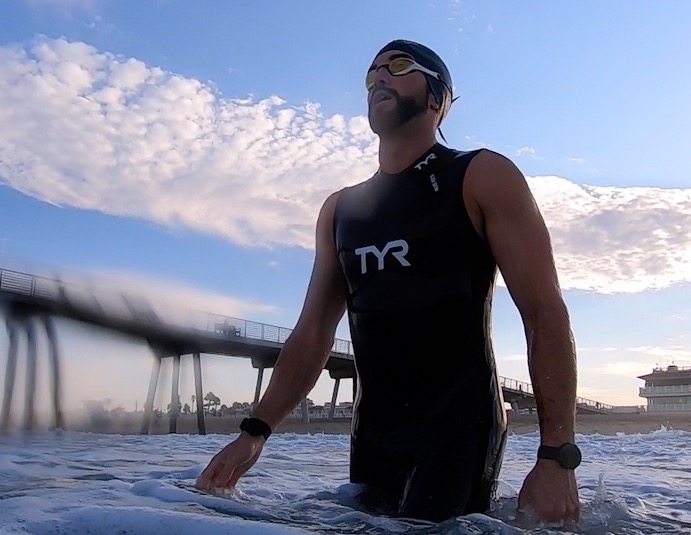 TYR Men's Category 1 Sleeveless Wetsuit
I have swam with the TYR Category 5 full sleeve for the last two years and have always been a fan of the brand. This was my first time trying on the CAT1 and had the same fit, just a thicker suit. The neoprene felt thicker all throughout, which provided a little more buoyancy and heat. The medium was snug and firm, so if you like a tighter feeling suit the M might be a good match for you. If you do like a little bit more room, you may want to size up since they offer a M/L option if you are on the border of the fit chart between the two.  
Summary: Thicker sleeveless, feels consistent from top to bottom. Warmer and more buoyant option.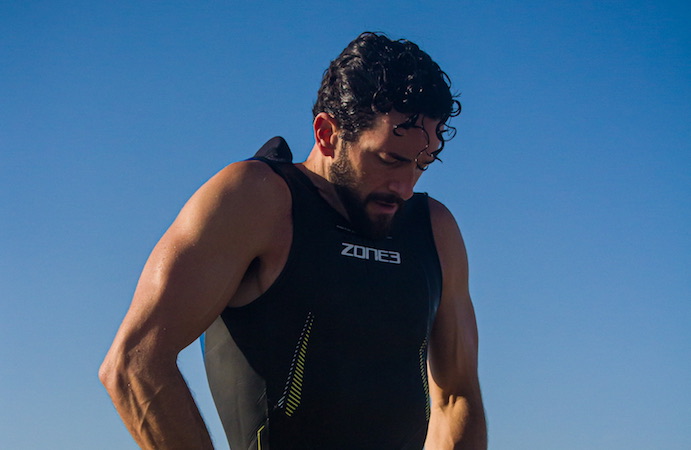 Zone3 Men's Sleeveless Vision Tri Wetsuit
First thing I noticed was how easy this suit was to pull up. I tested all these suits on the same day, so I wasn't full dry, and even a little wet, this suit went on very easily. You can tell they are thinking from a triathlete stand point of easy on and off for quick transition. The suit featured various widths in different areas and you can feel at all pivot points -- a lot or room to move with little restriction. This was a Medium Tall and it was the only one that covered my ankles so keep that sizing option in mind if that's important to you. It felt great in and out of the water, not as tight of a feel, felt loose and fluid.
Summary: Really easy on and off. Tapered suit with different thickness, but feels flexible all around.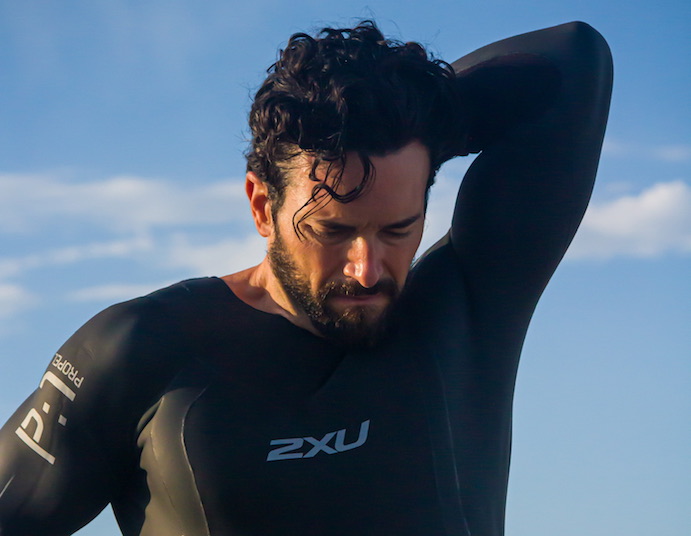 2XU Men's P:1 Propel Tri Wetsuit
This was the only full-sleeve wetsuit we tested. Due to the thin (feeling) suit, it was a perfect addition into the test, as it almost felt like a sleeveless so if you want the arm protection without the constriction, give it a look. Most of the complaints you hear from swimmers regarding full sleeve wetsuits is the restricted arm movement. What seems to feel like a taper down and very flexible neoprene, eliminates that concern. The suit was very easy to put on, first pull on the leg got it up to the hips. A snug fit all around, but due to the flexibility of the suit it wasn't restrictive at all. 
Summary: Great fit. On the thin and flexible side. Very easy on and off. No restrictions in shoulders despite the full sleeve.