Comprehensive Guide to Masks for Swimmers
2020 Jul | By SwimOutlet.com Staff
by Jeanie Joseph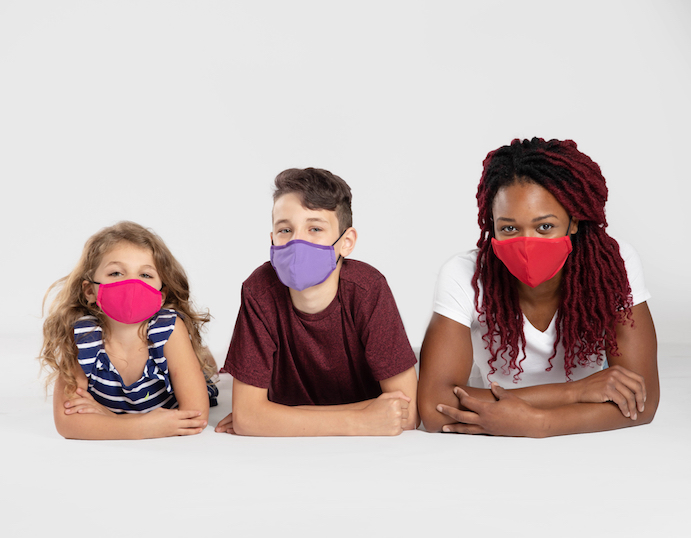 In the current environment of the on-going pandemic, face masks have become not just an optional item, but a mandatory accessory in many parts of the country and the world.
In the U.S., the CDC recommends that people two years of age and older should wear a cloth face mask, and practice social distancing when in public settings to help reduce the spread of the Coronavirus.  
With face masks becoming a new normal for the longer term for people, it's important to educate yourself on the different types and their effectiveness.
How do I choose what type of mask is right for me?
N95 - These types of masks are not typically worn by the general public as they are generally meant to be reserved for health care workers and first responders.  These masks are actually a type of respirator that fit tightly around the face and provide very efficient filtration of airborne particles.
Surgical - These types of masks should also be reserved for health care workers and first responders. Medical grade masks are those that block at least 90% of small airborne particles. These masks are disposable and not meant to be worn more than once. These masks are loose fitting, with some having the ability to block 90% of airborne particles.
Cloth - These types of masks are recommended by the CDC for use by the general public.  The CDC recommends wearing a cloth mask and social distancing when in public settings to help reduce the spread of the Coronavirus.  Cloth masks are intended to block, or trap, the wearer's droplets which can carry the virus that are released when talking, sneezing, coughing, etc.  Cloth face masks can be homemade with a few simple supplies, or purchased from many retailers, including the wide selection of SwimOutlet's cloth face masks HERE.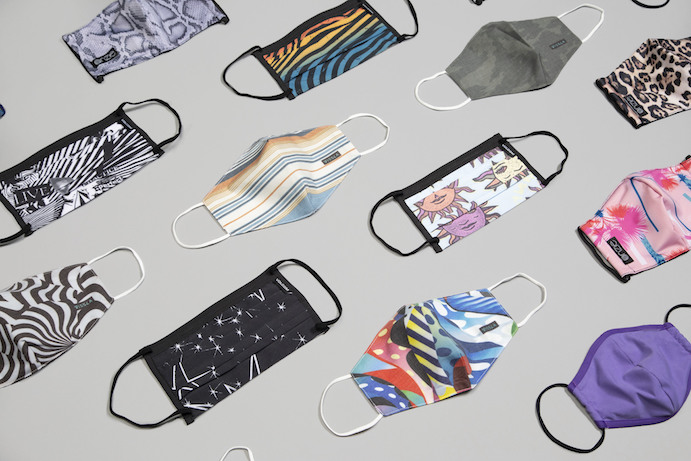 What type of fabric can cloth masks be made from?
Cloth face masks can be made from many different types of fabrics you may already have: t-shirts, bandanas and sheets are just some of the examples the CDC recommends.  Cloth face masks can be made at home with or without sewing. Click HERE to see the CDC's guide to making your own cloth face masks.
Cloth face masks can also be purchased from retailers in a variety of materials including cotton, polyester, nylon, neoprene, etc. 
It's advisable to purchase a mask with at least two layers like the ones available from Everyday Yoga at SwimOutlet or check out the options from Sporti which are made of three layers. Some masks also come with pockets to insert filters, like those from Onzie.
What is the proper way to wear a mask?
Masks should be worn so that they cover the nose and mouth at all times.  Some masks have ear loops that wrap around the back of both ears to hold in place, other masks have strings that are tied behind the back of the head to hold in place.  It is recommended that you wash or sanitize your hands before putting on, and after taking off your mask.
Face mask precautions:
-Face masks should not be used to replace social distancing
-Children under 2 years of age should not wear masks
-Do not put a mask on someone who is unconscious, having trouble breathing, or unable to remove the mask without help
Does my mask need to have a nose piece and ear loops?
Masks are supposed to fit securely around the nose and mouth area of your face. The more secure and tight the mask fits, the better it blocks particles from getting in and out of the mask.  Some masks have a nose piece that can adjust to fit the unique shape of each person's nose, these masks are great for creating a more secure fit. Having a fitted nosepiece also helps to reduce fog that forms when wearing glasses. Another option for fogging is to apply antifog spray on your glasses. Most masks are fitted with either ear loops, or strings that tie behind the back of the head; both styles are recommended as long as the mask fits securely around your nose and mouth.
How do I take care of my mask?
Always follow the care instructions provided by manufacturers of cloth masks. Some can be hand-washed with soap and warm water, others can be machine-washed and dry. If cloth masks are placed in the laundry with the rest of your washable clothing, it's advisable to put them in a laundry wash bag. It's recommended that cloth masks be washed regularly for maximum effectiveness. Disposable masks should be thrown out after each use. Before you dispose of a mask, it is recommended that you place it in a sealed bag.
Resources:
WebMD

CDC - Considerations for wearing a mask

Mayo Clinic 

FDA

CDC - How to make a cloth mask