Tips for Getting Recruited in Diving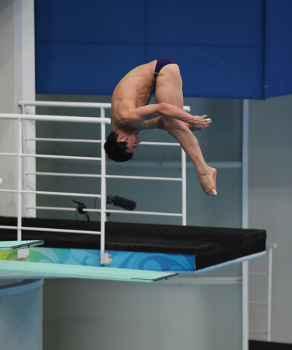 One of the top goals for many divers is to get recruited to a college of their choice. Divers spend a lot of time in the water, traveling for competitions, and focusing on improving their skills. For many, the payoff is a college scholarship. However, this task is not simple. It takes focus, time, and energy to achieve the results you want.
Below are some general guidelines that will help you get noticed by a college coach, hopefully giving you the opportunity to dive for the school of your choice.
Academics First
First and foremost, your top priority needs to be education. Schools and coaches look at your academic record. They want a student-athlete who is a student first and athlete second. Make sure you study for your tests and complete your assignments on time.
Good study habits, as well as good grades, are necessary to achieve a college scholarship. If you are lacking in this area, try to get back on track. Get tutoring help if you need it, and always study to the best of your ability. You don't have to have perfect grades and test scores, but you do need to be a successful student to make it as a college diver.
Go to Practice
After academics, the second most important trait is to be a skilled diver. You don't need to be perfect, but coaches will look for dedication, improvement, and zeal. In order to show these traits, you must attend your diving practices. The more practice you put in the pool, the better a diver you will become.
Thinking you can skip this very important piece of the puzzle is a mistake. In order to become better at anything, you must work at it. To get some ideas on how to improve your diving, take a look at iSport's guide How to Become a Better Diver
Compete Frequently
The next step is to compete in diving meets as often as you can. Competition makes you a stronger diver. It teaches you how to dive under pressure, how to deal with anxiety, and how to dive with an extra rush of adrenaline.
Hot Tip: Make Senior Nationals
Make it one of your goals to qualify for Senior Nationals. Senior Nationals are where all the top divers in the United States will compete. As a result, all the top college coaches will attend. The more times you compete at Nationals, the better your chance for getting noticed by the coach of a college you're interested in.
In addition, going to diving meets is a great way to get noticed by college coaches. Many college coaches are also club team coaches. Most of these coaches will attend the larger regional, zone, and national competitions. In order to compete at zones and/or nationals you need to qualify. Depending on your age group, there are certain requirements that need to be met. To get a better understanding of what is required of you, take a look at iSport's guide Different Types of Diving Competitions
Talk to Coaches
Once you know the college(s) you want to attend, let the coach(es) know you are interested in attending their school. Many students are afraid to contact a college coach. They fear they are not qualified enough, or that it would be rude to reach out. This is one of the biggest mistakes you can make.
Contacting a coach is one of the best ways to get your name out there and let that coach know you are interested. There are National Collegiate Athletic Association (NCAA) rules that coaches and athletes must adhere to in regards to the recruiting process. The NCAA guidelines are complex and differ depending on the sport you participate in. In order to stay within the guidelines, follow these general rules:
Phone Calls: You can contact a college coach at any time on the phone (including your freshmen year of high school). However a college coach can only call you on or after July 1 of the completion of your junior year.
In-person Contact: You can only have in-person contact with a college coach on or after July 1 at the end of your junior year.
Registration: Register with the Initial Eligibility Clearinghouse (IEC) at the end of your junior year if you want to compete in the NCAA Division I or II level. The IEC is an organization that determines if prospective athletes are eligible to compete in the NCAA.
Visit Schools
It's important to visit the schools you are interested in attending. You want to make sure that you are comfortable on campus and that the academic standards are a fit for you. In addition you should take the opportunity to visit the aquatic center and determine if you like what you see.
Hot Tip: Take Action
Just because you received a letter in the mail does not mean you are being recruited. A letter simply confirms that your name is in a database of divers. If you are interested in the school, you need to reach out and make contact!
According to the NCAA, you can take as many unofficial visits to a college campus as you would like. An unofficial visit is any visit that is not paid for by the college. On the other hand, official visits — visits that are paid for by the university — are only allowed during your senior year of high school.
During an official visit, the college will pay for you to visit their campus. They will often invite you to campus activities, room you with a diving team student, and give you a tour the campus. You will likely meet with the athletic department and get detailed information about the school. The NCAA only allows you to make one official visit per school, and a maximum of five schools total.
Daunting Process
The process of getting recruited may seem overwhelming. However, it really is a matter of dedication. Getting into a college of your choice is a fantastic opportunity and one that is worth the extra effort needed to achieve it. Always keep in mind how hard you have worked to achieve your goals. Study hard and strive toward being the best diver you can, and you may just get recruited to the college of your choice!