How to Pack for a Synchronized Swimming Competition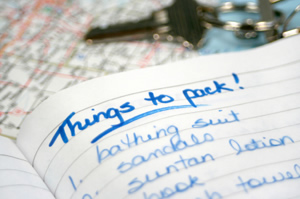 The stress of packing everything, or forgetting to pack it, is extra stress that you don't need added to competition nerves. Making a packing list for yourself and checking items off as you go will take packing off your worry list.
Packing team apparel is critical for a synchronized swimmer, since everything you and your teammates wear will probably have to match. Let's say your team decides to bring the team pants and shorts for because the forecast predicts hot weather. If you forget your shorts, everyone will be stuck wearing (and roasting) in their matching sweatpants for the weekend and all because you didn't make that packing list!
Packing List
Use the list below as a guide to prevent stress, team angst, and missing gear so that you can focus on performing your best. If you would like, print this out and check items off as you pack them.
Hot Tip: Getting Started
A good way to start your list is to first think through the competition schedule. Write down everything you'll need for each step along the way –from waking up in the morning until the last award is handed out.
Warm-up suit: Bring the warm-up suit your team wears for competition warm-up times.
Two caps: Your team most likely has a matching warm-up or practice cap. Bring two just in case one disappears.
Two pairs of goggles: Having a back-up pair is a good idea. You'll want to save your eyes for competing.
Black suit: If you're competing in Figures, it's a requirement.
White cap: Also a requirement if you're competing in Figures.
Nose clips: Bring more nose clips than you think you'll need. Most synchro swimmers can't compete well without one, and you'll inevitably leave at least one sitting on a locker room bench.
Towels: You'll be in and out of the pool all day, so one towel gets cold and soggy fast. Bring a few!
Competition suit(s) & headpiece(s): The team parent might be in charge of yours, but make sure they make it to the meet.
Hair gelling supplies: Pack these in their own little bag since so you can keep everything together.
Makeup: Plan ahead for your routine makeup needs. I f everyone has the basics, you won't all be trying the application process will go faster
Refillable water bottle: Having a refillable bottle will ensure you never go thirsty.
Routine music: Whether it's on your MP3 player or a CD, you'll want to be able to listen to your routine music for land drilling and visualization.
Lunch and/or snacks: Meet schedules don't always coordinate with eating schedules.
Sunscreen: If the meet is outdoors, sunscreen is a must.
Warm clothes: Even at an indoor pool the air can be chilly. Your team warm-ups, a parka, and shoes and socks will keep you and your muscles warm between swims.
A little cash: There will probably be a snack bar, and you may want to stop by for a mid-meet treat.
Shampoo & conditioner: You'll want to be able to wash your gel out after competing before it turns rock-hard.
Entertainment: Depending on the events you've entered, you may have some free time. Staying awake and alert will help you compete better, so bring a deck of cards, a book, pens and paper, your MP3 player, games, homework (maybe not entertaining, but a good idea), or all of the above.
Team spirit and a positive attitude: This isn't something you can pack in your swim bag, but remembering that you compete for the love of the sport will make any competition a great one!
Carry On Packing List
If getting to your competition requires a plane flight, bring these items in your carry-on—an uncomfortable flight is preventable with a little planning.
Competition suit(s) & headpiece(s): Don't risk putting these irreplaceable items in your luggage.
Pillow/neck pillow: Long flights can be a great opportunity to catch up on sleep.
Blanket: The plane can get cold once airborne and most flights no longer offer complimentary blankets.
Refillable water bottle: The dry air on the plane can dehydrate you, so bring your own refillable water bottle to fill up at a drinking fountain after you get through security.
Entertainment: Bring books, magazines, homework, or an MP3 player to help pass the time.
Be Prepared
Preparation is the best anecdote to pre-meet anxiety. If you plan ahead, pack in advance, and keep a checklist as a reminder, you will be able to focus on your swimming and performing your best at the meet.