How to Choose a Swim Bag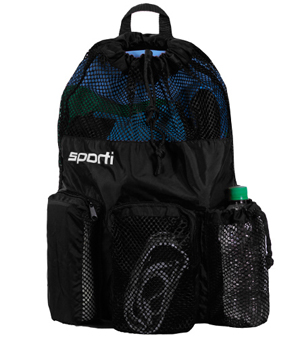 A bag is an important piece of gear for any athlete, but when it comes to swimmers, water polo players, and divers, it can be even more so. Bags keep equipment organized, give athletes easy storage for food and clothing during competitions, and can even be part of a team's uniform. Because bags serve many purposes, swim brands offer a wide variety of styles with features that cater specifically to aquatic athletes. This guide explains the differences between various swim bag styles and how to choose the one that is right for you.
Backpacks
Swim backpacks are a favorite in the swimming community, and for good reason. Specially-designed bags from Speedo®, TYR®, and Arena® are functional, but they are also status symbols. Anyone who carries one of these recognizable packs is labeling themselves as a proud aquatic athlete.
Swim backpacks offer hands-free convenience and are popular among all types of swimmers, from the youngest age group swimmers to the oldest Masters. Side and mesh pockets are included for wet gear storage, making it possible to let gear dry out and prevent mildew growth. Bigger than traditional school backpacks, swim backpacks are roomy enough to hold gear — fins, pull buoys, paddles, kickboards — as well as towels, after-practice clothes, and shower accessories. Rubberized bottoms and waterproof fabric keeps contents dry in locker rooms and on pool decks. Many swimmers also decorate their backpacks with ribbons, patches, and other decorations to personalize them.
Swim backpacks often come in two sizes: A larger adult size and a slightly smaller scale one designed for young swimmers. Because of their efficient use of space and easy carrying, swim backpacks are a favorite of age group swimmers, serious lap swimmers, and competitive swimmers.
Duffel Bags
Swimmers who don't opt for a backpack — whether because of shoulder or back problems, or because they want something with slightly more room — usually buy a sports duffel bag. Although they look the same as bags designed for other sports, swim duffels still come with lots of water sport-specific features that swimmers should look for.
Large Swim Duffels
Rubberized bottoms and water-resistant materials keep bags and their contents protected from rough pool decks and exposure to chlorine. They also prevent fading, because although a faded bag (like chlorine-bleached hair) can demonstrate your dedication to the sport, it also means that its material is breaking down. A large middle compartment often provides even more storage capacity than that of a swim backpack, and swimmers who use a lot of equipment should make sure that their bag is long enough for their fins, kickboards, and pulling gear. A shoulder and two carrying straps are standard, as are side pockets for keeping smaller accessories like caps, goggles, and shower gear organized. Mesh or ventilated pockets help wet gear dry out.
Small Swim Duffels
Swimmers who use little to no gear and want a more compact bag without all the bells and whistles can also turn to traditional sports duffels; those with one main zippered compartment and two carrying straps. Traditional gym bags and duffels can be great for athletes and coaches. Although these bags are somewhat less durable, their appeal may lie in the fact that standard gym bags also tend to be lower in price than ones designed for use in pool environments.
Swim duffels and traditional gym bags are used by swimmers of all ages and ability levels, but because of their versatility are also popular among recreational swimmers, aqua joggers, water aerobics enthusiasts, and coaches as well.
Mesh Bags
Many swimmers and swim teams use mesh bags for easy equipment storage and transportation. Often used just for the gear that swimmers keep on deck with them — fins, pulling gear, kickboards, snorkels — mesh bags make it easy to keep this gear separate, and then to dry it out between practices. Mesh bags come in traditional drawstring design, as well as backpack styles. Mesh bags make another excellent bag option for minimalists; it doesn't get more basic than a mesh bag. If all you're carrying is a suit, goggles, and a towel, a mesh bag may be the perfect solution.
The Right Bag Can Make a Difference
It may seem like a big purchase, but a bag designed specifically for aquatic athletes is a great investment. Because they're designed to keep gear organized, dry, and protected, a good bag can save you a lot of headaches down the road. Think about your swimming habits and buy the bag — or bags — that make the most sense for your swimming requirements.