Everything You Need for Your First Baby & Me Swim Class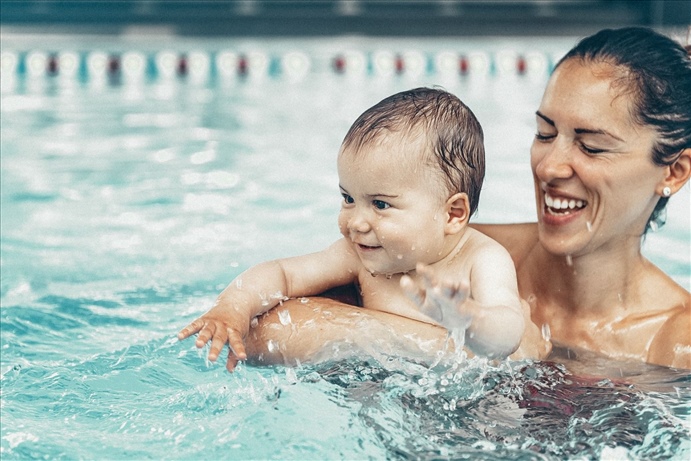 Swimming with your baby at a young age has many benefits including water safety, physical exercise and mental stimulation. But, let's be honest, there is also that small part in the back of your mind that thinks maybe your child will be the next Michael Phelps or Missy Franklin if you expose them to the water early.
Those thoughts crossed my mind when I signed myself and my son up for Baby & Me swim classes. I've observed that he hates being on his back, so he definitely won't be a backstroker and he's not exactly the leanest 10-month-old, so I don't think he'll be a sprinter, but he already loves the water and that makes me one happy mama!
The truth is, getting in the water with your baby week after week does take commitment, but seeing them splash around and smile makes it all worth it, so commit yourself. Commit to being clean-shaven and ready to put on a swimsuit week after week. Commit to smelling like chlorine for hours after class until you can put him down for a nap and can take a shower. Commit to clinging onto them for dear life in the pool showers while you wash their slippery bodies.  And commit to the challenge of undressing a wiggly baby on a communal changing table, while holding a towel around your cold, wet body. 
What makes this commitment even easier is being prepared for Baby & Me swim classes with the best swim gear for swim lessons and swimsuits for yourself.  Some swim schools have a required gear list, but if you're winging it and don't know what to buy for your first Baby & Me swim class, here's some suggestions to get you started.
1. Swim Diaper: Most swim schools require reusable swim diapers.  When you first look at the "diaper," you won't believe it will hold in what you've seen come out of your child.  However, have faith, because I promise you, it will.  My best suggestion for swim diapers is to buy an adjustable swim diaper that will grow with your baby.  The last thing you want to do is pay for the overpriced diaper in the front lobby because you didn't realize until you showed up for swim class that your child has grown out of his or her swim diaper. 
2. Swim Bag:  You will need a good swim bag to store all of your swim gear in so you don't have to unpack and repack your diaper bag every week.  Keep a clean swim diaper, goggles, shampoo, a towel and shower shoes in the bag at all times so you know you'll have all of the necessities ready to go.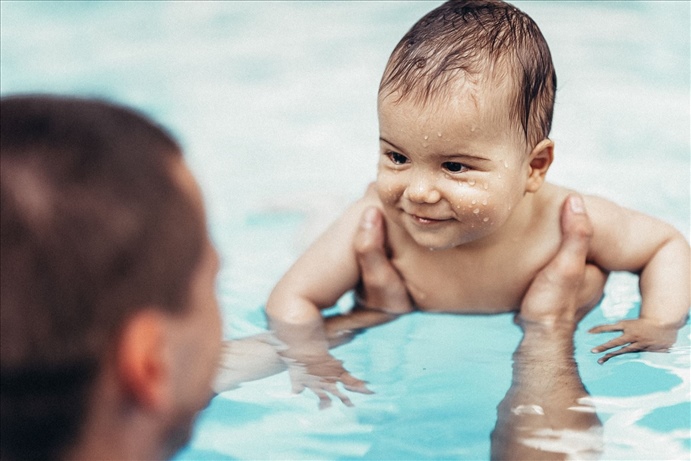 3. Swim Goggles:  Once your child starts splashing and submerging, his or her experience will be so much better with a good pair of goggles to protect their eyes.  Most swim schools stock goggles, but it's nice to have your own pair that you know fit your baby.
4. Shampoo:  I like to wash my son off right after he comes out of the pool and before the chlorine sets into his skin, with a gentle shampoo and body wash.  Beware; this is the hardest part of the whole process.  A slippery, wiggly baby in your arms calls your strength and balance into question. 
5. Swimsuit for You! This is one of the trickiest items on the list.  Sure, you have swimsuits in your closet, but dressing for a Baby & Me Swim Class brings a whole new set of priorities into play.  You want a swimsuit that will stand up to the chlorine exposure week after week, one that gives you the right amount of coverage and one that stays on as your baby starts to pull on everything within reach. 
6. Shower Shoes:  Because it's just a good idea.
7. Beach Towel:  Pack 2 towels, one for your baby and one for yourself. I promise they will both be used and soaked when you get home! Gender neutral towels means you won't have check which towel you pick up to wrap which one of you when you are hustling to shower and change.  And if your baby happens to have a baby sibling later on… well, then you've already got the towels you need!