How to Choose a Swim Instructor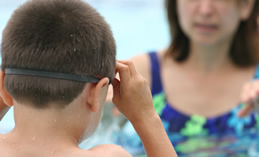 Learning to swim should be fun! The key is to take lessons from a likeable and trustworthy teacher. Here are ten factors to consider when deciding if an instructor will be a good fit.
Hot Tip: Trust Your Instincts
Once you've asked your potential instructor the questions below, ask yourself this before, during, and after your first lesson: do you have a good rapport with this person? Do you trust them? Are they fun to be around? If so, your first swimming lessons will be more productive and less frustrating (most of the time).
If you're looking for an instructor to teach your 4-year-old how to swim, you don't want to end up with an instructor who works only with adults. And if you are an adult, you probably want someone who can explain concepts using an adult vocabulary.
This is not to say that someone who works with kids will not be able to teach an adult to swim, or vice versa. But you will learn faster (and have a more enjoyable experience) if you find someone who has both age-appropriate communication skills and age-appropriate definitions of fun.
You also want to make sure your other basic needs will be met. Do you want private or group learning environments? What level of instruction do you really need? How far are you willing to travel to meet your instructor? Or do you want your instructor to come to you? Start by asking any potential instructor these five basic questions:
Do you usually teach infants, children or adults?
Do you specialize in beginner instruction, intermediate skills, or advanced stroke technique?
Do you offer private, one-on-one lessons? What about group classes?
Do you have access to a pool? Or, will you be able to come to my home pool?
How long have you been teaching?
Hop Tip: iSport Instructor-Finder Tool
If you use the iSport swimming instructor finder, not only are these questions answered on the site for you, but you can also check out what other iSport.com users have said. You can contact potential instructors and talk with them about their availability and their approach to swimming. Then, you can pick one who is a good fit for you.
Fundamental skills should feature prominently in response answer to this question. Beginning swimmers need to learn comfort in the water, floating, and breathing, for starters. Instructors should generally create a positive learning environment.
Especially with youth swimming instructors, fun should be a stated part of the process! This doesn't mean the instructor will have zero rules. In fact, good instructors will often set firm rules and guidelines, for both safety and teaching purposes. But at the end of the day, fun rewards for positive behavior should be an overriding theme in their approach to teaching swimming.
No matter what, you should be able to watch your child's lesson. But some pools want parents to watch from a place where children in the pool can't see them. For many young students, having parents out of sight minimizes distraction, accelerates learning, and actually reduces the amount of time they spend screaming at the start of their lesson.
In order to work at a public or privately-run pool, instructors will have completed Red Cross certification in Adult, Child and Infant CPR; First Aid; and Lifeguarding. The vast majority are also certified in Water Safety Instruction, the Red Cross's designation for a certified swimming teacher. Most, if not all, pools require instructors to complete a background check, too. If you are asking an instructor to come to your home, they should have (at a minimum) current certification in CPR, First Aid, and Lifeguarding.
Being cold is no fun. Shivering and restlessness also make it physically impossible to relax, which is a key swimming skill, particularly for beginners. That's why you should ask about the water temperature. Anything between 85-90° Fahrenheit (30-32° Celsius) should be warm enough. Temperatures below 85°F (30°C) will probably feel chilly to kids (and adults with a low body-fat percentage) if they are not moving around a lot. That said, 90°F (32°C) may feel too hot if they are swimming hard.
What the Instructor Will Teach
While the curriculum should really be the same, regardless of whether the student is an adult or a child, this is a key question adult students should ask potential instructors. Because adults are more capable of following complex instructions (for example, "When you breathe, kick like this and do this with your arm…"), it can be a challenge for instructors to do their most important but most basic job: make you feel safe in the water!
Experienced adult instructors are aware of the temptation to skip ahead in their teaching. You will know you are talking to experienced adult instructor if they say something about how they will help you get over your fear of deep water before teaching you how to swim freestyle.
Find an Instructor You Like
Regardless of how "perfectly" a swimming instructor answers your questions, if you either don't quite trust, or worse, personally dislike, your potential teacher, it's probably a good idea to keep looking. The extra effort in searching for the right instructor will pay huge dividends in fun and faster learning.