Best Speedo Water Shoes for Water Aerobics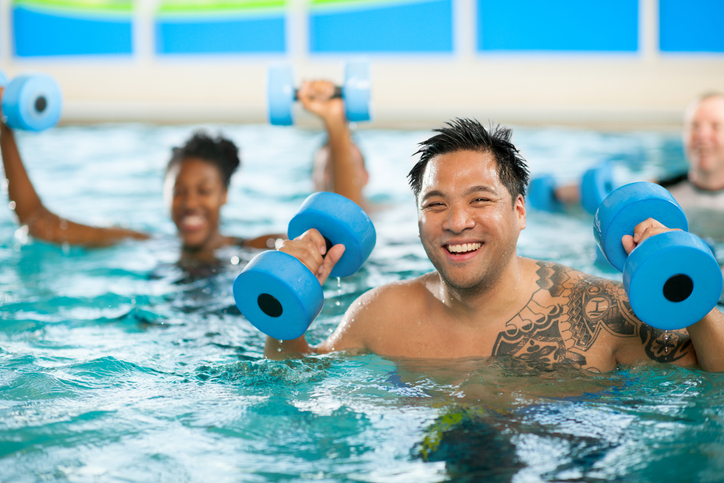 Water Aerobics is one of the most popular exercises for people of all ages, and it's easy to see why. No matter your age or skill level, water aerobics can provide a great workout in a fun, fast-paced environment. Plus, you don't sweat nearly as much or as noticeably when in a pool!
Water aerobics is great exercise, but the best way to ensure you get the most of your workout is to get a good water shoe. Speedo makes some of the best water shoes around, so no matter which Speedo shoe you choose, you're going to get a great experience. However, the following shoes are the best of the best, and will serve you well for more than just water aerobics!
Best Men's Speedo Shoe: The Wake Water Shoe
The Speedo "The Wake" water shoe is the most sneaker-like of the Speedo water shoes, and that makes it the most suited to workouts, both in the water and out. It uses Speedo's FluidFlow technology to ensure that water drains quickly and easily to ensure comfort at all times. For traction, these shoes have a rubber outsole with strategically placed pods to ensure optimum traction in even the most turbulent of waters.
These shoes include a synthetic overlay which allows for additional movement in even the most strenuous of workouts. This also provides ideal lateral support and lockdown.
Because of all this, we at SwimOutlet.com believe the Speedo "The Wake" water shoe to be the best shoe for water aerobics.
Best Women's Speedo Shoe: Surfwalker Pro 3.0
For the women's shoe, we chose the Surfwalker Pro 3.0, since while it is not as versatile as The Wake shoe, it is far better suited for water aerobics. The shoe offers a simple, lightweight design that won't hinder your movements, and the mesh upper ensures that your feet won't get sweaty during the workout. When you complete your workout, the quick drying material ensures that your feet will be ready to resume outdoor activities in no time!
These shoes offer a pull tab for easy entry, and an air mesh panel on top for reach drying. They even have a rubber outsole for traction on the floor of the pool. Plus, they are very cheap! High quality shoes at a low price? How can you go wrong?
Because of all this, we at SwimOutlet.com believe the Speedo Surfwalker Pro 3.0 water shoe to be the superior choice for women's water aerobics.