Best Speedo Fitness Goggles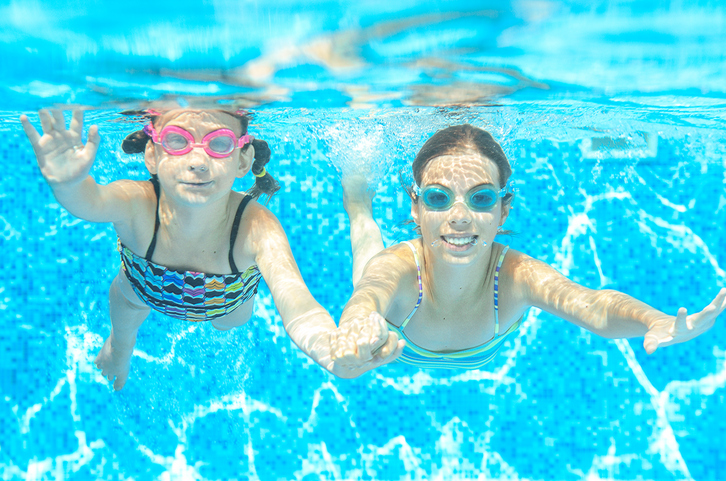 We already talked about the best Speedo Competitive goggles ( https://www.swimoutlet.com/guides/best-speedo-competition-goggles ) but what about everyday fitness? Maybe you aren't trying to set the fastest swim lap at your pool, but you do want to get in shape and stay there. You want a pair of goggles that will help you exercise without getting in the way and will last a great many workouts.
Fortunately, Speedo has you covered! They make a variety of goggles suited for active recreation, that will last and be comfortable for countless workouts. But there are many varieties of goggles to choose from, so we at SwimOutlet.com have picked some of the best to highlight below.
Speedo MDR 2.4
The Speedo MDR 2.4 goggle was built for one purpose above all else: Comfort.Speedo took lessons learned from producing diving goggles and created a set of swimming goggles with the same principles. The MDR 2.4 goggle does not need to be as tight to create a seal around your eyes. The lenses are wider than competition goggles, and fit on the outer rim of your eye, rather than on the inner bone as well. Combine this with Speedo's Elastromeric technology, and you will never have raccoon eyes again!
The goggles also come with Speedo's ClearSight technology, which ensures that the goggles do not fog up and that they provide excellent peripheral vision. You might forget you are wearing them, you'll be able to see so well! Adjusting them to fit your face is easy as well; pinch the plastic frame and pull the strap through. Couldn't be simpler.
Speedo designed the MDR to be flexible, which is why it comes in many varieties. There is the traditional or lightly tinted lens, the mirrored lens for improved vision in bright or outdoor areas, polarized lenses to keep the sun from reflecting in your eyes, a special design for women, and junior sizes.
Unlike many goggles however, the Speedo MDR 2.4 series does not have an adjustable nosepiece, which, depending on the size and shape of your nose, can result in discomfort. But, outside of that, we can't think of a reason not to purchase these goggles. They do everything they are designed to so well!
Speedo Futura Biofuse
The Speedo Futura Biofuse goggle, like the Speedo MDR 2.4, offers superior comfort and style. The goggle uses Speedo's BioFuse technology, ensuring that the seals remain watertight without pressing too strongly into your eye. The lenses themselves are curved like a traditional competition goggle, offering the same quality of vision.
The straps can be quickly adjusted with a pinch to the frame to loosen, which allows you to adjust mid-swim with ease. They come with Speedo's anti-fog technology as well, ensuring that they won't fog up on even the longest of workouts.
Unlike the speedo MDR 2.4 however, these goggles only come in two variations. A traditional unisex style, and a junior's size.
Also, similar to the Speedo MDR 2.4, these goggles do not have an adjustable nosepiece. Speedo designed the goggles to fit as many different faces as possible, and even without the adjustable nosepiece, the goggles are made of a flexible material to ensure a good fit.
With that said, this goggle will serve you well in all recreational swimming activities. If you like the somewhat rounded eye socket, you can't go wrong with the Speedo Futura Biofuse!
Speedo Hydrosity
The cheapest goggle on this list, the Speedo Hydrosity Goggle is built for those who want simple, no frills goggles that do their job without any fuss. The Speedo Hydrosity goggles offer a simple design with easily adjustable straps, a soft frame for comfort, and a good seal to keep water where it belongs, away from your eyes.
Anti-fog protection ensures the goggles won't get in the way of your workout. The frame is actually smaller than the previous two goggles on this list--not as small as a competition goggle, but smaller than the MDR 2 or Futura.
And that's really it. This goggle is pure function. It does its job and does it very well. In comes in three varieties, a traditional unisex, a mirrored unisex, and a women's style. 
Like the other soft-frame goggles, the Speedo Hydrosity does not have an adjustable nose piece. But with the easy adjusting strap and flexible material, we are confident you'll be comfortable in this goggle, no matter the size of your head!
Speedo Occulus Prime
The Speedo Occulus Prime goggles may have a name that reminds of you giant robots, but in reality is a pair of larger goggles for recreational swimming. They combine the best of a traditional swim mask with the sleek and smaller design of a standard goggle. If you find a swimming mask to be the most comfortable goggle to wear but you wanted to swim laps, this is the goggle for you!
The Occulus Prime goggle has easy adjustable straps that you can change even while mid-swim. The mask is made out of premium silicone, so it is soft and strong, and will hold up after countless swims. It also has the standard curved lens technology, ensuring a good range of vision both in and out of the water.
With the wide skirt around the lenses, you may the goggle to have a bulky feel to it.But you like wearing swim masks but don't want to wear something that bulky when you swim your laps, the Speedo Occulus Prime is an excellent compromise.
Additional Goggles
This a small sample of the recreational goggles that Speedo makes. Speedo is always desiging new goggles and improving on beloved classics, so be sure to check SwimOutlet.com for the  most up-to-date list of Speedo Goggles available.