Win Michael Phelps Autographed Cap in our What the Pros Wear Contest!
2014 Sep | By SwimOutlet.com Staff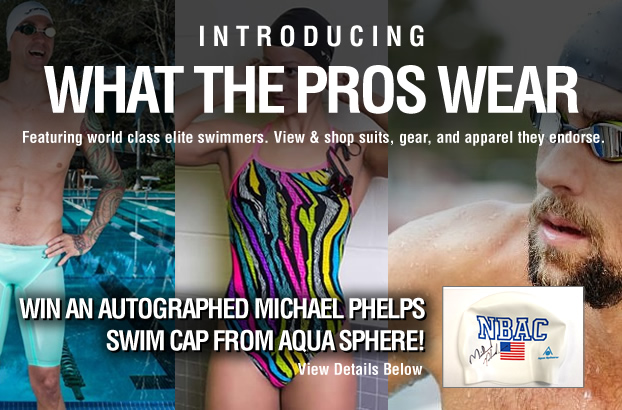 Our coolest giveaway ever! We're celebrating the launch of "What the Pros Wear" on SwimOutlet.com, with a terrific contest you don't want to miss.

Win an autographed Aqua Sphere swim cap signed by the most-decorated Olympian and greatest swimmer of all-time, Michael Phelps!

What the Pros Wear is our awesome new section that shows you some of the great suits, styles and accessories worn by your favorite swim stars courtesy of the top swim brands. Many of these athletes get a great deal of support from the companies that they endorse. Support that helps them train, travel and compete at the highest levels. Simply click on a swimmer and shop what they are wearing! 
It was huge news last month when Michael Phelps and Aqua Sphere announced a unique partnership to create a line of performance swimwear that will debut in January 2015.

Here's your chance to celebrate that partnership and the launch our new "What the Pros Wear" section on SwimOutlet.com! Simply tell us which color Aqua Sphere K-180+ goggle you think Phelps will be wearing in 2015!

You have three chances to enter: 1) write your guess in the blog comments below; 2) post your the color on our Facebook page, and 3) tweet @swimoutlet with the color guess (you must follow us on Twitter for the entry to count).

You get a maximum of 1 entry on each platform from September 3-10. We'll select a winner randomly among all the entries.