Top Swim Paddles Compared - The Expert Review
2017 May | By SwimOutlet.com Staff
By Julie Stupp
 
2017 TOP SWIM PADDLES COMPARED 
Adidas Hand Paddle - Stupp Review | Product Page
Arena Flex Paddles - Stupp Review | Product Page
Dolfin Feedback Paddle - Stupp Review | Product Page
MP Strength Swim Paddle - Stupp Review | Product Page
ROKA Pro Swim Hand Paddles - Stupp Review | Product Page
Speedo Preflex Swim Paddles - Stupp Review | Product Page
I have always said that paddles are my favorite piece of swimming equipment, so having the opportunity to test out six completely different pairs for SwimOutlet.com was a dream come true for this swim nerd!
Hand paddles are a very versatile training tool that can be used for building strength, perfecting technique, increasing speed and improving endurance – all of which are instrumental in becoming a better athlete.
Incorporating paddles into one's training at the right time is key! Before you slap on the biggest paddles known to man for a distance freestyle set, make sure you have been advised by a coach or trainer that you are ready to use them. Swimming with paddles before you are properly trained or have enough strength can cause serious and sometimes even lifelong shoulder problems. Less is always more as a beginner swimmer to assure longevity in the sport.
Now let's explore the vast world of some of the new paddles out there from six different brands in alphabetical order.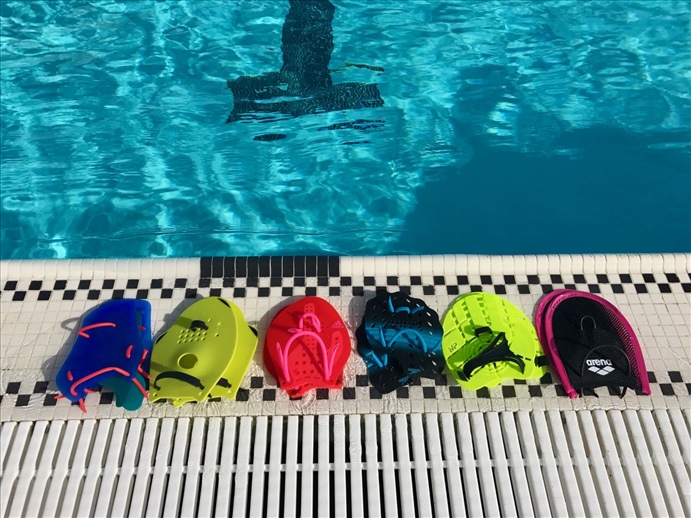 Performance & Fit
The Adidas hand paddles come in three sizes, small, medium and large. I tested out the size small paddles and loved them. I normally would have ordered a size medium but the smalls proved to be the perfect size for training all four strokes. Because they aren't overly bulky they didn't put any extra stress on my shoulders, while swimming longer distances. The Adidas hand paddles have a classic paddle shape but are slightly rounded so they cup your palm and fit nicely beneath your hand while you are pulling the water. They also have a softer plastic piece at the bottom of the paddle where your wrist sits so they are very comfortable for long swimming sets.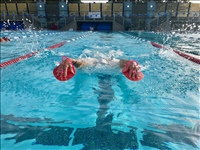 Summary
These paddles are a great option for IM'ers training all four strokes and distance freestyle sets.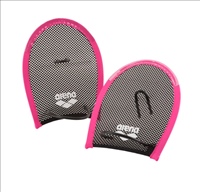 Performance & Fit
For this pair, I tried the size medium. The Arena Flex paddles were seemingly the most basic paddles of the bunch upon arrival, but after swimming they turned out to be the most innovative! The paddles are made with the same mesh material as a swim bag and have one piece of covered wire around the outside of your hand to help the paddle keep its shape. Since the paddles are 95% mesh they allow for ample water to flow through the holes so you have an excellent feel for the water while also benefitting from the extra resistance caused by the paddle's construction. These paddles are versatile because they force you to focus on technique while still building strength. The mesh fabric, waterflow and added resistance make this paddle less helpful pulling water compared to your average plastic paddle they in fact, slow you down and force you to focus on your stroke.
Summary
This combo makes the Arena Flex paddles a perfect option for swimmers of all abilities because the benefit is excellent feel for the water. I loved getting this feel as part of my training.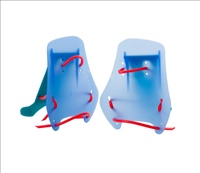 Performance & Fit
The Dolfin Feedback paddles have the most obscure design of all the paddles I tested. They only come in one size. To be honest, I had a hard time figuring out how to use them and even got out of the pool to Google the paddles for some sort of instruction. I wish they would have come with a short, "how to" guide to help me build them and swim with them correctly. The Dolfin feedback paddles have two parts: a wide A-shaped paddle where your hand sits and a long fin that connects underneath the paddle and extends past the wrist. The extra fin is the Feedback portion of the paddle that flaps open and closed while you are swimming to create resistance. The idea with this flap is that it allows for both adjustable resistance and adjustable sensitivity. That's their point of difference that the resistance increases as your stroke breaks down.
Summary
These paddles are a bit bulky and have three straps holding everything together which creates a ton of extra drag in the water. While they have an interesting shape and unique proposition given their responsiveness and adjustability, for me they lacked fluidity and function in the pool and were on the pricier side. But I could see if someone is willing to invest in the time and slightly higher cost – they could provide some benefits for those looking for the ability to adjust resistance.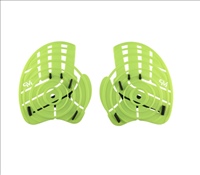 Performance & Fit
The MP Strength swim paddle is available in both size small and large. I tested the size small and was glad I didn't have anything bigger. I have rather large hands and the smalls left plenty of extra surface area above my fingertips. Unless you are male college swimmer or basketball player I would say the size small is all you need. The MP Strength swim paddles have a rigid construction meaning there isn't a lot of give in these paddles while swimming. They have plenty of open holes allowing water to flow through the paddles but because the plastic is so firm they don't bend at all while you are pulling under water.
Summary
The MP Strength swim paddles unfortunately have an uncomfortable one-size fits all strap that for me was quite tight when worn for long periods of time. These paddles are definitely designed to build strength, which is perfect for a sprinter -- but might be a bit trickier for the novice swimmers.
ROKA PRO SWIM HAND PADDLES ($25)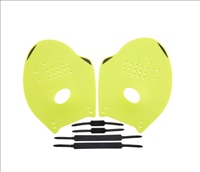 Performance & Fit
Roka has been known as a triathlon based brand for the past several years, so I was happy to see that they designed a swimmer-friendly paddle. The Roka Pro Swim hand paddles come in three sizes, 1, 2 and 3 and have a classic paddle shape with a few twists. I tried on size 2. The Pro Swim paddles have a unique honeycomb texture on the outside of the paddle that is comfortable to the touch and creates an extra grip for your hands, while pulling underwater. They also have a hole cutout in the center of the paddle that sits just under the palm to help you keep a good feel for the water while pulling. Lastly the pro swim paddles have an innovative and more durable strap construction that allows you to easily adjust the size and fit of the paddle. The Pro Swim hand paddles are definitely made from a harder and firmer plastic so they don't allow much give in the water.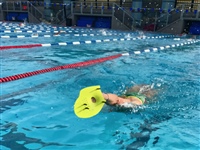 Summary
These paddles are a great option for swimmers or triathletes who are looking to build shoulder and lat strength in the water, just be careful to not over do it. 
SPEEDO PREFLEX SWIM PADDLES ($15)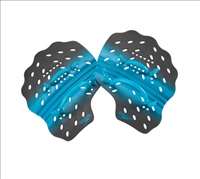 Performance & Fit
The Speedo Preflex paddles come in one-size fits all sizing and are another smaller paddle option like the Adidas Hand paddles, but unlike the Adidas version, the Preflex have a more distinct shape. The Preflex paddles are designed to cover just your fingertips and upper palm with a wave like construction leaving the bottom of your palm and wrist exposed to the water for extra feel. This build is perfect for training the strokes because it helps you to acquire strength while allowing you to work on your technique. The flexible Preflex plastic has substantial give while pulling the water helping you to feel fast, yet not overly sore like a standard hard plastic paddle can do after swimming a ton of yards.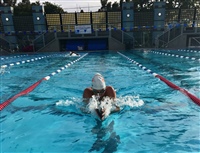 Summary
This paddle is a great option for older age group swimmers just beginning to train with paddles or anyone who wants to use a less rigid plastic paddle in order to protect their shoulders from injury.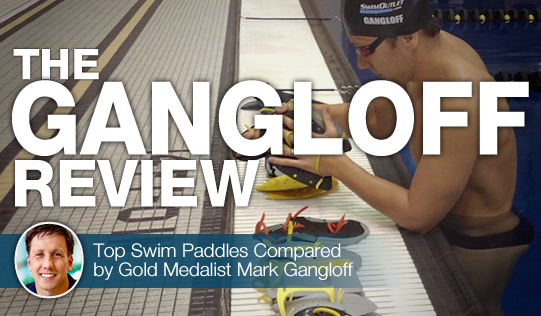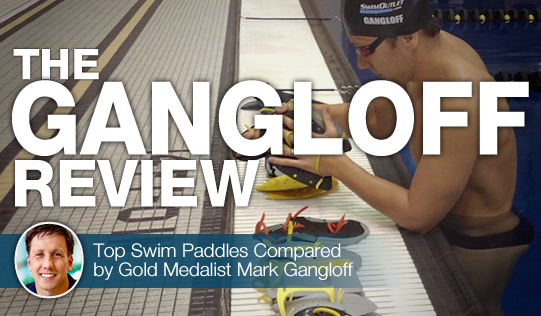 2013 TOP SWIM PADDLES COMPARED
Arena Vortex (Medium) - Gangloff Review | Product Page
Aqua Sphere Vortex V8 - Gangloff Review | Product Page
Aqua Sphere Ergo Flex - Gangloff Review | Product Page
TYR Training Catalyst Contour - Gangloff Review | Product Page
Speedo Contoured Swim Paddles - Gangloff Review | Product Page
Speedo Training Paddles - Gangloff Review | Product Page
Speedo I.M. Tech Paddles - Gangloff Review | Product Page
Speedo Power Paddles - Gangloff Review | Product Page
Strokemakers - Gangloff Review | Product Page
FINIS Agility Paddle - Gangloff Review | Product Page
Speedo Bio Fuse Finger Paddles - Gangloff Review | Product Page
Strokemax Antipaddle - Gangloff Review | Product Page
FINIS PT - Gangloff Review | Product Page
TYR Training Catalyst Connect - Gangloff Review | Product Page
He's back! Olympic gold medalist and University of Missouri Assistant Swim Coach Mark Gangloff has prepared another round of performance reviews exclusively for SwimOutlet.com. This month's reviews focus on an all-important training accessory: paddles. Later this month, we'll review some of the top performance suits for 2013. Happy reading!
Introduction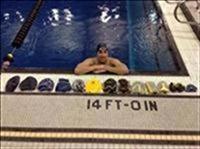 This guide is a review of 15 different paddle types and brands to help you make an educated decision about which type may work best for you, depending on your paddle needs. I have organized the review by type of paddle (general use or specialty) to provide you with an easy way to compare and contrast the various products.
Three things I look for in a paddle when choosing the right one are: size, contour, and specialty.
1. Paddle size: I have very large hands (almost 8.5 inches from the base of my hand near my wrist to fingertip), so I almost always have to choose a large paddle. I also like to use large paddles because I can hold a lot of water and take fewer strokes. However, it is important to keep in mind that the larger the paddle the harder it is going to be on your shoulders. If have or have had issues with shoulder strength in the past, it is my suggestion that you choose a smaller paddle.
Big isn't always better. I also keep a set of smaller paddles in my swim bag. I do this for two reasons. First, when I work at race pace and race tempo I need a paddle that I can move through the water fast than I could the large paddle. Second, I like to have options if I am experiencing some inflammation in my shoulder. Using the small paddle causes less stress on my shoulder allowing me to give my shoulder a break.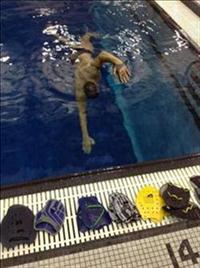 2. Contour: It is my personal preference to use a paddle that is not contoured. A paddle that is flat has more surface area which allows you to hold the water –the primary purpose of a paddle. However, some people may prefer a paddle that contours to the hand a bit more and that is fine. The key is to figure out your preference.
3. Specialty paddles: Manufactures have done a great job at creating products that allow athletes to hone in on a particular weakness or gain better awareness in the water. Specialty paddles can do this, too. For example, I would use a specialty paddle if I were working on a particular stroke component such as a breaststroke catch.
General Use Paddles
Different Types of General Use Paddles
1. Large Contoured Paddles
2. Small Speed Paddle
3. Large Flat Paddles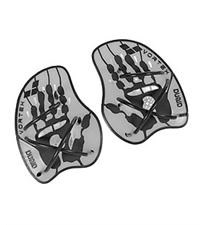 Gut Reaction 
I like that Arena has many different options for strap configurations. Arena also provides extra straps with the paddles—this is a major bonus. Paddles won't do you any good without straps and, no matter what brand you're swimming with, they break. So, it is nice to know you've got back up. The Arena Vortex paddle is neither flat nor contoured, but rather a mix of both. It has a little contour for the center of your palm, but the rest is fairly flat.
Performance
As you swim with these paddles you can hold a good amount of water, but not quite as much as with a completely flat paddle. Its plastic has the slightest bit of give as you pull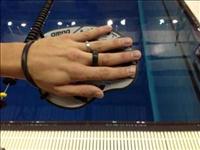 through the water. This does not allow for a complete anchoring in the water, as you might find with flatter paddles. Because of this, I consider this paddle to give a more natural feel in the water – similar to what your hand feels in the water.
Pros 
Extra straps; a little (but not too much) contour
Cons 
Does not allow for a good "hold"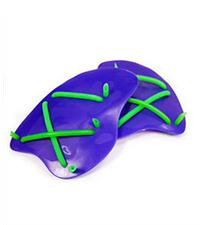 Gut Reaction  
The Aqua Sphere Vortex V8 has two different strap configurations and can be adjusted depending on how tightly you want your hand attached to the paddle. If you only like having the strap around your middle finger, this may not be the right pick for you because it does not have this option. The paddle's hard plastic allows you to push hard on the water, but, like the Arena Vortex, this paddle is a hybrid with regards to contour creating other challenges when it comes to the "hold". It also has little fins on the bottom that I'm not confident add to its utility (see picture). 
Performance
I like the firmness of the plastic on these paddles in comparison to the Arena Vortex. Its material allows you to anchor on the water. However, any extra hold you may benefit from the firmness of the plastic, you may like because of its contoured shape in the palm. The little fins do not seem to do much for me, but may assist swimmers that have trouble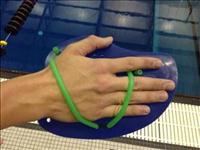 pulling in a straight line. I must admit that the little fins were a bit uncomfortable as I streamlined off the wall.  
Pros   
Firm plastic makes for good anchoring
Cons 
Contoured shape may be counterproductive; funny fins are uncomfortable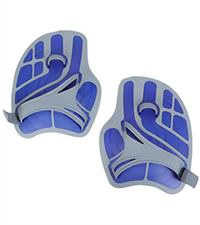 Gut Reaction  
The Aqua Sphere Ergo Flex is very similar to the Arena Vortex paddle in shape and design. The plastic is much like the Vortex and not as firm as the Aqua Sphere Vortex V8. Though you have no options when it comes to the configuration of the straps, these straps were the most comfortable straps of any of the other products being reviewed here. But, an extra pair of straps (not included with this paddle) would have been nice.
Performance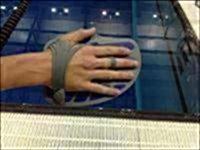 I can hold a good amount of water with these paddles. As I mentioned above, the plastic is a on the soft side, so you can manipulate the paddle as you push on them. However, if you put too much pressure out on the fingertips, you will bend the paddle slightly which may cause you to "slip" on the water. This seemed only to happen when I was really trying to pull hard. At more moderate paces, it was not a problem at all. 
Pros  
Comfort
Cons   
Potential to slip due to plastic pliability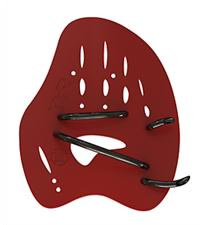 Gut Reaction  
This is one of the larger paddles in the review. Typically the larger paddles are flat, but TYR has made this large paddle slightly contoured. Most contoured paddles have the contour in the palm of your hand and with this one the contour is actually out in the fingers.
Performance
I generally like the way this paddle feels in the water. It is large enough to allow me to anchor the way that I want to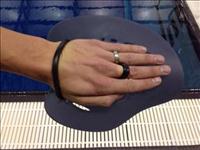 anchor my hand in the water. The density of the plastic is about the same as the Speedo Power paddle, so it lacks just a bit of "feel". The other reason this paddle loses some feel is the contour are on the fingers. While I am pointing out two small flaws to these paddles, this product is still very effective.
Pros   
Large enough for good anchoring
Cons  
Lacks "feel" due to contour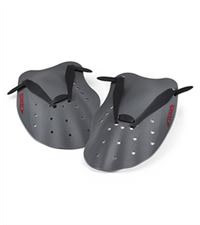 Gut Reaction  
The Speedo Contoured Swim Paddle provides only one strap configuration (i.e. single finger strap with the outside straps around your other fingers). This paddle is very contoured. The small slots for fingers make it very comfortable.  
Performance 
This paddle does not provide a lot of hold on the water. However, for a contoured paddle it does have some flat surface allowing for more hold than other contoured paddles. I might opt to use these paddles during a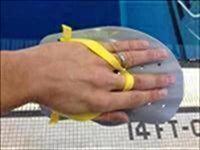 power session, when I am trying to get my tempo up because they don't hold much water or slow you down.
Pros   
Comfortable
Cons   
Does not hold more water; small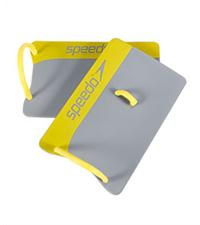 Gut Reaction  
The best thing about the Speedo Training Paddle is its simplicity. Simple gets the job done.
Performance
Though it may look too simple, it works. I like paddles that are flat because the more surface area the more hold in the water. This paddle's only shortcoming is its size; this paddle is a bit too small for me. My fingers go over the edge. I would not want to use this for longer and more moderately paced sets—for this type of set I would opt for a larger paddle. I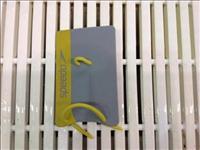 would use this paddle when we sprint and try to get up to race tempos. When sprinting, this paddle's flat and small surface allows my hands to travel fast through the water while anchoring in. 
Pros 
Simple; flat
Cons   
Too small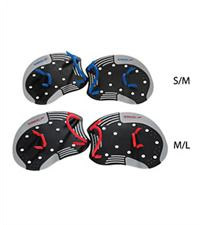 Gut Reaction  
This is a funny-looking paddle. Unlike other paddles I have used, there is a lot of extra paddle to the outside of your hand. Initially, I was intrigued. 
Performance 
Like the name of the product, I.M. Tech paddles, this paddle works best for backstroke and breaststroke. The extra plastic on the outside of the hands really helps you feel the entry and initial catch in the backstroke. In the breaststroke, these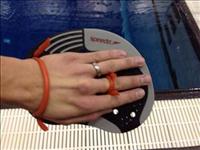 paddles are great for feeling the sweep on the outside of your pull. I also liked the feel of this paddle because of its flat surface. 
Pros  
Great for strokes; lots of hold
Cons   
Very specialized and may not be the right choice for a beginner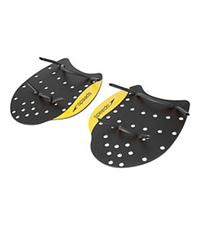 Gut Reaction   
The Speedo Power Paddle is a great, standard paddle. This is a flat paddle with an ordinary round cut and the traditional strap configurations (one middle finger and a wrist strap). I ALWAYS carry a paddle like this in my equipment bag. 
Performance
I like this paddle because there are no bells and whistles. It's flat and pretty big and allows you to hold a lot of water. When you do the proper stroke, the paddle anchors in the water and you can move your body over that point. In comparison to the Strokemakers, the plastic is slightly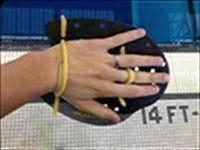 thicker which does not give you same amount of feel on the water but gives you a bit more durability over the life of the product. However, beginner swimmers beware, this paddle is not available in sizes smaller than a large.
Pros   
Simplicity; standard; lots of hold
Cons   
Limited sizes, so it may not work for every swimmer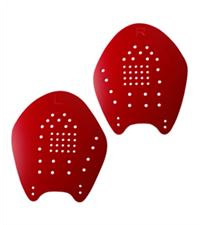 Gut Reaction  
Much like the Speedo Power Paddles, I consider this paddle to be a great, standard paddle. It is flat with an ordinary round cut and the traditional strap configurations (one middle finger and a wrist strap). I always carry a paddle like this in my equipment bag. 
Performance
This paddle performs much like the Speedo Power Paddle.  It's flat and pretty big and allows you to hold a lot of water. When you do the proper stroke, the paddle anchors in the water and you can move your body over that point. The main difference between the Strokemakers and the Speedo Power Paddle is the thickness of the plastic: the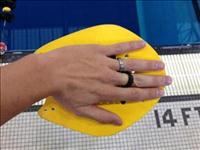 Strokemakers is thinner. Because of this, I would rank this paddle slightly higher than the Speedo Paddle (please note that the difference is slight). However, after about a season of use, this paddle may have stress fractures in the middle from bending and pressing on the "fingertips" as you pull. 
Pros   
Standard (good) paddle; thinner plastic
Cons  
Durability may be an issue 
Specialty paddles are paddles with a very specific function specific to stroke.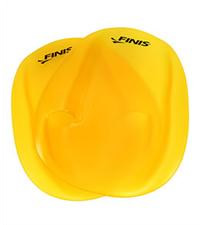 Gut Reaction  
As you can see this picture, The FINIS Agility Paddle has no straps, which makes it different from all other paddles. You put your thumb through the hole in the paddle and off you go! From experience with similar products, I know that if you take an improper stroke the paddle will come off your hand. 
Performance 
As I note in other product reviews, I like that Finis always comes up with innovative products. When I first put these on they were slightly awkward. The hole for my thumb was a little tight because of my large hands. I would have liked to been able to put my entire thumb in the hole, but this may not be a problem for most people. As I started swimming, these paddles felt strong from the firm plastic and allowed me to hold a good amount of water. After a few laps of careful swimming I took some strokes that were improper to confirm that the paddle would be ineffective, they were and came right off my hand. These paddles are a great "self-coaching" device. I recommend using this paddle on a technique day rather than on a heavy training day because the paddle would most likely come off at max speed. 
Pros   
"Self-coaching" ability; good hold
Cons    
Not right for max-speed work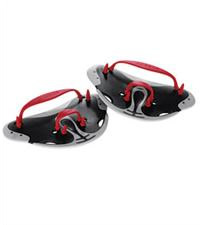 Gut Reaction  
The Speedo Bio Fuse Finger Paddle is a combination of soft and firm plastic, the outside grey portion is soft and black portion is firm. The straps are very unique, they have little tabs on each strap that you can tighten and loosen as needed.
Performance 
Fingertip paddles change the way you feel the water, and I would highly suggest investing in a pair of the Speedo Bio Fuse Finger Paddles. These paddles allow you to feel pressure on the tips of your fingers (this is how high level swimmers swim—fingers down first). When I coach other athletes, I always say, "get your fingers down first." These paddles ensure that you do that. The other great thing about these is that you can wear them while sculling, most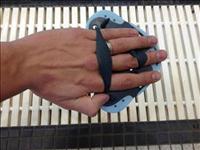 paddles are too large to use when sculling. As for the straps, they are very easy to set in comparison to other types of straps. However, they tend to get loose as you scull harder on the water. I find myself having pull on the straps to tighten them after doing something more vigorous. 
Pros 
Great for technique; allow for sculling
Cons   
Straps loosen when going hard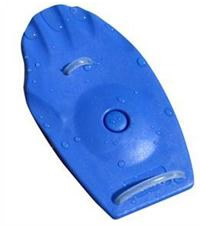 Gut Reaction  
Because this is not a commonly used piece of equipment, I want to take a little time to talk about its purpose. Antipaddles decrease the amount of water you are able to hold with your hands. Essentially, you have no feel for the water and your hand slips right through it, hence the name antipaddle. Coaches generally use these to make athletes feel more with their forearms and to ensure the rest of the position of the arm is correct. If your arms are in the wrong position and your hands cannot hold water you won't go anywhere. 
The Strokemax is made of a very hard plastic and the bottom side is rounded making your hand cut through the water. 
Performance
Very simply put, this product works exactly as advertised. Your hands cut right through the water and you feel almost nothing. This is another product that is a "self-coaching". The first couple of times you use antipaddles you may feel terrible, but you'll learn to work with them over time. It gives a good contrast in feel when you take the paddles off and start using your hands. These paddles are also great for athletes that need to learn to pick up their tempos. However, I don't like that by losing that feel or hold on the water you often times lose your body position in the water. So, when using this product, be sure to pay extra attention to body alignment.
Pros   
Self-coaching
Cons    
May affect other aspects of your swimming (i.e. body position); may not be suitable for beginner swimmers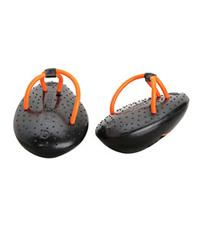 Gut Reaction  
The Finis PT paddle is an antipaddle, like the Strokemax. I was originally skeptical because this paddle is not as long so I did not know how much feel I would have with my fingers hanging off the edge. Again, less feel with an antipaddle is better.
Performance
My initial concerns were put to rest once I started using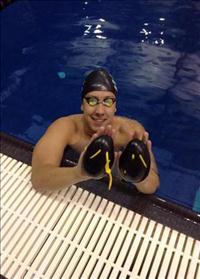 these. In comparison to the Strokemax, you can feel the water a little more but not much. The plastic on these paddles is a little softer and the straps around your hands are configured a little differently. I don't know if I should put my thumb underneath the strap or not. Also, the straps on these are threaded through the bottom and then back out the top. When trying to loosen the straps the end of the strap came out the bottom and I was unable to thread it back through the paddle because the hole was so tight. As you can see in the picture I ended up tying off one end which did not affect the functionality but was a little frustrating. 
Pros   
Good antipaddle
Cons  
Strap configuration was strange; fixing the strap nearly impossible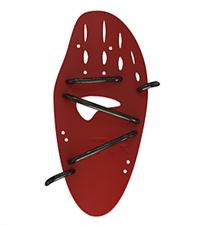 Gut Reaction  
These are some long paddles. The purpose of the TYR Training Catalyst Connect paddles is to ensure that you do not break at your wrist when swimming. Often time swimmers will only try and hold the water with their hands and not their entire forearm. 
When you put these paddles on and try and bend your wrist (improper technique) you simply cannot do it because you are strapped in. With some paddles you do not need or even want to wear a wrist strap but with this one they are necessary to ensure your entire arm is connected to the length of the paddle. 
Performance
I really like the TYR Training Catalyst Connect paddles. They felt good in the water, however they are quite different than traditional paddles because you cannot hold a lot of water. The genius of these paddles is they force you to swim correctly by entering the water with your fingertips first and you cannot break at the wrists. As a coach, I give these to my athletes who struggle with breaking at the wrist and have seen instant improvement. Overall, a great product to work the "high catch" position.
Pros   
Force proper technique
Cons    
N/A
Conclusion
Before choosing a paddle you should understand that paddles are not a one-size-fits-all type of equipment. You first need to decide what you would like to get out of your paddle. How would you like to feel in the water? 
My personal preference is a large flat paddle, but that doesn't mean that is the best choice for you. First you must identify what your weaknesses are and make a decision based on which paddle will help you to improve your stroke. My second suggestion is to ask your coach which specialty paddle may help you improve your flaws. 
SwimOutlet.com is a great place to search for paddles with many different options. I hope these paddle reviews have been informative and educational and allow you to make an educated choice about which paddle is best for you. Enjoy learning more about your stroke!