When & How to Get Started in Synchronized Swimming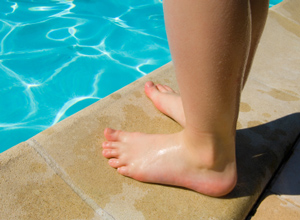 You might see a soccer game in your local park on weekends or play basketball in PE class at school, but synchronized swimming? Now there is a sport you don't usually see as you go about your daily life.
Since you're reading this, you have probably already been introduced the synchro on some level—either by watching the Olympics or maybe hearing your friend at school talk about it—but knowing what it is and becoming an active participant in the sport are two very different things.
This guide will help you understand when it's the right time to get started and how to get involved in synchronized swimming.
When
It takes a long time to reach your full potential as a synchronized swimmer, so starting too late may be a disadvantage if you want to reach the highest level of competition.
Start Early
Most successful synchronized swimmers start between the ages of six and ten, though most clubs welcome beginners of any age. A background in dance, gymnastics and, of course, swimming can give you a great head start, though, and make the recommended starting age less indicative of success.
Know the Pool
Before you start synchronized swimming, you should have some basic swimming knowledge. For example, before you can join, many clubs will expect that you can swim at least one length of the pool and are comfortable in parts of the pool that are too deep to touch the bottom.
If you aren't quite there yet, look for a swimming instructor to help learn the basics. Use the *Swim.com* instructor-matching service to help you find the right instructor for you. You can narrow down your search by location, age-group, private or group lessons, and ratings given by other swimming students.
Get Active
If you or your little swimmer is six years old or younger, it's a good idea to start with a little of everything (gymnastics, dance, swimming, and synchro) before committing full-time to synchro. The body awareness, balance and flexibility that you develop in the water can be applied to a variety of sports and will give you a head start if you choose to focus on synchro later.
How
If your school doesn't offer synchronized swimming (if it does, lucky you!) your best bet is to look for a local, private club. Look up your options using *iSport's Teams* feature.
A good way to ease into synchronized swimming is to look for a synchro summer camp or a recreational program. Even the most competitive clubs usually have a summer camp or recreational option.
In order to find a club that's the right fit for you, do a little research. Then ask yourself a couple of questions:
What are your synchronized swimming goals?

Think about what you really want from synchro. Are you aiming for the Olympics? Just want to have some fun in the pool? Either way, there's a club out there with your interests in mind.

The youngest age groups may meet for practice as few as two days a week for just a couple of hours or as many as five days a week—it depends on the program. Knowing what you want is a sure way to match expectations and give you the best opportunity to love the sport.

Do you have a lot of other extracurricular activities already?

If you're interested in doing seasonal sports at school, or maybe another after school activity like art classes (or both), it could end up conflicting with a competitive synchronized swimming club's schedule.

Find out how frequently a swimmer of your skill level and age group would be practicing at the club you're interested in before you sign up. Because synchronized swimming is a team sport, it's important to be at scheduled practices so the team can practice choreography together and get, well, synchronized. Missing a lot of practices will leave everyone unhappy: you, your teammates, and your coaches.
Jump In
Knowing when and how to start synchronized swimming will get you going on the right track. Find the right club or team for you by assessing your commitment, skills, and goals and how they coincide with the synchro options in your area.
There's bound to be a club that's right for you!