Determining the Best Wetsuit for You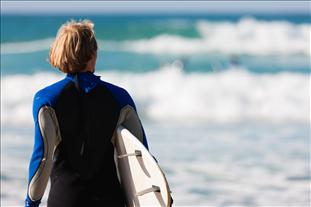 You've probably thought of wetsuits in the past as being unnecessary for your needs, and maybe even a little funny-looking. However, wetsuits can be of great use to you, even if you're just learning how to dive, a beginner surfer, avid scuba diver, or a water sports enthusiast. Wetsuits have numerous advantages for swimmers to take advantage of, including:
Additional buoyancy and flotation
Reduced drag in the water
Extra warmth in colder waters
A protective layer against sand, rocks, and other environmental factors like the sun 
But there are tons of wetsuits out there and many different styles. How can you know which is the best wetsuit for your needs? Read on.
How a Wetsuit Works
Before you determine which wetsuit is the right wetsuit for your needs, it is useful to understand how a wetsuit actually works. A wetsuit traps a thin layer of water between your body and the wetsuit material, letting your body warm the water to a comfortable temperature. The thicker your wetsuit, the longer and warmer your body will remain in the water. 
To keep your body warm and dry, many wetsuits are made with a material called neoprene. Neoprene is a synthetic, elastic rubber with excellent insulation properties. The thicker the neoprene in a wetsuit, the warmer you'll be in the water. The neoprene in a wetsuit traps the water between the suit and the skin while body heat warms the water, reducing heat loss in cold water. Buoyant and lightweight, neoprene can also be used as a protective cover because of its durability and resistance to abrasive textures.
Wetsuit Thickness and Warmth
To determine how thick of a wetsuit you should buy, you will need to take into account the temperature of the water. If you plan to use a wetsuit on the beach in the middle of summer, your wetsuit will be much thinner than if you wanted to use it in the winter. Wetsuits aim to keep warmth in and cold water out. The colder the water, the thicker your wetsuit should be. 
Some wetsuits use air chambers on the outside of the suit to trap heat. Fused with a locking zipper, this mechanism blocks out water to prevent flushing.
Below is a chart to help you decide what style and thickness (mm) of wetsuit is right for your water temps and climate.
| | |
| --- | --- |
|   Water Temperature  |   Type of Wetsuit |
|   75+F |   Rashguard |
|   74-64F |   2mm Springsuit |
|   66-59F |   2mm Long Sleeve Springsuit or 2-3mm Fullsuit  |
|   59-56F |   2-3mm Fullsuit + Optional Booties |
|   55-50F |   3-4mm Fullsuit + Booties |
|   50-44F |   4-5mm Fullsuit + Booties + Hood |
|   43-F |   5-6mm Fullsuit + Booties + Hood |
Freedom of Movement
In the water, your movements shouldn't be restricted. A wetsuit that is too snug will make it hard to swim properly. Your wetsuit should fit comfortably like a second skin, without restricting your range of motion, but snug enough that water can't easily get in. Each wetsuit manufacturer has its own standard sizing for wetsuits, and size charts may vary between companies. To find the perfect fit, it is best to try on your wetsuit before removing tags or getting it wet.
Seams
Each wetsuit has its own kind of seam, each with its own set of pluses and minuses:
Overlock Stitch: Found on the least expensive wetsuits, the overlock stitch sticks out of the neoprene, which can be uncomfortable. Although strong, this stitch leaves needle holes for water and wind to enter the wetsuit. 
Flatlock Stitch: A completely flat stitch that goes through both sides of the neoprene shell. This does NOT provide a water-tight seal.
Glued and Blind Stitched: This stitch is first glued together then threaded with a needle on the same side, not going all the way through. Continuous stretching and use over time may create small holes.
Liquid tape: Rubber used to seal the inside and outside of the stitching, creating a 100% waterproof seam.
Neoprene Tape: Most flexible seam tape. Can be used on the inside of the seams, creating the most flexible 100% waterproof seal.
Zippers
The zippers on your wetsuit can vary as well, which determines how you get in and out of the suit itself:
Back Zip: Opens vertically down the back, making it easy to put on and take off your wetsuit. However, this type of zipper also reduces flexibility and can be stiff.
Chest Zip: Also known as a front zip, zips horizontally across the upper chest, providing more flexibility on the back of the suit. This kind of zipper keeps water flushing through the suit while swimming or surfing.
Zipper Free: Wetsuit is made of neoprene with flexible liners utilizing Velcro™ closures, keeping the cold water out while remaining flexible.
Wetsuit Styles and Accessories
Now that you know what to look for when choosing your wetsuit, you are ready to pick the right one for you. However, there are many types out there. Here is a list of different style wetsuits for various activities.
Full Suit: A full wetsuit is a one-piece suit that stretches from the top of your neck to your ankles. Also called a full-length suit. View: Men's Full Suits, Women's Full Suits
Spring Suit: One-piece wetsuit with short legs and long or short sleeves. View: Men's Spring Suits, Women's Spring Suits
Shorty Suit: Usually used in warmer water and temperatures, a shorty suit has short sleeves and a short leg length.
Dry Suit: Used for extremely cold water conditions. Drysuits are designed to keep as much water out as possible by using rubber seals around the neck, wrists, and ankles. Some also use Velcro™-style straps around the wrists and ankles to provide an extra measure of sealing.
Three-Quarter Suit: One-piece suit with short sleeves and legs that extend to the ankles.
Farmer John / Long John / Short John (Jane): One-piece suit which combines a vest top and either short or long legs. View: Men's Long Johns, Women's Long Johns
Triathlon Wetsuit: A tri suit is made specifically for a triathlon race and often features technology to be more compatible with cycling. For example, women's tri suits usually have chamois support.
Rashguard: Not a wetsuit itself, but can be layered under a wetsuit just like a swimsuit for extra warmth and to protect against chafing. Rashguards and looser-fitting surf shirts block UV rays while under the sun. View: Men's Rashguards, Women's Rashguards
Hood: Used to keep your head warm and keep the wind chill and cold air temperatures out. Some wetsuits come with the hood attached or you can purchase the hood separately. View: Men's Hoods, Women's Hoods
Gloves: Keep your fingers and hands warm in cold water. They come in different thickness levels and styles depending on your environment. View: Men's Gloves, Women's Gloves
Booties: Foot coverings to protect your feet in cold waters. They have two varieties: round-toe and split-toe. The split-toe, or two-toe, has a compartment for your big toe and another space for the rest of your toes. This adds more stability in the water, keeping your feet warm in colder climates and offered in different thickness levels. View: Men's Booties, Women's Booties