Understanding Tankinis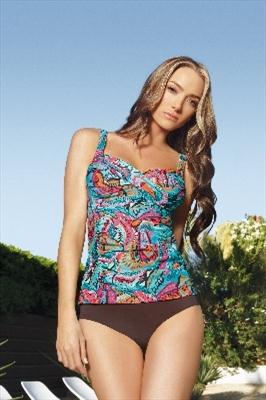 Tankinis get their name from the combination of a tank top and bikini bottom and was first introduced in the late 1990s. Because bikinis show skin that some beach babes may not want, the tankini was designed as a way to provide the modesty of a one piece suit with the convenience of a two piece suit. Tankinis have also proven to be a good choice for active ladies who don't want to worry about losing their tops. Hailed as the first major innovation in women's swimsuit design in several decades, it has since dominated almost a third of the swimwear market.
These innovative bathing suits have become staples in most women's wardrobes, pleasing people who want more coverage but still want to maintain the convenience of a two piece swim suit. Tankinis have become popular with ladies who want to hide their tummy area and with those who have recently had mastectomies, as the extra coverage allows for more support.
Tankinis offer several kinds of bust support. Halter tops have the adjustable and supportive neck ties to keep things in place while many bandeau tops have removable straps to give you the option of having support or of getting rid of pesky tan lines. Some tankinis have triangle tops, giving you a sexier style while some have high necked tops to keep you covered.
Whether you like bold colors, trendy prints or simple solids, tankinis have it all. Because of the two-piece option, mixing and matching bottoms is the perfect way to get mileage out of your top and to be able to wear it with different bottoms to get a different swim style every time you wear it.