Understanding Lifeguard Manikins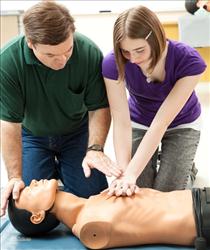 There's a lot to consider in the manikin market. These plastic people vary in shape, skin, and make different sounds; some even have patented names like Resusci Anne and Old Fat Fred. Lifeguards must practice on plastic before facing the real thing in real emergencies. As lifeguard instructors, this buying guide will help you understand and choose the best manikins for your lifeguard CPR training needs. Below are some things to consider…
Man or Manikin?
An optimal manikin will look, move, and feel like a real person. Choose manikins with anatomical reference points for visual learning. Also choose manikins whose necks and heads imitate actual victim body movements, and whose chests rise only if the head is tilted back correctly. Diversify your manikin collection in adult, child, infant, and obese sizes; this will allow trainees to correctly learn different techniques for different bodies.
Get Feedback
Just as human beings give off signs that they're alive, a good training manikin will give signs that your chest compressions are in the right place and at the right pace. Look for manikins with a feedback system that easy to assess for both student and instructor. Good compressions are linked to the survival of cardiac arrest, so reinforcing good technique with sensory feedback will get your lifeguards into life-saving shape.
Some manikins will give off an audible click when compressions are just right. Hearing this sound will tell your lifeguards that they're hitting the right spots, and the sound will also help instructors assess pace and location.
Other manikins provide visual feedback—lights beneath the skin will flare at the target 100 beats per minute.
Best Training Buddies
Lifeguards perform on the young and old, in the water and on the deck. Different manikins have been designed to prep lifeguards for various emergencies.
Water rescue manikins are designed so that they can be sunk in the deep end, rescued, and given CPR. Optimal water rescue manikins feature rust-resistant skeletons, durable plastic, and articulated joints.
Choking manikins prepare lifeguards for those moments when someone bites off more than they can chew. Choose choking manikins with a life-sized head and upper torso, and who expel foreign objects upon a successful abdominal thrust. Some specialized choker trainers are designed for one trainee to wear while others apply abdominal thrusts.
Various peoples are found poolside, so training on manikins that vary in age, size, and shape is a must. Pack your training bag with adult, child, infant, and obese manikins. A cost-effective feature is an adult manikin that can convert to a child.
Cleaning and Removables
Hygiene is made easy with removable and/or exchangeable lungs and face-related bits. This limits the spread of germs and helps keep both trainees and manikins clean.
Most lungs for Basic Life Support manikins are disposable plastic bags that expand within the chest area. Lungs can be highly variable (adult lungs, infant lungs, manikin-specific custom lungs…) Because it's one lung per trainee, you'll be blowing through lungs fast. Some manikins feature reusable lungs with washable mouth and nosepieces to cut down on costs.
Another useful tool is the face-shield lung, a lung bag that extends up through the neck and mouth of the manikin and folds over the manikin's lips. It's an extra-protective disposable lung.
Separate faces are also an option. These face-masks are pulled over the head of a manikin and have malleable nostrils for a realistic nose-pinch. They can be disinfected in between trainees or used on a one-per-trainee basis.
All these options reduce contact with germs, but must be matched with the correct manikins. Make sure your products match up.
Schlepping
Portability is something to think about if you're going to be trucking your equipment from pool-to-pool. Some manikins come as a "family"—adults, children, and infant sold together in portable carrying bags. These tend to be lightweight and easier to lug.
Shop all Training Manikins & Equipment