Understanding Cover Ups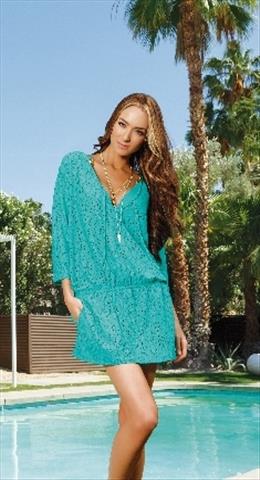 Cover-ups are perfect for traveling to and from the beach or pool and for going from the beach to the street. Cover-ups are no longer just delegated to plain tunics or drab dresses; The choices are now just as eclectic as your personal swim style. With sporty styled shorts to ultra-feminine maxi dresses, every beach babe will find the fashion-forward trend the suits her needs. The following are a few of the cover-up options you will find on SwimOutlet:
Sporty Shorts
Shorts are a popular style to cover up in as they can easily be paired with a tee shirt for complete coverage to hit the streets in. From boardshort style to elegant embroidered fabrics to luscious linen, the style options are endless. Not only are shorts used to pull on after a swim in the sea, they can be worn by themselves on hot summer days running errands and lunching with your favorite ladies. Solid or printed, short or long, shorts are one of the most classic cover-up options.
Rad Rompers
These on-trend, one-piece cover-ups are a stylish and girly upgrade from shorts. With an attached top, rompers are the perfect blend of a dress and shorts, giving girls more freedom of movement and more comfortable coverage. Whether it's a sexy strapless design or a trendy tank top, rompers are a great way to dress up your beach wear while still maintaining the comfort and coverage shorts offer.
Trendy Tunics
One of the most classic cover-up designs, the tunic is a pullover piece that can either be classified as a long shirt or a short dress. Tunics tend to hit women at their thigh and range from simple tank top styles to long sleeve styles. Tunics vary in materials, cuts, and fashions, but their dress-like construction gives you a piece that can be sand-worthy or street-worthy.
Sassy Skirts
Dress up your cover-up choice with a skirt. Skirts allow you to show off your bathing suit while keeping your legs covered. Toss a top on over your bathing suit when your beach day comes to a close and feel dressed up enough to dine out in. Maxi skirts, flouncing skirts, printed or plain, skirts are an ultra-feminine way to cover up areas you want to stay out of the way and still feel cool and comfortable.
Perfect Pants
Lightweight and comfortable, cover-up pants are generally made from thinner material, such as gauze or mesh, allowing you to cover up but still stay cool. With elastic waist bands and stylish prints, cover-up pants are comfortable enough to lounge by the pool in, but chic enough to move to an afternoon in town. Top off this look with your favorite tee and make these cover-up pieces part of your summer wardrobe.
Daring Dresses
Both long and short, dresses are a common way to cover up on the beach or by the pool. Because of the versatility of dresses, you can throw on a pair of sandals and head up to your favorite lunch spot or put your hair up and your heels on for a night on the town. With soft comfortable fabrics, cool cuts, and pretty patterns, dresses come in all varieties for every fashionista to find the dress that suits her style.
Simple Sarongs
The most easy and versatile cover up, sarongs are large pieces of fabric that can be tied around the waist. Because of the multiple ways sarongs can be tied, the length of the skirt and the style of the knot is customizable, letting every lady bare as much or as little as they'd like. Untie your sarong to use as a wrap when the sun goes down or lay on the beach for a sand-free seat.
With so many cover-up choices, no matter your style or your bathing suit choice, you'll find a cover-up that matches your mood. Whether you're a sporty spirit or a fancy fashion plate, covering up is made for every beach babe.