Understanding Boardshorts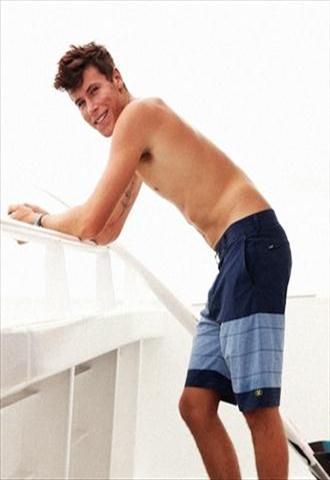 Whether you wear them for performance or for the prints, there are countless styles of boardshorts to choose from on the market today. Trying to comb through all the styles and features can be overwhelming and confusing. From the experienced surfer to a new swimmer, this style of swimwear is made to suit everyone (literally!). Depending on the primary use of the boardies, some features like the type of fly closure, stretch factor or quick-drying the material is are more important than others. Here are some keys to look for when deciding what type of short is perfect for you.
For the Surfer
Whether you're a professional or novice surfer, boardshorts are just as important as the board itself. When you're on the board, the last thing you need to worry about is what you have on your body. The durable fabrics keep the shorts lasting longer, even with the constant contact on the board. Longer, looser-in-the-leg board shorts are the best options as they keep board wax from irritating the skin and hair on your legs while you balance on the board between breaks. If you're an avid rider, look for Shorts with 4-way stretch. These are ideal for surfing as the fabric stretches both crosswise and lengthwise, leaving you with unrestricted performance on the waves. Also, a boardshort with both a Velcro and lace-up fly is the best way to ensure your shorts won't wander when you wipe out.
For the Swimmer
If you're not a competitive surfer, boardshorts are usually the style to sport when you're at the beach or playing in the pool. Because of their slack fit, secure fly and soft fabrics, most men prefer to swim in these shorts instead of traditional trunks. The quick-drying and durable fabrics generally used make going from swimming to sunning easy and comfortable. While many boardshorts come in stretch fabrics, it isn't a necessity if you plan on a casual beach day. You can also venture into volley boardshorts, which have an elastic waist instead of a Velcro one. If you're not playing hard, you have to worry less about your shorts staying still! Most boardies also have secure Velcro pockets for your car or house keys to make sure your beach time isn't crowded with extra baggage.
For the Versatile Swimmer
After a long morning riding the waves or swimming on the shore, it's time for lunch with your friends. Instead of having to cart around any extra clothes, Hybrid shorts are the perfect solution. From the surf to the sand, these shorts have the functionality of a boardshort with the styling of regular walkshorts. Whether they're called Amphibian, Submersible, Hydroslambozo, Amphibious, Surf N Turf, or Land to Sea shorts, they can all go easily from sea to shore. These trendy trunks may seem like regular shorts but their water repellant fabrics help you dry quickly and stay comfortable for when you're out of the water. These shorts also feature secure-close flies and pockets to keep your extras -- and yourself -- in place.
For Safety (Lifeguarding)
When your job is to keep swimmers safe, it's important to make sure you have the right gear to do it comfortably and conveniently. Most specialized lifeguard boardies are made in red as it is easy to spot and red is also associated with help. The colors and patterns not only look good, but they make you easy to spot by the swimmers. Along with the bold colors, many boardshorts made for lifeguards have a pocket to make sure anything you need while on the job is easily accessible. Last, but certainly not least, these shorts always have a guard logo prominent so those needing your help can identify you!
For Style
Boardshorts aren't just for surfing anymore. Many men (and women!) buy boardies because of the bright colors, comfortable fabrics, and surf-inspired designs. With different lengths, patterns, and styles, boardshorts are now seen everywhere, from the beach to the mall to the park. Some reach for the retro-styled boardies with scalloped edges and shorter lengths to bring back that classic beach style. Summertime is the perfect season for short shopping. With so many companies cranking out boardshorts simply for style, there are hundreds of options to choose one that suits your style.