Understanding Bikini Bottoms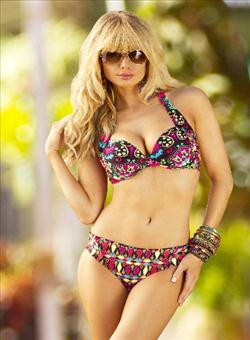 When you dive in to the long days of summer, you want to do so in a bikini bottom that provides an appropriate amount of coverage for your lifestyle. When shopping for the perfect bikini bottom, there is a wide spectrum of options varying in style, shapes and sizes. Depending on your desired style, you can choose from classic full coverage to a barely there Brazilian cut and everything in-between. Below is a guide designed to outline the different styles of bikini bottoms for your next day of fun in the sun.
Sophisticated and Skirted
A skirted bikini bottom adds a sophisticated flare to full bottom coverage. One of the more modest options, a skirted bottom typically adds wrapping layers and flirty frills to ensure a completely covered swimsuit. Designed to replicate a skirt, this style creates a classic, comfortable and concealing look.
Boy Short Bombshell
The basic boy-briefs encompass full bottom coverage while maintaining a sexy short style. Perfect for active lifestyles, these bottoms offer functionality with a fashionable twist. Boy-shorts are designed to give beach bombshells added bottom coverage to the sides, back and front. These shorts are a simple solution for the fast-paced fashionistas seeking a comfortable cut.
Haute High-Waisted
Raise the bar in a pair of haute, high-waisted bikini bottoms. These pants offer a retro rendition of coverage, taking bikini bottoms to new heights. Differing from basic bottom coverage, high-waisted swimwear adds a flattering fit to both the lower stomach and bottom. Created with a vintage edge, this form of swimwear is comfortable and covering without concealing your style.
Traditional Tie Side
Tie up your swimsuit style with a traditional tie-side bikini bottom. Generally known as the most common bottom, the tie-side is a versatile style. The adjustable ties on the sides make this swimsuit comfortable and convenient for most outdoor activities on top of making them tangible with tan lines. Designed with a slimmer cut, the tie-side bottom offers medium coverage and maximum fashion.
Hip Hipsters
Hipsters are a hip-hugging, low-rise bikini bottom that adds a contemporary splash to comfort. Hipsters offer less bottom coverage yet maintain an effortless ease with the thick hip-hugging sides. Typically a popular choice, these bottoms are a dynamic duo of chic comfort and captivating coverage.
Brazilian Bikini Babe
The Brazilian bikini bottom offers minimal cut with maximum tanning potential. These slim bottoms are created with ruching down the center back to create a cheeky, chic design. Typically more popular among younger women, the Brazilian swimsuits allow you to flaunt your figure without baring all on the beach.
Whether you like modest coverage, or a slim style, there are endless swimsuit combinations for you to dive in to. Across the wide spectrum of styles, SwimOutlet.com has a bikini bottom for every beach babe.