Understanding Beach Carts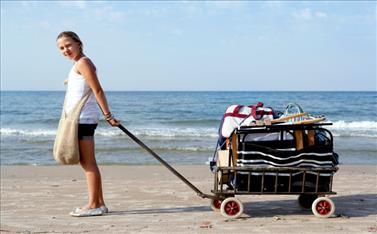 It's a beautiful sunny day, and you're about to head out to your favorite beach spot. But what should happen but you realizing you haven't packed all of your essentials? Making sure that you have all of the right equipment and gear for your beach excursion is a must. The number one thing that those traveling to the beach wish that they had brought with them is a beach cart. It's a handy accessory that can not only carry all of your beach goodies, but it's the new way to travel to the sandy dunes in style. The guide will help you go over the ins and outs of beach carts, what to pack in them and why you'll never want to leave for the beach without one again.
What is a beach cart?
Beach carts are most closely compared to trolleys. In addition to having sturdy wheels, baskets made of wicker or (perforated) are usually attached, giving you extra room to store the beach essentials. Sand can easily fall through the cracks and not dirty up your beach gear. Two of the most common beach carts are: carts that attach themselves to bikes or ones that are hand pulled. One of the greatest benefits about these handy carts is how they can compact themselves for easy storage and travel. However when you need it for your next outing, they pull out and can hold plenty of space for everything that you need.
What you should bring on your beach cart
If you're curious about what you should pack in your beach cart then there's an easy way to prioritize and decide what you need. First, bring the essentials such as towels and blankets. Next, bring sun protection, you don't want any harmful UV rays that are burning your skin. Another helpful item is to bring sunglasses. Polarized or not, these guys can help block out the bright sun from damaging your eyes. Lastly, bring the fun stuff. Cards, Frisbees, a book you've been reading or even some toy shovels can all easily be stored in your beach cart. Once your have your incidentals you can bring the bigger items like umbrellas and beach chairs.
How you should pack your beach cart
With all of your items laid out before you, it's best to pack everything in an orderly fashion. Many beach carts have side compartments where you can stick other necessary things for your trip. However, you should stick with the main compartment first. Placing heavier items such as coolers first is the best way to lay the groundwork for the bottom of the bag. After you set in your cooler, placing smaller objects like your blankets and your towels is the next best thing to put in. Then after your towels, that's when you can start placing your smaller objects like toys, books and maybe any food that doesn't need to be in the cooler. Once you've filled your main compartment you can focus on what the outside of the cart can hold. You can place your umbrellas on the outside of the cart so you don't have to waste any precious inner compartment space. After the umbrellas are placed you can stick any beach chairs you may have on your useful pull out beach chair holder. Some carts can store up to four chairs--Enough for the whole family to sit down on.
No matter what you decide to bring with you, bringing a beach cart to your next beach excursion is must. With all the pockets and simple storage, it makes for one of the best ways to hold your normal beach necessitates. Versatile and durable, these carts can last you for years' worth of beach trips and can be taken to more than just a beach. Any picnic or outdoor activity is a fun way to use your cart. As long as you have your beach cart, there isn't any activity that you won't be prepared for.