Stand Up Paddleboarding Safety Tips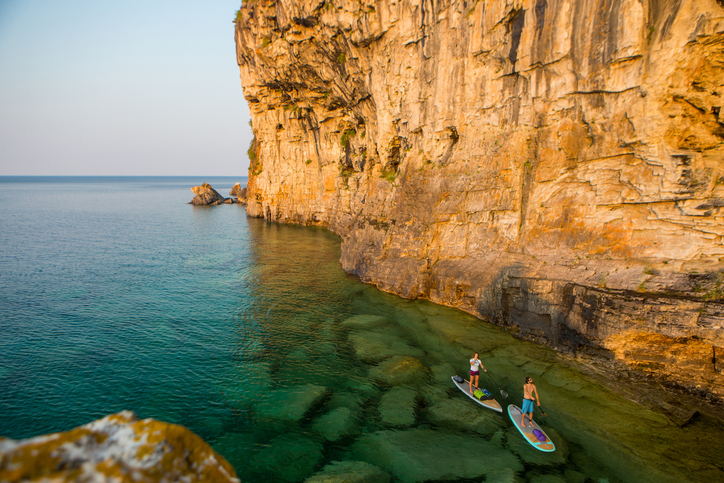 Whether you're an expert on all things SUP or you're just starting this new adventure, safety should always be your top priority, both for you, and for your fellow paddlers. SUP is a great experience, one that can be either thrilling or relaxing depending on your goal, but one that can be dangerous if you are not careful. To help you get the most out of your SUP experience, we've created a list of helpful tricks and tips that will serve you well no matter where you paddle or your experience level.
Be Humble
Know your limits! If you just picked up a board for the first time, do not brave the hard rapids or high-surf beaches! You want to enjoy your experience, after all, not create a terrifying one! Ask a shop owner nearby if you are unsure if you are capable of paddling in your location, and ask for recommendations of good places for beginners if necessary.
Similarly, do not inconvenience other paddlers in your area. You are all sharing the water after all, you don't want to run over a swimmer or knock another paddler with your own paddle! Respect the others in the water, and you will have a great time.
Get a Leash
Your Stand Up Paddleboard may come with a leash, or it may not. If you do not have a good, sturdy leash, make sure you get one before going out. If you're paddling on open water, this is all but a requirement, as your paddleboard is your sturdiest floatation device. If you take a tumble, and you're not wearing a leash, you may find your paddle floating away from you!
A good leash is one that is strong, flexible, and about a foot longer than the board itself.
Depending on where you paddle, there are different leashes that are ideal. If you are on the open water, a straight leash is best. If you are on flat, a coiled leash will serve you well, since it will stay out of the water and reduce drag. And if you are on a river, a quick release leash is all but mandatory, since you can get yourself untangled if the paddleboard gets caught up in debris or branches.
Get a Good Personal Floatation Device
We've talked about PFDs for Stand Up Paddleboarding in the past ( https://www.swimoutlet.com/guides/how-to-select-the-pfd-for-sup ) but we cannot overstate how important having a PFD is! You may think that a PFD might get in the way of your paddling, but if you choose one designed for such a thing, this will not be the case at all! Many PFDs are designed to allow your shoulders full range of motion and you can even get inflatable PFDs as well that won't be too bulky.
Monitor the Conditions
Before you go out on your paddleboard, make sure to know what the weather forecast will be. Wind is perhaps the most important consideration to make when you head out, since it can affect the choppiness of the waters not only when you start, but throughout your entire paddle. As a general rule, wind below 10 knots is safe, whereas anything more isn't. If you don't feel comfortable, stay indoors!
Also keep track of the swells and tides. These can affect how strong the waves are when you paddle, and can make what was once soft and stable water a turbulent ride! They can carry you off course if you are not careful. Even the strongest paddlers need to be wary of tides that shift too much, or swells that are too large.
Lastly, keep an eye on sunrise or sunset. You don't want to paddle in the dark, since that can make the experience very dangerous!
Use Sunscreen
This sounds obvious, but you'll thank me when you've been paddling for a couple hours and the sun has been bearing down on you the entire time. A good sunscreen, SPF 30 or above, will help keep you safe from the sun's harmful rays, and if you get a rashguard, all the better. Sunburns can set in as soon as 30 minutes in the heat, so it's important that you protect yourself!
Paddle with a Friend
You should never paddle alone. It may seem like an easy enough activity if you're going on steady water, but there's always a chance something could go wrong. By having a friend there, you have a safety net who can step in if you should fall off or something goes wrong. Plus, it's just more fun to paddle with a friend than to paddle alone!