Setting Up Your Triathlon Transition Area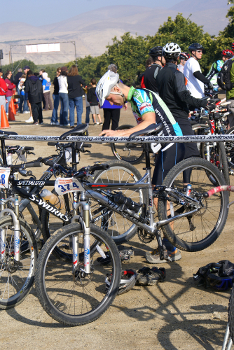 Transitions are an important aspect of a triathlon. Maintaining a fast and efficient transition is just as important as racing itself, and the key to a smooth transition is organization.
A neat and visible arrangement of your gear will result in a fast transition without any forgotten equipment.This guide will explain how to organize your transition area so you can have a smooth changeover from one discipline to the next.
It Starts At Home
Believe it or not, setting up an effective transition area begins at home, before you travel to the race site:
Pack every piece of equipment that you think you might need. If you are unsure if you'll need a particular item or not, bring it anyway. It's definitely better to be safe than sorry.
Also make sure that you check the event's website for transition information: Are there one or two transition areas? What is the distance between the transition area and the swim exit? What is the distance between the transition area and parking?
However you prepare, it's best to complete all pre-race responsibilities the day before, so you aren't rushing around the morning of the race. It's also wise to double-check for all gear that you may or may not have packed. After all, the more equipment and gear you have, the easier it is to overlook something. Misplaced or forgotten gear can easily throw off your mental game.
Picking Your Spot
Once you've arrived at the event, immediately head to the registration booth, where you will check in and receive your bib packet. If you've already received your packet, refer to your bib number and locate that number in the transition area.
A fast transition is a great way to make up ground on your opponents. It is also a great way to keep overall speed and momentum going.
Some races will feature "open seating," where athletes are free to set up where they please. If you are given the opportunity to pick your transition area, locate a spot that is easily visible and accessible. Assess that spot's distance from the "Bike-in" and "Bike-out" access points. In the end, you want a spot that limits the amount of time spent running with your bike, though it's better to pick a transition spot in relation to the bike entrance/exit rather than for the run.
Race-day Setup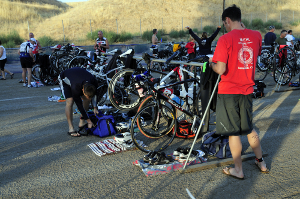 Once you've found your transition area, your next step should be to mount your bike on the supplied bike fixture. The structure of the bike fixtures will vary from race to race, but there are two primary types: Wheel-mount fixtures and seat-mount fixtures. Mount your bike to the fixture by its respective component and begin to set up your transition area:
Begin by laying a medium-sized towel (approximately 12 x 20 inches) long-ways on the ground, parallel to your bike. This will be your "platform" on which you will place all needed equipment.
Lay your running shoes on the far-end of the towel and your bike shoes in front of them. This will provide sequential ordering for easy access to each shoe when needed.
Make sure all shoelaces, straps, buckles, etc. are untied and open so you aren't fiddling with unneeded obstacles during the race. If you're going to use socks, lay each one inside of its respective shoe.
Place your helmet upside down on your bike's aerobars.
Open your sunglasses and place them face-down inside the helmet. This allows for easy access to both necessary pieces of equipment when transitioning to the bike. Having the sunglasses visible and easily accessible prevents the risk of forgetting them in the panic of changing from one sport to the next. If your bike does not have aerobars, place your helmet right-side up on your seat or on any other easily accessible spot on the bike. Be sure to do the same with your sunglasses.
Lastly, either pin your bib number to your tri jersey or bib belt and lay it across your biking shoes so you can seen it right away. Also be sure to mount any additional supplied bib numbers to your bike and/or helmet.
When your race is over, be sure to clean up your transition area. If there are any empty water bottles or granola bar wrappers lying around, locate the nearest trashcan. It all comes back to keeping things clean and in order. You do so to help your overall performance and to show respect for the folks who hosted the event.
When your gear has been arranged, check to make sure that the hydration bottles on your bike are full. If they aren't, refill them. It's wise to leave a water bottle or sports drink on your towel for easy access to a quick drink while transitioning. If you expect to require some quick fuel while cycling, mount some gel packets to your bike or tri suit/jersey, using either tape or the supplied pockets.
Also, locating your transition area among hundreds or thousands of others can be difficult. To alleviate the problem, pick out a landmark near your transition area, or make one of your own. A unique and distinguishable object will make it much easier to pick your transition area out of the (likely) hundreds of others in the area.
Race Attire
Racing attire varies between participants. Some wear single-piece tri suits, while others wear separate shorts and shirts. One time-saving move is to wear your clothing under your wetsuit during the swim. What you decide to wear in the swim and change into during transition is ultimately up to you. The key is practicing your transitions ahead of time. Change into any attire that you will wear during the swim and place all other attire on your bike's handle bars or over your cycling shoes.
Suiting Up
After you've warmed up and have had your body marked, head back to your transition. Once there, put on your wetsuit, swim cap, goggles, and most importantly, your timing chip (which goes around your left ankle). If you have a second towel, place it near your shoes so you can use it to dry off or wipe away any rocks or sand that might stick to your feet after you emerge from the swim.
Give your transition area one final look-over to be sure you aren't forgetting anything. If there is any piece of equipment that you aren't using, put it back into your triathlon bag. Finally, place your triathlon bag all the way in the back of your transition area, just beyond your running shoes.
Organization is Key
It's remarkable how much faster triathletes can push through transition if their area is neat and well-organized. Alleviating the burden of locating and accounting for randomly placed equipment saves time and stress. It also allows you to perform at your highest level. Keeping an organized transition area will only help you during your race.