How to Find a Water Polo Team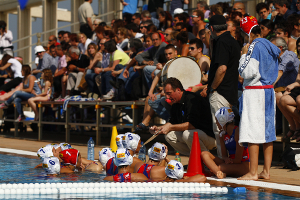 Whether you're brand new to water polo or just starting out, it may seem hard at first to find somewhere to play. However, there are a surprising (and ever-growing) number of water polo teams and clubs in the United States and chances are a few of them are in your area. This guide explains how to get involved in water polo, regardless of your age or experience level. The resources below will help you find the water polo program that is the best possible fit for you.
Water Polo for Children
USA Water Polo has recently increased efforts to promote a program called "Splashball," designed to introduce water polo to children age five to nine. This is younger than the traditional age at which children start playing water polo. Most start around middle school, but USA Water Polo wants to increase awareness and participation of the sport at a younger age.
The focus of Splashball is to introduce younger children to the basics of water polo, and to emphasize the fun aspects of the game. Not only does USA Water Polo offer a directory of Splashball clubs in the United States, they also have guidelines on how to organize your own Splashball program.
If there isn't an official Splashball program for your child nearby but they are interested in water polo, there may be a water polo clinic offered by your local pool or high school that they can join. Be sure to check with the coach first, and ask about the average age of the other participants, since throwing a five year-old into a pool of twelve year-olds will probably be a bit too much of a challenge for them!
Water Polo for Young Adults
Teenagers and young adults in the United States have lots of options when it comes to getting involved in water polo. From clinics to camps to school teams, there are many ways to either learn the sport for the first time or improve their water polo skills.
Clinics & Camps
There are a multitude of clinics and water polo camps offering spring, winter, summer, and fall. These programs are designed to introduce new players to water polo and help them master the basics of the sport, or to hone the skills of players already familiar with the game during the off-season.
These can range in length from a few weeks to a few months, depending on the season and the camp itself. To find clinics or camps, ask at local high schools or colleges, since their aquatics programs commonly run them during their off season. It may also be worth checking in at your local pool for water polo programs they offer throughout the year.
School Teams
Water polo teams associated with schools — high schools and colleges — are probably the most accessible water polo opportunities for young adults. Both high school and college teams usually require at the very minimum swimming experience, but most athletes entering these teams have already played water polo for a few years.
Some high schools and colleges are competitive enough to recruit and cut players, while others scramble for enough to field a team. In college, the skill level goes up a notch. Many colleges have both a school team and an intramural or club team (for athletes who may not have the size, time, skill, or inclination to be on the school's team). The school's aquatics facilities or online sport directories are the best places to learn about their various programs.
Hot Tip: Try "Different" Water Polo
Lots of colleges offer inner tube water polo leagues. This sport allows players to sit in inflatable tubes and play a version of water polo as they pass and paddle around the pool. It's missing a lot of the things that make true water polo such a challenging sport, but it is incredibly popular and serves as a very gentle introduction to the basics of water polo.
Water Polo for Adults
Masters Water Polo is a USA Water Polo-sanctioned organization — the same organization that governs the National, Junior National, and Splashball programs. Masters Water Polo allows players over the age of 18 to form teams and compete year-round. The larger tournaments often include teams from all over the world. USA Water Polo's website has a directory of all their clubs for easy location-based searching.
One of the best things about Masters Water Polo is the fact that nearly anyone can join. Ex-collegiate and ex-Olympic or National team members are scattered throughout the teams, but there are also a lot of players for whom Masters is their first exposure to water polo. Some are the parents of water polo players who wanted to try the sport out for themselves, while others have a swimming background and just wanted to try something new.
Masters have a number of organized, refereed games and tournaments each year. The number of scrimmages, practices, and organized events per team varies though, depending on how competitive they are. During the Masters National Championship tournament, teams are broken down by age group.
Coaching Water Polo
Lastly, if there isn't a like-minded group of fellow water polo players in your area, but you're still drawn to the sport, consider coaching. This could be anything from starting a youth league to becoming an assistant coach at the local high school. Not only are you guaranteed to learn something about the sport — teaching always offers new insights — but you may meet other coaches and parents who are interested in playing a little water polo as well. And that is, after all, is what it's about.
Don't Be Afraid to Jump In
Water polo is steadily increasing in popularity in America, and the number of teams across all age groups increases every year. If there isn't a local team or clinic right now, there may be one soon. While most water polo players were introduced to the sport around middle school, that doesn't mean that younger or older athletes can't start playing the sport. Most teams are more than happy to bring a new player on board and share their love of the sport.