How to Choose Swimsuit Cleaners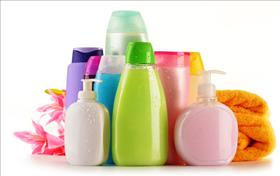 Whether you have a fashionable bikini or sleek competition swimsuit, it's important to properly care for your swimwear so you can get many uses out of it. In this guide, you'll learn how to choose the perfect swimsuit cleaner so you can extend the life of your favorite suit.
Benefits of Swimsuit Cleaners
Although some swimwear can be cleaned in the washing machine, using bleach and certain laundry detergents can wreak havoc on your swimwear and speed up deterioration of the fabric, color, and elastic. If you must use a detergent, laundry detergent designed for delicate clothes is ideal. However, it's just as easy to hand wash your swimsuit and you'll gain the benefits of using cleaners specially designed for swimwear. Swimsuit cleaners can do the following:
Remove chlorine and residue.
Keeps colors vibrant.
Eliminate odors.
Multiple Washes
When choosing a swimsuit cleaner, it's important to note how many washes are in a bottle. Some bottles can hold two ounces yet provide 50 washes whereas others can hold more ounces and provide fewer washes. The back of the bottle should note how many washes are in each bottle with instructions. Typically, a few capfuls of the cleaner are mixed into a tub of water.
In regards to washing, it's vital that you rinse your swimsuit with cold, fresh water after each use to remove as much chlorine and salt as possible. This rule applies to all types of swimwear: fashion, competition, tech suits, etc. This golden rule in addition to using a swimsuit cleaner will prolong the life of your swimsuit.
At-home Recipes
If you prefer making your own cleaner, here are two of the most common recipes delicate enough for your swimwear:
Hand soap: Add one teaspoon of mild liquid hand soap to a gallon of water and gently hand wash.
Baking soda: Fill your sink with cold water and add ¼ cup of baking soda. Soak your swimsuit in the mixture for around 15 minutes.
Enjoy for Many Seasons
With proper care, you can extend the life of your favorite swimsuit for many seasons. Unlike standard detergent, the ingredients in swimsuit cleaners are gentle and won't degrade the fabric. From at-home methods to versatile brand name cleaners, your swimsuit will shine all summer long.