How to Choose Post Mastectomy Swimwear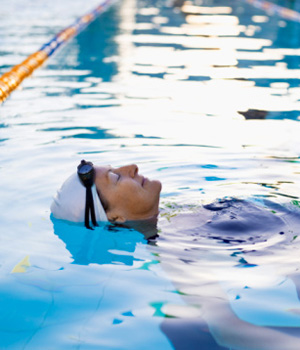 Recovery after breast cancer treatment is often more than just a physical recovery, there's a psychological element as well. Things as simple as going swimming at a public pool become more complicated. Some women find it challenging to wear swimwear again, but post mastectomy swimwear is designed to make you more comfortable.
Common Design Features
Swimming is a fantastic form of exercise and should be an option for every woman. Listed below are some of the common features of post mastectomy swimwear that are designed to make you feel comfortable.
Breast pockets work to keep prosthetic breasts in place.
Removable soft cups are designed to smooth natural breasts. These can be removed and breast forms can be inserted in their place.
Adjustable straps allow you to balance the inserts and keep breasts symmetrical.
Swimsuits that fit snugly help to keep your natural breast and the prosthesis firmly in place against the chest.
High arm openings, wide straps, and a high neckline hide potential scarring.
Choose between more or less coverage depending on your scarring and preference.
Tummy control features firm and flatten the belly.
Types of Inserts
Most women who have undergone mastectomy surgery feel more comfortable wearing a prosthetic breast insert. The inserts are generally inserted into the attached breast pockets on the inside of the bathing suit. There are several types of inserts to choose from:
Silicone prosthesis: These are the most popular swim insert pad for post mastectomy women.
Foam breast pads: Some women prefer these lightweight non-silicone inserts.
Choose the breast pad that is most comfortable for you. Keep in mind that in water, the inserts may absorb some water and become slightly enlarged.
Insert Sizing
When purchasing a post-mastectomy form pad, make sure to check the size of the insert. Some inserts are measured by cup size and others by small, medium, and large — it depends on the brand. Consult a size chart before purchasing an insert.
Swimwear Styles
Post mastectomy swimwear has a wide assortment of styles to choose from. One-piece suits and tankini sets are the most popular styles. The advantages to each of these are:
One-piece bathing suits provide full coverage and support.
Tankini sets allow more freedom than a one-piece and are more concealing than a bikini.
Most post mastectomy suits feature removable cups, tummy control, and adjustable straps; regardless of their style.
Live Your Life
There are numerous options to choose from in post mastectomy swimwear. As with many things in life, you should put a premium on comfort when choosing a swimsuit. So find the right swimsuit for you and let the healing begin.