How to Choose Maternity Swimwear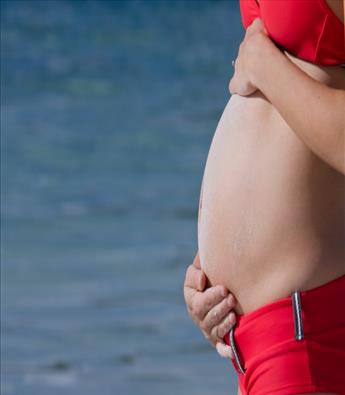 Swimming is an excellent physical activity during pregnancy. Water aerobic exercises are both low-impact and safe for you and your growing baby. The weightlessness and workout you'll experience while swimming can help soothe your aching back, help you sleep, and keep you fit. In this guide, you'll learn how to properly find your size to ensure a great fit throughout the duration of your pregnancy.
Basic Considerations
Maternity swimwear isn't as different from regular swimwear as you might think. Like regular swimwear, maternity swimwear has a slew of styles, prints, and colors to make you feel happy and confident. However, you must take into account certain considerations when choosing a suit. Comfort is a priority. A maternity swimsuit shouldn't constrict your growing belly or cause any discomfort. Here are some basic things to consider:
Adjustable straps at the back and/or neck to customize as you grow.
Stretchy and comfortable fabrics such as Spandex, Lycra, and Nylon.
Versatility for future use. If you're worrying about price, you may want to look for a maternity swimsuit that can be worn beyond pregnancy. For example, some two-piece suits have boyshort bottoms that can easily be mixed and matched with your pre-pregnancy swimsuits.
Two-piece suits are perfect for easy on/off access if you'll frequently be using the bathroom.
Built-in molded cup bras or shelf bras with elastic for extra support.
Finding the Perfect Fit
Finding a proper size might seem intimidating and foreign if you're a first time-mother or have little experience with maternity swimwear. Thankfully, maternity brands provide great size charts. They want you to look amazing and feel your best in your maternity swimsuit. A majority of maternity swimsuit brands base their sizing off of your pre-pregnancy size. For example, if you wear a size 2 pre-pregnancy, you'll wear a size 2 for that brand's maternity swimwear. If you are still unsure, the size charts will usually match up your pre-pregnancy size with your corresponding maternity size. If you are expecting twins, it is usually best to go up one size, as well. Maternity swimsuits are designed to stretch with your body over time to accommodate your growing shape. Therefore, you won't have to worry about buying another suit later in your pregnancy.
SwimOutlet has multiple maternity brands such as Aquasphere, Prego, EQ Swimwear, and Pez D'Or that reflect the above sizing. These brands use special technology and designs so that your suit will last the entire pregnancy.
Mix It Up!
Once you choose your fit, have fun with the design! There's no reason why you can't be fashionable in a maternity swimsuit. Whether you want the extra coverage of a tankini or flaunt off your growing belly in a two-piece bikini, there's a style for everyone. In addition, you'll find the same on-trend styles in maternity swimsuits that you see in regular swimsuits. With polka dots, bright colors, funky patterns, and sweet ruffles, the style possibilities are endless! You'll look great whether you're lounging on the beach or gliding through the water.
Get Out, Get Active
Pregnancy is an exciting time and adding swim to your routine can help keep you and your baby happy and healthy. Finding a comfortable fit doesn't have to be a confusing experience. Maternity suits utilize the best technology to ensure a great fit that supports your growing curves.