How to Choose Headphones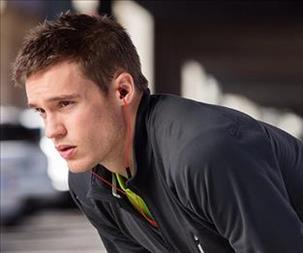 A quality pair of headphones can change distant-sounding music into rich, vibrant tunes. You can slip on headphones to immerse yourself in your favorite album or turn up the volume to amp up your next workout. In this guide, you'll learn how to choose the perfect pair of headphones to suit your needs.
Choose your Style
Headphones come in a number of styles that cater to all of your activities. For example, you can find waterproof headphones for swimming, wireless ones for on-the-go activities, or full size headphones that'll surround you in your music. The following is a list of the most common types of headphones:
Full size headphones: These types of headphones have become increasingly popular and completely surround your ears via padded ear cups. Full size headphones have better sound quality than earphones and may isolate outside noises which only improves the music experience.

However, these headphones are bulkier than earphones which may cause a problem for people who need a compact size for travel.


Earphones:Many people use earphones for exercising. Unlike headphones, earphones consist of two individual pieces that fit in the outer entrance of the ear. Earphones have a convenient, compact shape that easily fits in your purse, pocket, or gym bag. They also tend to be inexpensive.

Although earphones are convenient, the quality of sound can suffer due to the open design. In addition, you may experience ear discomfort with prolonged use.


Wireless headphones: Typically utilizing Bluetooth, wireless headphones allow you to enjoy your music without the cumbersome cords associated with classic headphones. They can come in an earphone or headphone version. If you listen to music while exercising, wireless headphones are fantastic. They'll allow you to move freely without fear of hitting one of your headphone cords.

One drawback of wireless headphones is the bulky design. These headphones require batteries which adds heft. You also need to make sure you have enough battery life before each use.
Additional Features
Once you find the right style, there are tons of handy features that can enhance your headphones. The following are some features you may want to look for:
Audio and microphone compatibility: When plugged into your smartphone, headphones can have buttons either on the cord or the headphone itself that allow you to adjust volume and answer the phone.
Waterproof/sweat-proof: This is a great quality if you're going to be using your headphones while exercising. Waterproof headphones also mean you can listen to music underwater when swimming or diving as long as your music player is in a waterproof case. However, it's important to note what water depth your headphones can withstand.
Cable design: You can prevent a tangled headphone cord with a flat cord. These cords are usually marketed as "tangle-free" and will resist knotting up.
Noise cancellation: You can find full size earphones that completely eliminate outside noise so you're left with ultra-clear, crisp music.
Interchangeable headbands: Some full size headphones have interchangeable headbands that come in fun colors. You can create a whole new look by swapping out your black headband for a lively blue one or other bright color.
Immerse Yourself in Music
Although there are pros and cons to each style, you'll no doubt find a design that caters to your lifestyle. Full size headphones are great for casual listening and provide excellent listening experiences, especially with noise cancellation. Lightweight earphones are perfect for exercises where you'll be moving your body greatly like running, whereas wireless headphones provide fantastic hands-free exercising for aerobics, yoga, and other fitness routines. No matter what you choose, you'll have the knowledge to choose the perfect pair.