How to Choose Flattering Plus Size Swimwear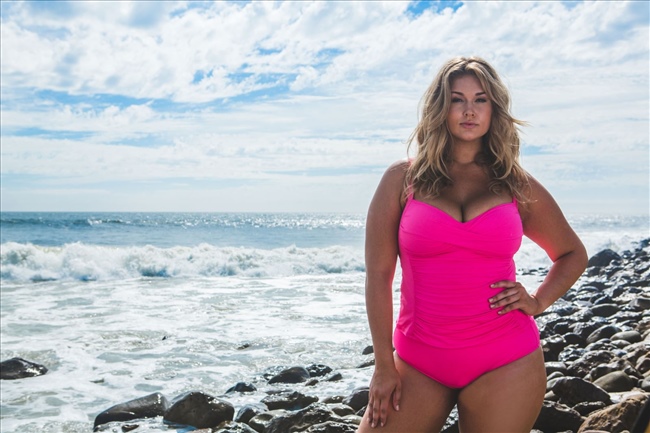 Each body is unique. Everybody has physical traits they'd like to highlight or downplay. And keeping up with swimwear trends might not always be the most flattering option. But by using a few design tips to your advantage, like high waisted bikinis, tummy control paneling, and underwire support, you can create a more proportional look. 
Our best advice: try new silhouettes each season. Plus size swimwear is always changing and you may stumble across a style that perfectly flatters your body, even if it's not the hottest celebrity or runway trend that summer. Besides - no one wants to be seen in the same swimsuit as every other woman on social media anyway.
Follow these simple steps before embarking on your swimsuit search. 
Step 1: Take your measurements. Most swimwear size charts will ask for your bust, waist, and hip measurements. 
Step 2: Take a look at your old swimsuit sizes. Think about how it fit. Was it too snug? A little loose? Or if you've changed sizes, consider going up or down a size. Perhaps try on a few swimsuits next time you go to a department store to compare your current size against what you've previously owned. Buying swimwear online is dependant upon knowing your precise size. 
Step 3: Head over to SwimOutlet.com to begin your search. Filter by size, style, brand, or price to narrow your findings or don't - and just decide to browse. 

Whether you prefer a one-piece, two-piece, bikinis, something high waisted, or something with underwire, there a few stylistic elements, brands, and silhouettes to look out for. There are hundreds, maybe thousands of bathing suits for plus size women with features specifically designed to flatter curvy body types. Below are some of the best solutions for the most common 'pain points' when choosing women's plus size swimsuits.
Large Middle
Ruffles
Well-placed, tiered ruffles—also called a ruched style— can hide a larger waistline. Angled ruffles look best since they draw the eye downward and away from the midriff. Look for styles from Penbrooke for feminine, fluttery, ruffled styles.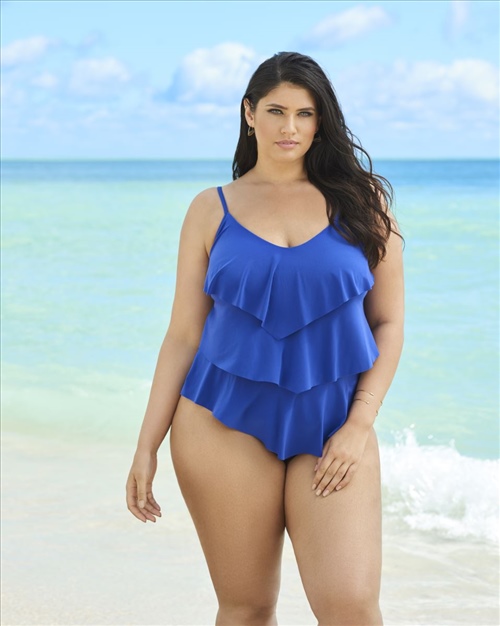 Shirring
Shirrings at the waist can have a slimming effect through your middle. Maxine makes swimsuit styles with side shirrings or vertical front shirrings with both creating an hourglass illusion.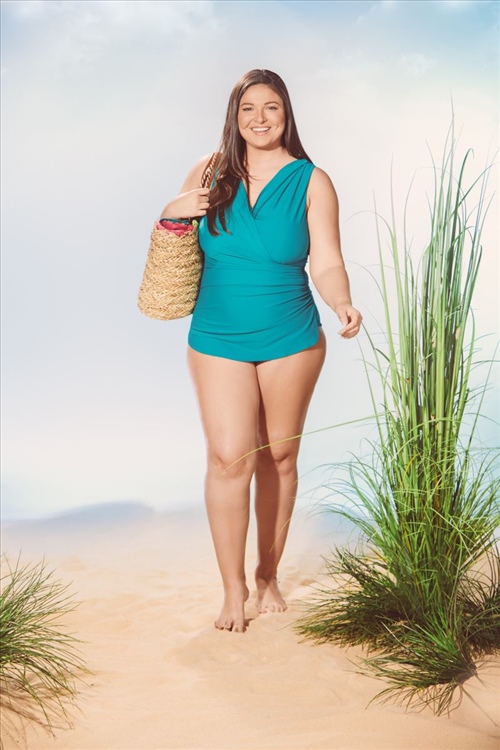 Tummy Control
Some brands are known for their tummy control. Magicsuit by Miraclesuit is well-known for its built-in mesh paneling that holds your midsection in tight. It's not so tight that you feel uncomfortable, but it's tight enough that you feel slim and sculpted.
Empire Waist
When a fitted top has a waistline placed just above the natural waist or even just below the bust, it is called an empire waist or sometimes it can be referred to as a babydoll dress. The skirted part around the tummy area is generally long with a loose fit that flows over the body and elongates the figure. Profile by Gottex has a number of tankinis and swim dresses that have this look.
Like these suggestions? Here are some recommendations:
Profile by Gottex Plus Size Tutti Frutti Off The Shoulder One Piece Swimsuit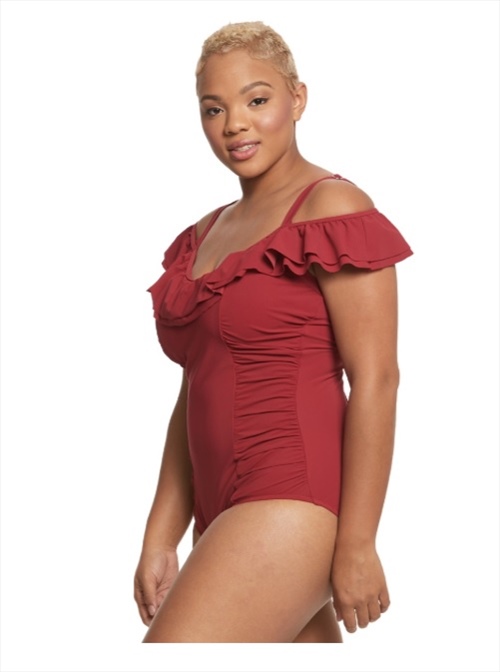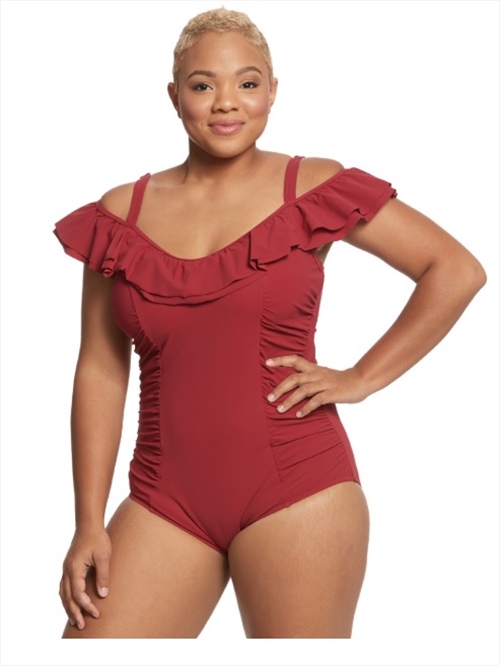 Sunsets Curve Plus Size Rose Garden Savannah Tankini Top

Large Bottom
Swim Dress
A swim dress uses a skirted bottom, usually with an attached brief, to hide your lower waist. The skirted detail adds flowy fabric to your hips making your waist look smaller. ClubSwim has some of the highest-rated swim dresses on the market. A cover up or sarong is a similar style that is worn like a dress, adding a casual touch to your overall swim look.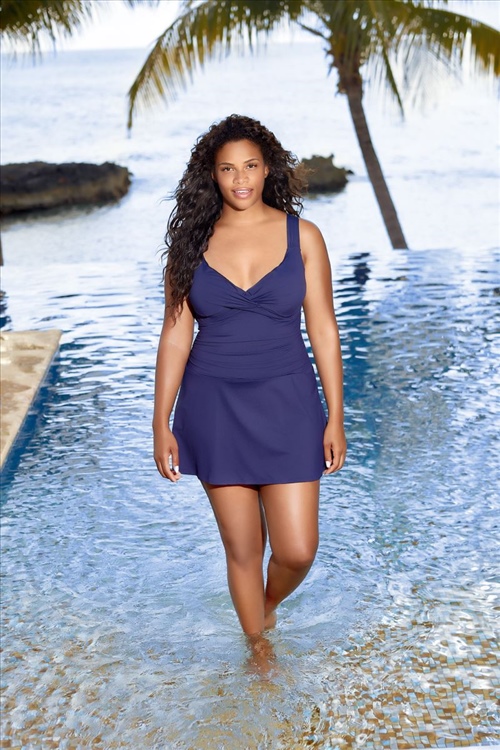 High Waist Bottoms
Beach House and Topanga have best-selling plus size bottoms with high waists. Whether you prefer a swim skirt, bikini bottom, or shorts, a higher waistline draws attention away from the lower half of your body for a curvy but sculpted appearance. 
Off the Shoulder or Ruffle Top
A ruffled, off the shoulder top (either one-piece or 2 pieces) can help to better proportion a pear shape bottom by adding volume to a smaller chest and balance a larger lower half. Raisins has a number of trendy styles and prints with to help you achieve this look.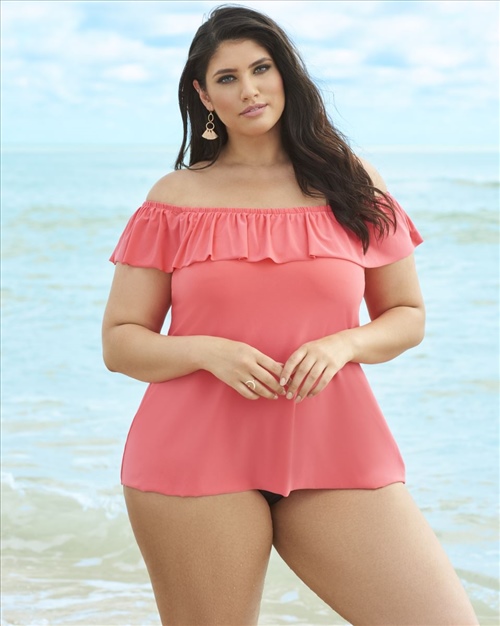 Unitard
A unitard is great for those of us with thicker thighs as it elongates the body. A unitard is a one-piece swimsuit that hits above the knee and usually provides full coverage. Many Waterpro swimsuits come in a color block print that features a bold print at the top and a black bottom to give a smaller appearance to your hips and thighs.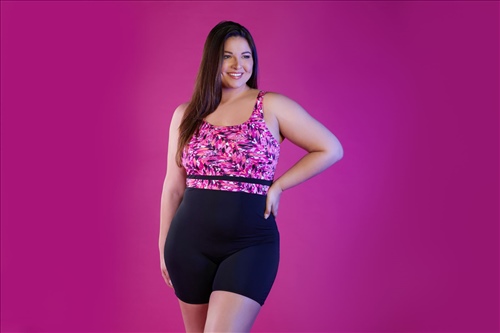 Like these suggestions? Here are some recommendations:
Raisins Plus Size Samba Solids Stingray One Piece Swimsuit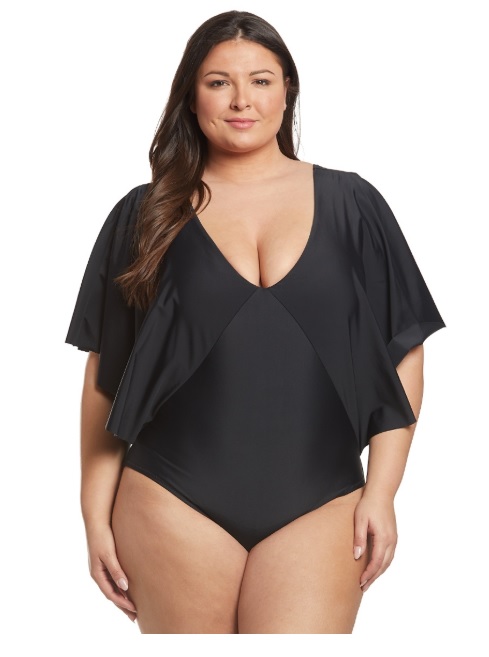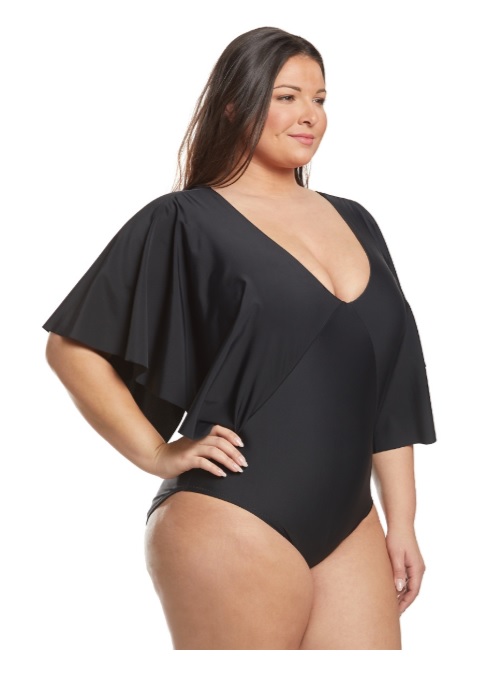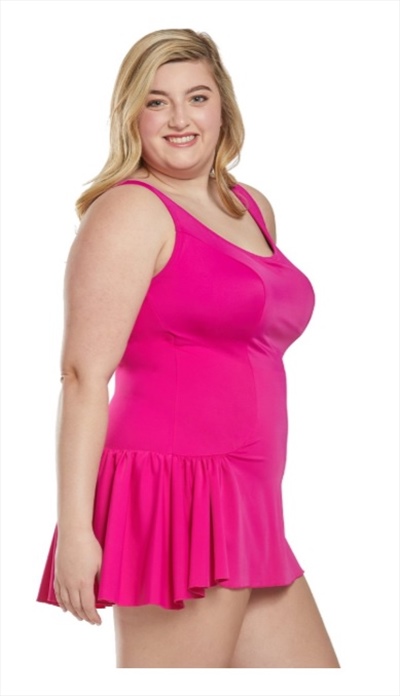 Bra-sized Swimwear
Using your cup size to buy swim tops has really changed the swimwear fitting game for women, especially ladies with larger breasts. However, you don't need to be a D-cup and up to find the right fit. Coco Reef makes bra-sized swimwear for all cup sizes that provides comfortable support in flattering styles - some with an underwire, some without. 
High Neckline
Some high necklines can truly flatter the upper body. A high-neck tankini top can help balance a top-heavy frame with its angular armholes making the shoulder and chest appear smaller and accentuating the hip. Fit4U has some really flattering high-neck tankini and swim dress options.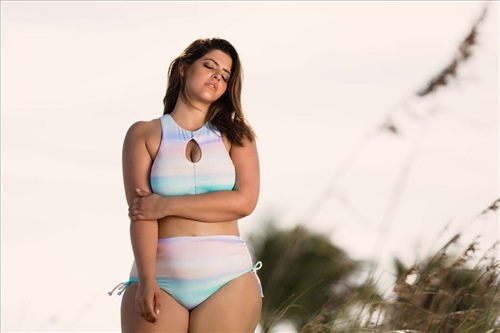 Sweetheart Neckline
A sweetheart neckline sometimes called a twist front neckline  is one that is twisted or gathered at the front making a heart shape at the chest.  These styles work wonders to minimize and flatter a full chest. The straps (if you choose to wear them) slant inward to further deemphasize the chest and shoulder.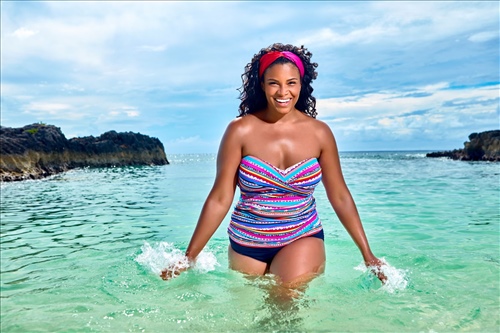 Tankinis
Ralph Lauren has a large selection of tankinis in solids, prints, and many with the features mentioned above. Choosing a tankini top can be a versatile option since it allows you to mix and match with your favorite bottoms. 
Like these suggestions? Here are some recommendations:
Coco Reef Plus Size Classic Solid Dreamweaver Tankini Top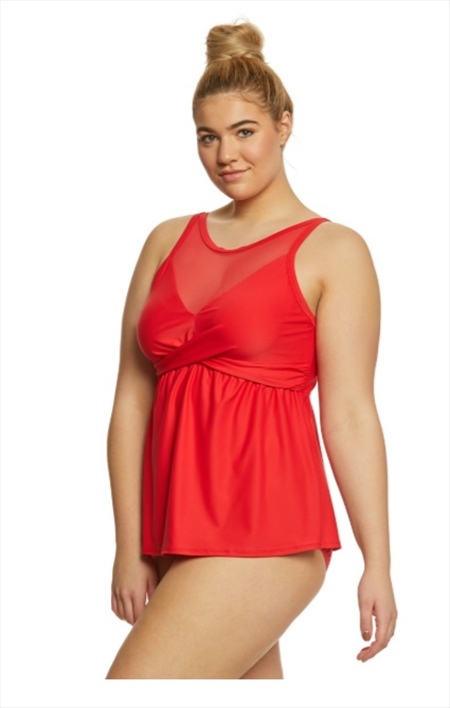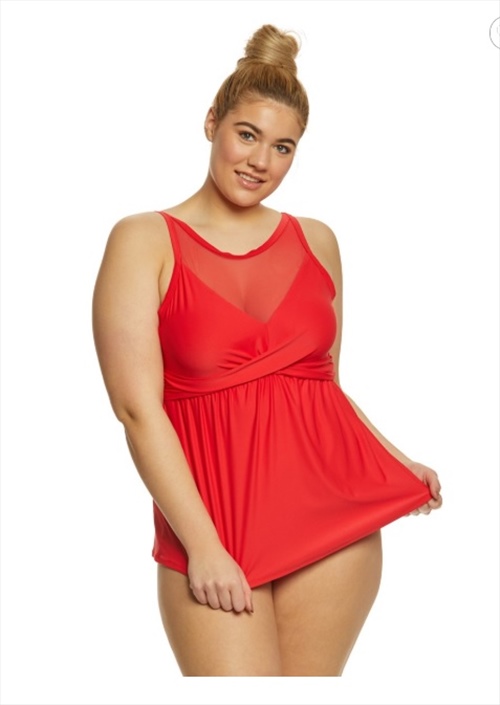 ClubSwim Caribbean Palms Plus Size Twist Underwire Flyaway Tankini Top