How to Choose a Water Polo Goal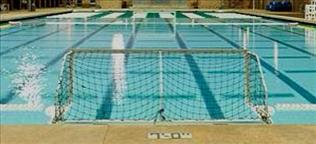 Water polo goals — also known as "cages" — come in a wide variety of styles, from floating designs used during official games, to simple on-deck versions for target practice and Splashball programs. Everything depends on the pool's setup, since pool length and depth determine what kind of goal is required. This guide explains how to choose which water polo goals are right for a certain pool and its water polo players.
Floating Goals
Floating goals consist of floats attached to a frame that is constructed of a combination of plastic, fiberglass, and aluminum. They float on the surface of the water and are anchored to the side of the pool with lane lines or cords. Floating goals are currently the standard for major games and tournaments, but they can only be used in pools that are both deep and long enough. Floating goals are appealing because they are lightweight, easy to take in and out of the water, and fairly easy to store on the pool deck.
If using a floating goal for official games or tournaments, be sure to check that it meets national and international specifications. FINA (Federation Internationale De Natation) is the governing body of water polo, and its water polo goal requirements can be found here. Pools that have a shallow end — any section shallower than six feet — cannot officially use floating goals and need wall goals instead. The same goes for pools that cannot accommodate the one to three feet of pool length required by floating goals.
Wall Goals
Wall goals are designed to attach to the side of the pool via holes drilled in the deck. Because they are shallower than floating water polo goals, they are ideal for short pools that need the longest field of play possible. Wall goals also come in different heights, making them perfect for pools that have one deep end and one shallow end. The shallow end (where the goalie is allowed to stand) needs a taller goal than the deep end, where the goalie can tread water.
Wall goals are constructed out of heavy-duty materials, usually metal, which is necessary in order for them to stay solidly in place during play. To that end they are very durable, but are also much heavier and more difficult to move and store.
Recreational Goals
Inflatable goals are not appropriate for official games, but can be excellent training tools. Many water polo and Splashball programs for young players use these smaller, lighter cages as a means to introduce children to the sport. This style of cage also tends to be very lightweight, easy to move, and quite inexpensive. They are appropriate for informal water polo programs, programs for young children, and target practice.
Water Polo Goals are an Investment
Water polo goals can come with a hefty price tag, but they are also designed to last for many years. It is important to choose the goals for the pool, taking into account pool depth, length, deck layout, and who will be using the goals. Having the right goals makes a huge difference in the water.