How to Choose a Swim Parka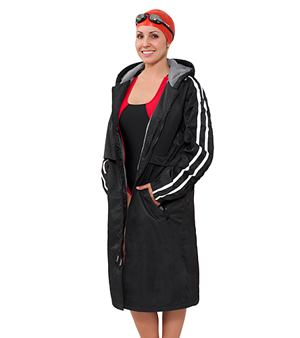 Swim parkas are often a swimmers' most valued piece of gear… gear that never actually goes in the pool. Instead, parkas are designed to keep swimmers warm and comfortable out of the water. Parkas for swimmers are essentially long coats with a warm lining, a generous hood, and a waterproof exterior. The essential components of parkas don't vary much from brand to brand, but each model has some unique features. Depending on when and where you will be using it, certain parka details should be more important to you.
Parka Lining
Nearly all parkas come with fleece or faux fur lining. Because they are designed to be worn wet — straight out of the pool — fleece lining is preferred by parka users who plan to wear them after events at swim meets. Faux fur tends to be scratchier and slower to dry than polyester or micro fleece. Faux fur lining will be better received among coaches, spectators, or swimmers who plan to wear the parka only when dry.
Parka Pockets
Parkas generally come with two side pockets, but newer parka models include many more, such as media pockets, goggle storage, and inner pockets. Athletes who want to safely carry a cell phone, iPod, or mp3 player should look out for these. Also, coaches who wear parkas on deck — either at practice or meets — will appreciate the extra storage. Pockets with zipper and Velcro™ closures go the extra step towards keeping your belongings safe.
Parka Customization
Most swimmers are part of a team, and most teams have colors, mascots, or logos. Parkas can be purchased in standard black, blue, and red, but if you want a specific color combination or custom embroidery, look for parkas that allow you to create one that meets your specific needs. Parkas with front and back flaps are especially compatible with custom embroidery and lettering.
Parka Ventilation
Parkas are designed to keep swimmers warm, but not too warm. If you are worried about overheating, look for parkas that allow ventilation. This will be in the form of underarm vents and back flaps that allow extra air circulation.
Parkas are Versatile
Parkas are one of a swimmer's most useful pieces of gear. They can perform the functions of jacket, gear storage, blanket, and uniform. Their design and durability means that they can go from outerwear, to blanket, to tent in a second. Whether you're buying a basic model or one with all the bells and whistles, for wearing between swims or for spectating, you'll certainly cherish your parka's comfort and warmth whenever you slip it on.

Shop All Swim Parkas