How to Choose a Surfboard Bag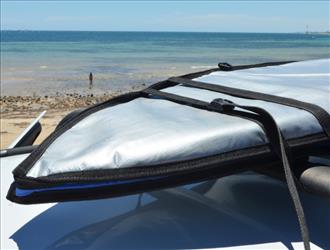 A surfboard is an expensive, worthwhile investment so it's important to thoroughly protect it when traveling so you can ride waves for years to come. A bag can protect your board and store all of your necessary surf gear in one place. In this guide, you'll learn how to choose the perfect board bag.
Types of Bags
You'll typically come across three main categories of board bags. Of the three, 'day use' and 'travel' bags are the most popular. Here are the three categories and their uses:
Day use: This type of bag is best if you're going to surf locally. Day use bags allow you to easily carry your board to the sand then strap your board to the roof of your car when you're ready to head home. These board bags have 5mm of foam padding to protect your board from possible damage. Once home, keep your board in the bag for further protection from storage conditions.
Travel bag: Travel bags, also known as coffin bags, offer 10mm of foam padding to withstand harsh handling usually associated with traveling long distances. This type of bag is ideal for transporting your board on a plane. Travel bags also allow you to carry multiple surfboards in the same bag. There are usually padded dividers between each board for extra protection. They also can come in wheeled varieties for easier transporting.
Board sock: These offer the least amount of protection among the three. Like the name suggests, a board sock is essentially a lightweight sock for your board. It acts as a thin covering to protect your board from minor things such as sand and wax. Use a board sock when you're transporting your board inside your vehicle or even when storing your board. Just to reiterate, a board sock does not have thick padding like other board bags to protect it from minor dents.
Consider your Board
Board bags have many features that not only make your life easier but ensure a long lasting bag. The following are some handy features to consider:
Reflective material to prevent your board from overheating.
Durable YKK® zippers.
Sturdy handle.
Extra padding at sensitive areas like the tail and nose.
Wheels.
Pockets for surf gear like removable fins, wax, and more.
Preserve your Board
With a quality bag, you can add years to the lifespan of your board. Don't forget to take into account the dimensions of your board and whether you need space for non-removable fins. Whether cruising to a nearby beach or flying to South Africa to ride epic waves, secure your board in a proper bag to prevent harsh damage. With your perfectly preserved board, you can get stoked to carve future waves!