How to Choose a Sports Bra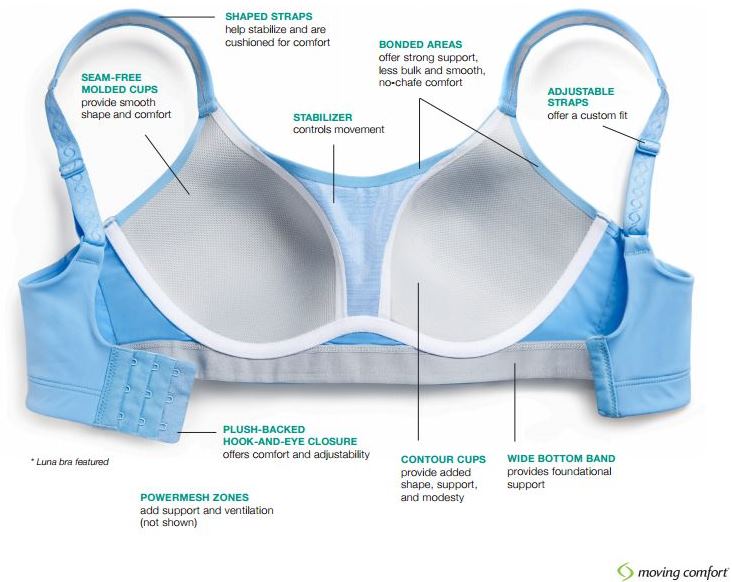 Shopping for a new sports bra can be confusing, especially with so many new technologies and features. This guide will explain the most important features so that you know what to look for next time you're shopping.
Find Your Size
Step 1: Band Size
Measure snugly around your rib cage, just under your breasts with a soft measuring tape where your regular bra band sits. Add 5 inches to your measurement and round to the nearest even number for your band size.
Note: If your measurement is 33 inches or higher, add 3 inches before rounding.
Step 2: Bust Size
Measure around the fullest part of your bust with the tape straight across your back. Round your measurement to the nearest full number for your bust size.
Step 3: Cup Size
Subtract your band size from your bust size to get your cup size.
| | | | | | | | |
| --- | --- | --- | --- | --- | --- | --- | --- |
| Cup Size | A | B | C | D | DD | DDD-F | G |
| Difference | 1" | 2" | 3" | 4" | 5" | 6" | 7" |
Proper Fit
When choosing a sports bra, be sure to check the following:
Should fit tighter than a regular bra, but not so tight that it digs into your skin or chafes.
Raise arms to ensure a proper fit; if the elastic band moves above your ribcage, a smaller size or strap adjustments are needed.
Cup should be smooth; if it wrinkles or puckers, the cup is too big.
Jump or run in pace to ensure it is sufficiently supportive.
Straps
There are several strap types that are ideal for different levels of support. Adjustable straps allow for customizable adjustability while non-adjustable straps ensure fixed, secure support. Padded straps or gel pads provide greater comfort for those with a larger bust.
Self-adjusting straps: Commonly for low-impact support.
Padded straps and gel pads: Usually for mid- to high impact support.
Customizable straps: Front- or back-adjustable straps typically for high-impact support.
Thin fixed straps: Vary from low- to mid-impact support.
Thick fixed straps: Vary from mid- to high-impact support.
Closures
Some sports bras are designed with either a front or back closure that offer an easier and quicker on-and-off. Adjustable closures ensure an enhanced fit by allowing for customization.
Hook & Eye: High-impact styles.
J-Hook: Low- to mid-impact styles.
Zipper: High-impact styles; idea for bigger cup sizes.
Back Styles
The best back style for you is based on your personal preference and level of activity. Traditional and minimal back styles are often more similar to regular bra styles while racerback back styles typically deliver more support.
Racerback or Cross-back: Mid- to high-impact support; pull-over Y- or T-back for maximum range-of-motion.
Minimal: Low-impact support; pull-over style for maximum range-of-motion.
Traditional: Mid- to high-impact support; universal fit similar to regular bra back styles.
Fabric & Seams
Fabric and seam technology all provide unique benefits. Which style or type that is best for you is up to your preference and activity.
Mesh: Provides ventilation and fast-drying comfort.
Technical Fabrics: Delivers sweat wicking, fast-drying, and/or anti-microbial for anti-odor.
4-Way Stretch: Lets the bra move with you for non-restrictive comfort. This is great for most activities and levels of support.
Minimal Stretch: Best for fuller cup sizes that need full control and support.
Bonded Seams: Ensures chafe-free comfort. These seams are usually on straps, underarms, and bands.
Flat Seams: Prevents chafing and maximizes seam comfort and durability.
Seamless: Delivers maximum comfort; best for low- to mid-impact styles.
Cups
The varying types of cups provide shape and support during workouts and physical activity. Compression and molded cups are single layered for smaller chests while encapsulated and underwire cups feature greater support for larger chests. Some bras utilize multiple cup styles for even greater support, so it is essential to know which cup types are best for you.
Compression Cups: Best for A/B cups and low- to mid-impact activity.
Molded Cups: Best for C/D cups and low- to mid-impact activity.
Encapsulated/Contoured Cups: Best for D+ cups and mid- to high-impact activity.
Underwire Cups: Best for D+ cups; maximum support for mid- to high-impact activity.
Removable Cups: Inserts options; provides shape and modesty.
Extras
Some sports bras are designed with extra features that deliver greater comfort, safety, or convenience. Below are some extra features that, depending on your activity, can be helpful.
Storage: Some sports bras feature a pocket for storing keys, small phone, or other necessities.
High-Viz: Sports bras with reflectivity are ideal for shirtless running at night or during the early morning, as they enhance your visibility in low-lighting.
Reversible: Reversible sports bras allow for twice the style. Keep in mind that most reversible sports bras are for low- to mid-impact activities.
UPF: Perfect for sunny-day runs or shirtless workouts, sports bras with UPF deliver added sun protection.
Proper Care
Now that you've found a bra, you have to keep it clean. Most bras last between 6 to 12 months. By taking proper care of your bra, you can maximize its lifespan. Be sure to always hang dry your bra, rather than tumble dry. While most sports bras are machine washable on the gentle cycle, hand washing is ideal. Avoid fabric softeners and use mild detergents to preserve any moisture-wicking fabric properties.
Tip: Fasten the hooks together before washing your bra to prevent them from catching onto and snagging fabric.