Best Speedo Swimsuits for Men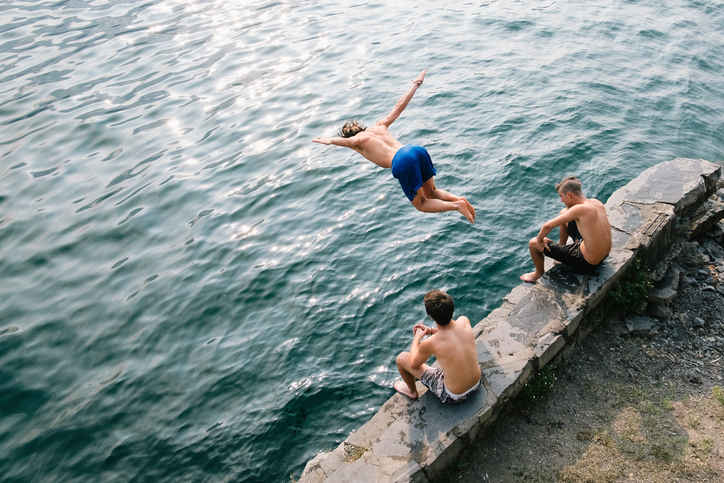 Speedo makes a wide variety of swimsuit styles for men, so many that it can be hard to know which style you want. And within each style is a great number of types, making the number of choices overwhelming!
Fortunately, we at SwimOutlet.com have tested each bathing suit from Speedo, and have picked the best of the best for this article. Of course, everyone's tastes and style preferences will be different, but if you need a place to start, or don't want to sift through several suits to make a decision, this article is for you!
Best Speedo Swim Trunks: Speedo Men's Surf Runner Volley Swim Short
Swim Trunks are the quintessential swimsuit, and Speedo has created a great number of them. We have to go with their simple Surf Runner Volley Swim Short though. It is simple, straightforward, but does its job very, very well. It offers a breathable design that will keep your skin safe from the sun no matter how long you're out on the beach. Plus, it will dry fast even while you wear it!
The short is about 14 inches long, a good length for both coverage and for staying out of your way on the beach. The material is soft, and will hold up after many, many workouts and swims.
This is why we feel that Speedo's best swim trunk is the Men's Surf Runner Volley Swim Short!
Best Speedo Boardshorts: Speedo Men's Rally Volley Short
When it comes to boardshorts, you want style, simplicity, and functionality. The Speedo Men's Rally Volley Short delivers on all accounts. First, it is offers a simple, yet stylish design, and longer length than some other trunks, at around 19 inches. They are made with Speedo's SPEEDRY fabric, which as the name suggests, dries quick both on and off the body.
It has two pockets to keep some valuables in as you wear them, and it offers good UV protection to keep from getting sunburned on a long beach day. It is made of comfortable polyester, that dries fast and will serve you well when you swim.
Swim Trunks are not complicated, but Speedo is always looking for ways to improve on old standbys, and they have done the trick with the Rally Volley Shorts.
Best Speedo Jammers: Speedo Men's LZR Racer X Jammer
If you're looking at a Jammer, you are looking for something slick and stylish, one that tells everyone else that you are the fastest swimmer out there. By far. If that's the case, then look no further than the Speedo Men's LZR Racer X Jammer, our pick for best Speedo Jammer. The jammer comes with Speedo's best fabric, the LZR Racer Pulselite fabric. It is designed to only stretch in one direction, ensuring that your body stays compressed while you swim without sacrificing freedom of motion.
This one-stretch technology is the cornerstone of the Speedo LZR jammer, since you can keep moving freely but remain compressed and fast, rather than loose. The jammer includes support seams to increase the link between muscles in the lower body as well, working together to ensure you are at your best when you wear them.
The Speedo LZR Racer X Jammer is designed to help you swim your best every time you wear them, ensuring that nothing comes in the way you and your swim. With these, you'll be setting swim time records with ease, and that is why they are our pick for the best Speedo Jammer!
Best Speedo Briefs: Speedo Men's Solar 1" Brief
The Speedo Men's Solar 1" Brief is all function, streamlining seemingly every aspect of the swimsuit to get to its absolute most essential function--getting out of the way when you swim. The brief is only 1" thick around the thigh, ensuring that your body hits the water with as little fuss as possible. This gives you wide range of motion, allowing you to swim at your very best.
The Speedo Solar 1" briefs are designed to feel as minimal as possible, so they will dry quick and not move when worn. Nothing will get in the way of your stroke. But Speedo didn't stop with just shrinking the swimsuit. These briefs include Speedo's exclusive 9 Thread Flatlock Technology for enhanced fit, and was designed for 5-10 times the durability of ordinary spandex.
This means that the swimsuit will not sag, even after many, many swims!
It's this kind of innovation, one that enhances the swimming experience without showing off or getting in the way, that Speedo is talented at, and will serve you well when you swim. It's because of these reasons that the Speedo Solar 1" Brief is our pick for best Speedo brief!
Best Speedo Square Leg Shorts: Speedo Male Solid Endurance+ Square Leg
A square leg bathing suit is actually a halfway point between a brief and a jammer, combining the best of both styles to produce a unique swimsuit that will help you swim your best. Speedo took this idea and enhanced it, making a square leg short that is as comfortable as a brief with the compression quality of a jammer. All while looking great as well!
The Speedo Male Solid Endurance+ Square Leg is made with environmentally friendly fabric that won't stretch after repeated use, and will resist chlorine, sunscreen, and even the body's natural oils. It is made with Speedo's endurance fabric as well, so you know it will last through even the most strenuous of workouts.
Because of its high quality fabric, good design, and environmentally friendly material, it was a no brainer for SwimOutlet.com to give the Speedo Male Solid Endurance + Square Leg short its recommendation as best Speedo Square Leg!