Back Coverage Styles for Competitive Swimsuits
Countless hours in the pool make you realize how important comfort and coverage is when it comes to your swimsuit. From competitive swimmers to Master's regulars, these athletes spend a generous portion of their day kicking, stroking and pulling towards their swimming goals. A swimsuit's fit and coverage become one of the most important aspects for any swimmer. This guide will explain the different types of back styles SwimOutlet carries that are perfect for your practice.
Minimal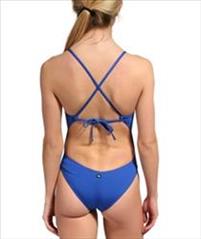 Say hello to smaller tan lines and an open style with the Minimal Back Coverage. These suits have a keyhole cutout on the back with small, skinny straps. The Nike Cutout Tank is one example of a best-selling suit that swimmers of all ages love. This back style is a hit among younger swimmers-- from club swimming to college training and everyone in between. The open-style back has proved to be extremely comfortable time and time again in the swimming world. Not only ideal for training, the minimal back style can often transfer over into leisure swimming if a two-piece isn't your style on deck.
Suit pictured: Turbo Knotty Suit
Moderate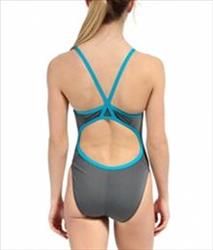 Thin or thick straps.
Cutout back design.
More fabric coverage over lower back.
Greater bottom coverage.
The moderate back style offers more back and bottom coverage than a minimal back. Moderate backs can have thick or skinny straps depending on your personal preference. A moderate cut combines the best of both styles with more bottom coverage and skinny straps, leaving you feeling confident and comfortable lap after lap. Having a cutout back style similar to the minimal back style, the Moderate back has more fabric to give you a more conservative design without compromising comfort for a flattering fit.
Suit pictured: Sporti Solid Piped Swimsuit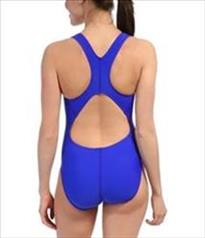 Conservative
Thick straps.
Smaller cutout on back.
Full bottom coverage.
Comfortable for lap swimmer or leisure.
Offering the greatest amount of back coverage, the Conservative style swimsuit keeps you covered and confident whenever you dive into the water. This style often has thick, durable straps and a smaller cutout on back to give you more coverage where you want it. The whole bottom can be covered with this modest cut. Mature competitive and master's swimmers love this style of suit because of its increased modesty. The Conservative back style is ideal for any woman who leads an active lifestyle!
Suit pictured: TYR Solid Maxfit
We've Got You Covered!
A swimmer's suit is just as important as your favorite goggle or specific pull buoy you use. Thankfully, there is a wide variety of competitive suits available for whatever style you prefer. Picking your back style is all about personal preference and fit. Go ahead!—Dive in to our swimsuit shop to find your next favorite suit that keeps up with your lifestyle in the water.