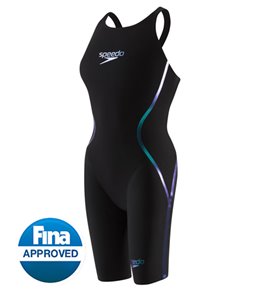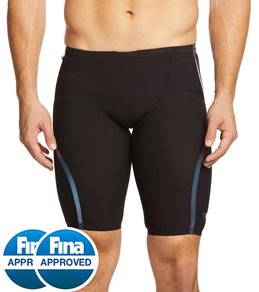 loading more items... SPEEDO LZR RACER X
Speedo LZR Racer X
Welcome to the new world of fast. The Speedo Men's LZR Racer X Jammer has been developed using Speedo's newest elite fabric for the elite swimmer. The unique "X" design lets everyone know what suit you're wearing on the block.
LZR Racer Comprex Fabric
LZR Racer CompreX uses one way stretch technology, stretching vertically, allowing swimmers freedom of movement during their stroke.
Resistant to horizontal stretch providing high compression and reducing drag but increasing the muscles' efficiency.
LZR Racer Pulselite Fabric
Light, powerful and durable.
Maximized Support Seam Construction
Improves the linkage of the muscular kinetic chain.
Support seams enhance the link between muscles of the upper and lower body.
Connect major muscles of the body.
Support seam intersects at the hip bone, allowing rotation.
Seam runs across the leg with an identifiable 'X' shape.
The construction of the seams provides feedback to the swimmer, helping to maintain a better position in the water and a high-leg kick.
FINA approved.