Top UV Shirts Compared: The Expert Review
2018 Jul | By SwimOutlet.com Staff
By Julie Stupp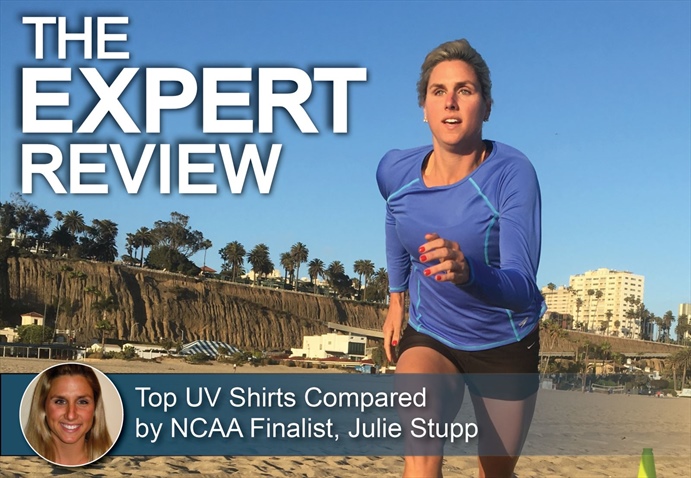 One of the best -- and worst -- things about living in Southern California is the sun! Spending the day at the beach, hiking, running, swimming and any other outdoor activity all year round are just a few of the reasons people choose to live in warmer climates -- but possible sun damage is a very real concern. Overexposure to the sun can be extremely harmful to your body and, in worst cases, cause skin cancer.

The good news is that there are various ways to help protect yourself and your skin from sun and one of them is a more recent trend: the UV Shirt. UV Shirts come in a wide variety of UV swim and sport shirts that help block the harmful UV ray, while you are out enjoying the sunshine.

The UPF or "Ultraviolet Protection Factor" measures the effectiveness of sun protective fabrics the same way an SPF measures the effectiveness of sunscreen. A UPF fabric blocks both the UVA and UVB rays and a UPF rating of 50 means that it is blocking about 98% of the damaging rays.

I had the opportunity to test seven different UV shirts available at SwimOutlet.com and they all had unique features. I liked all of the shirts in this comparison test and think it's high-time that everyone who plays in the sun's rays should own at least one UV shirt like these. Here they are in alphabetical order.
CARVE DESIGNS LAKE L/S SUNSHIRT ($28.99-$58)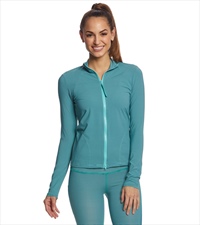 Size Large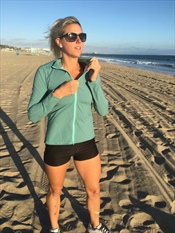 The Carve Designs Lake Sunshirt was not only super soft and comfortable, but trendy and cute, as well. The Lake Sunshirt is a full zip swim shirt with two zip pockets at the hips and a collar that covers most of your neck. While it is fashionable, it is not the most functional UV shirt of the bunch, especially if you are trying to swim or surf because it is not a fitted style. The Lake Sunshirt has a UPF 50 rating and is the only UV shirt in the review that protected my neck from the sun. Might be especially useful for someone swimming for long stretches since your neck is always exposed to the sun while swimming (unless you are some sort of backstroke wiz!)
 
NIKE WOMEN'S DRIFIT L/S HYDROGUARD ($41.99-$52)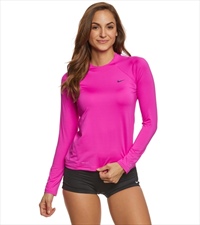 Size Medium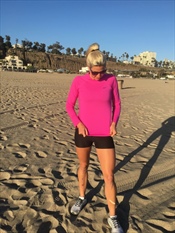 The Nike Dri-FIT Hydroguard is made with a polyester and elastane blend giving it well fitting, yet stretchy swim shirt. The Nike Dri-FIT Hydroguard has a 40+ UPF rating which is actually the lowest rating out of the seven shirts I reviewed. But the high neck and full-length sleeves on the Nike ensure maximum coverage from the sun while training outside. The Dri-FIT Hydroguard also features Nike's Dri-FIT technology, which helps to quickly evaporate sweat and water from the skin, which is perfect for an outdoor swim shirt. A great all around option for those in and out of the water who might not need the absolute highest level of protection.
 
O'NEILL WOMEN'S BASIC SKINS LONG SLEEVE SURF TEE ($23.07-$33.95)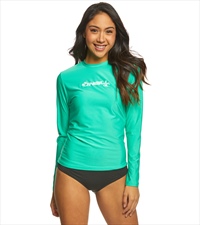 Size Large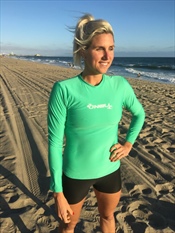 Leave it to a surf brand to feature some of the most advanced technology since they've been dealing with the outdoor conditions for decades! The O'Neill Basic Skins Long Sleeve Surf Tee is made with the most substantial technical material of the UV shirts I reviewed.  The thicker performance fabric in the O'Neill Surf Tee is perfect for cold ocean water, surfing or windy conditions. The Sun Shirt is very comfortable and has a tapered fit, meaning that it is a bit looser in the shoulders and is a bit tighter around the waist. The O'Neill Surf Tee will not only keep you warm and dry, but it also has a UPF 50+ rating so you won't get sunburned either.  For some customers, it might be more shirt than they really need.
 
SPEEDO WOMEN'S SWIM TEE ($24.13-$38)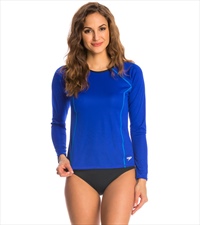 Size Medium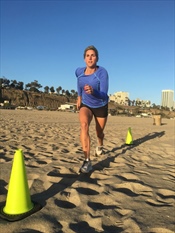 The Speedo Swim Tee features a loose fit and low scoop neck cut that allows for plenty of mobility, while swimming or training outdoors. The thicker polyester fabric in the Speedo Swim Tee makes it a great option for cooler weather or a windy beach day. While the Speedo Swim Tee doesn't have any high-tech fabric features it does have a cool design that mimics the seams found on the outside of training swimsuits. The Speedo Swim Tee is definitely among the most comfortable of the UV swim shirts, which might be the most important factor for a lot of people when making their purchasing decision.
 
SPORTI WOMEN'S SOLID L/S UPF 50+ SPORT FIT RASH GUARD ($21.99-$24.95)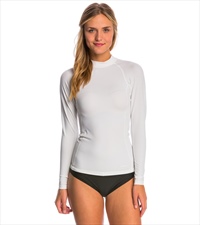 Size Large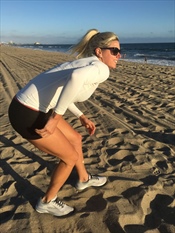 The Sporti Solid Long Sleeve UPF 50+ Sport Fit Rash Guard has a very simple, yet effective design. There are no bells and whistles when it comes to the design details, but it is the perfect shirt for land and water sports because of its tight fit, full upper body coverage and stretchy fabric. The Sport Fit Rash Guard definitely fits snug, which is perfect for moving with the body during water activities, so I would suggest going up one size if you want a little extra wiggle room. The Sport Fit Rash Guard also features a 50+ UPF rating with its Archroma fabric, so you know you are safe while out in the sun and you can't beat the price. Sporti is one of the best values of the bunch.
 
TYR WOMEN'S SOLID BELIZE L/S RASHGUARD ($39.99-$50)

Size Large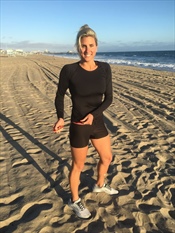 The TYR Belize Long Sleeve Rashguard is made from an ultra-thin, lightweight material called Durafast-Lite. The Durafast-Lite fabric dries super quickly and allows for complete mobility while swimming, playing or being active in the sun. The TYR long sleeve shirt also has a UPF 50+ rating, so I knew that I wasn't getting too much sun exposure for my skin. The best part of the TYR Belize Rashguard are the drawstrings on each hip, allowing me to wear the shirt tighter while swimming and playing in the waves. I really liked that added feature.
 
XCEL WOMEN'S VENTX VARSITY LONG SLEEVE SURF TEE ($36.76-$40.95)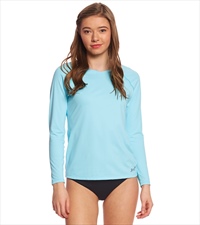 Size Medium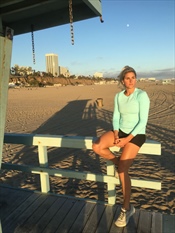 The Xcel Ventx Varsity Long Sleeve Surf Tee is a UV shirt designed and manufactured by a wetsuit brand making it perfect for water sports. You know that a wetsuit brand like Xcel will have open water and ocean swimming dialed in. The Ventx is very comfortable and is made with a loose fit, long sleeves and a full coverage length bodice. The Xcel Ventx is lightweight, breathable and moisture wicking, which was perfect for beach sprints. I liked hiking in the sun with this shirt as well due to its breathability. The Ventx also boasts a 50+ UPF rating, so I know that I am being protected while training outdoors.