Top Triathlon Shoes Compared: The Shoemaker Review
2014 Jan | By SwimOutlet.com Staff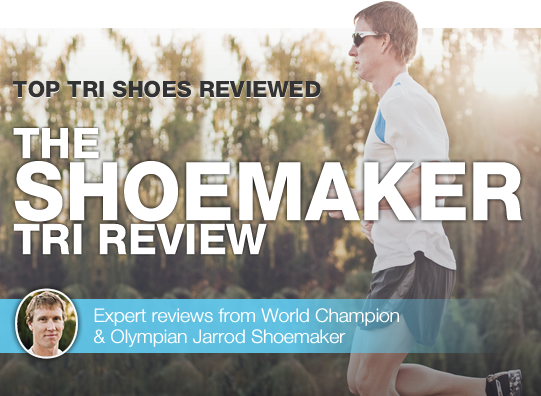 The first thing to know about shoes: picking shoes is a very personal decision!
What your friend or brother likes, does not mean it will work for you. SwimOutlet sent me four pairs of shoes to review, the ON Cloudracer, the Mizuno Wave Sayonara, the Asics Gel Noosa Tri 8, and the Pearl Izumi Project EM. These are four very different shoes providing great options for all types of runners.
Before we talk about the four shoes I specifically reviewed, the first thing to consider when picking a racing shoe is your racing distance. For shorter distance (running distances of 10km or less) less cushioning on the bottom of the shoes is ok, but for half and full distance (10km and up) more cushioning is generally better. Basically, a little bit more cushioning helps absorb the shock over longer distances.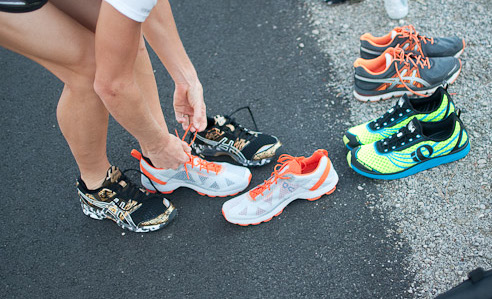 A second thing to consider is what type of running gait you have. Running gait is how your foot lands on the ground. There are three types of gait; supination, pronation and neutral. Supination means you land on the outside of your foot and keep pressure on the outer part of your foot through your stride, pronation means you land on the outside and roll inwards on your foot, causing your ankle to roll inwards, and neutral means you land evenly on your foot and push off all toes evenly.
Each gait leaves a distinct wear pattern on the bottom of your shoe. You should always look at the bottoms of your shoes after you have worn your shoes for a while to see where you are wearing down the rubber. Checking these wear patterns can help you pick your next pair of shoes.
Now onto the specific shoes. I decided against a PRO and CON list for these shoes because as I mentioned before, picking shoes is personal. These shoes are all well-built shoes and will make somebody happy!
What I outlined are some highlights for each particular shoe that might help you make your selection based on what you find important. 
On Cloudracer ($128.95)

Quicktake: On is a new entrant to the world of shoes but they've already proven their merit on the elite stage when Belgian Frederik van Lierde won the 2013 Ironman wearing On. Their shoes have little "nubby clouds" that compress upon impact on the bottom of the shoe. The clouds do not change the feel of running, just add a bit more of a spongy feeling to the shoe.
Highlights:
- light, flexible upper allows breathability and flexibility
- narrower size toe box
- good cushioning – spongy feel of shoe is different than "typical" running shoe
- easy to get on and off – tab sewn into back of shoe

My analysis: Best for distances under 10km. Great value at current sale price of under $90! It took a few runs to get used to the "clouds." Overall the shoe felt very light and I barely realized I was running in a shoe with the flexible upper.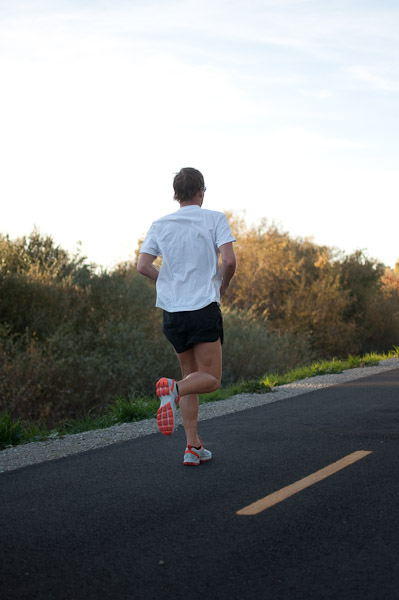 Mizuno Wave Sayonara ($119.95)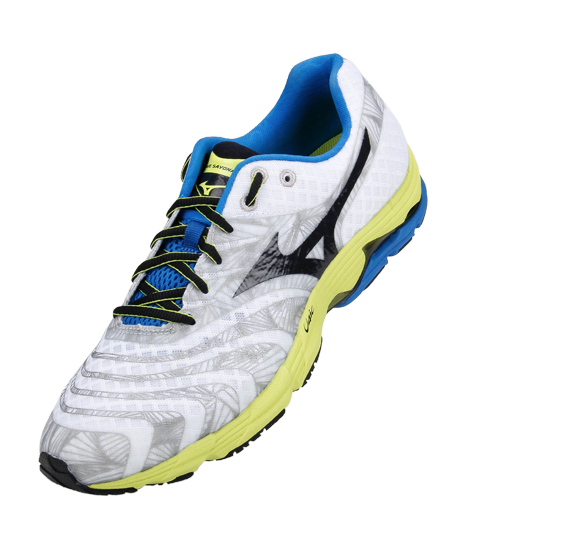 Quicktake: Mizuno's "Wave" system, which they have featured for many years now on their performance running shoes, increases cushioning by dissipating the forces via a wave, instead of a flat plate. It also creates rigidity to keep you from over pronating. I ran on this shoe for longer tempo runs.

Highlights:

- Wave system provides a stiffer shoe from heel to forefoot
- Hard heel cup
- Normal size toe box
My analysis: Best for distances over 5km – or long tempo training runs. Mizuno's shoes are always well built and this shoe was no exception. Simple, streamlined and performance oriented, this shoe felt great and responsive on the road and trails.
 
Asics Gel Noosa Tri 8 ($130)

Quicktake: Asics has long made high-quality shoes and this is another in that tradition. Designed for triathletes, this shoe is great for longer races and has built in "torsion" control, which helps to prevent pronation. The shoe has more material than other racing shoes and feels a bit snugger, when wearing.
Highlights: 

- normal toe box
- stiffer shoe – torsion control tries to stop pronation
- fun design!
- tighter shoe fit
My analysis: A "typical" running shoe – best for distances 10km or longer. This shoe felt the most solid on my foot. It is a stiffer shoe that works very well over longer runs but still felt very comfortable on my foot.
 
 Pearl Izumi EM Tri N1 ($119.95)

Quicktake: Pearl Izumi is just finding its stride in running shoes. This shoe is designed specifically for triathletes with a finger tab on the back, sock liner and lock laces standard for quick on. The shoe is very breathable and flexible. It has a slightly stiff sole and would work best for longer distances.
Highlights:
- Built in sock liner – made to be easy to get on and off with tab sewn into back of shoe
- Comes with racing laces in shoe for quick adjustments
- Softer more flexible upper
- Normal toe box
My analysis: Best for distances over 5km and flashy colors to be noticed. The most unique of the shoes I ran in, I loved that it comes with fast laces and the weight of shoe is great for speed.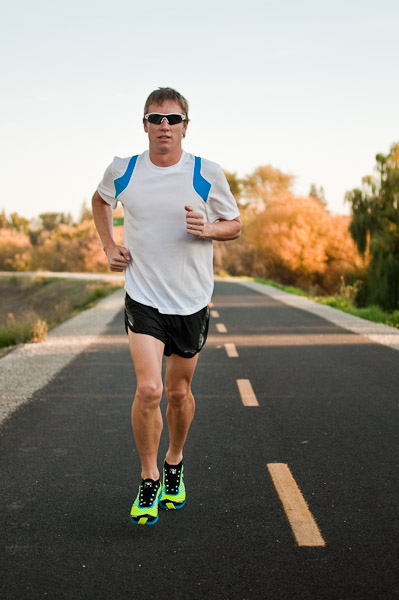 Conclusion:
My final piece of advice is to look at the shoes and let your eyes help guide you. If you like putting your shoes on your feet and like the look of the shoes, you will be happier in it. There are lots of color options, so choose a color that you LOVE and show it off.

Enjoy your training and make sure to SMILE!