TOP SUN HATS COMPARED: THE EXPERT REVIEW
2019 Aug | By SwimOutlet.com Staff
by Loretta Race, Swim Writer & Masters Swimmer
When you think sun protection, sunscreen is often the first thing that comes to people's minds. Hats, on the other hand, have always been great to shade your eyes -- and perhaps provide a stylish look -- but these days, hats can also be vital to protecting your skin, too. Sun hats specifically designed to protect your face, neck and head from harmful UV rays are a growing category and we've reviewed some of the top styles here on the SwimOutlet.com Blog to help you in your purchase decision.
Sunday Afternoons Ultra Adventure Hat ($42.00)
I always wanted to try out a hat that incorporated neck coverage in its design, since when I wear my hair up, that's a part of my body that gets pink from the sun quickly. The Sunday Afternoons Ultra Adventure Hat actually gives the wearer the best of both worlds in that the neck cape or flap can hang down over one's neck for protection, but can then be rolled up and secured with velcro, too.
The fabric of the hat is very light and breathable and also carries a UPF 50+, which gave me reassurance when wearing it out on water all day paddleboarding. The hat dried very quickly when it got wet and stayed securely on my head due to its chin strap. The lockable chin strap also came in handy when bike riding into headwinds; I didn't have to worry about the hat flying off.
The color combo I tried out was named Blue Moon, which entailed a vibrant blue colored paired with grey mesh vents on the side. The color combination could be worn by both men and women and the hat can be purchased in medium or large size. With this Sunday AFternoons Ultra Adventure Hat I also liked how there is a wicking sweatband that was comfortable and not too tight.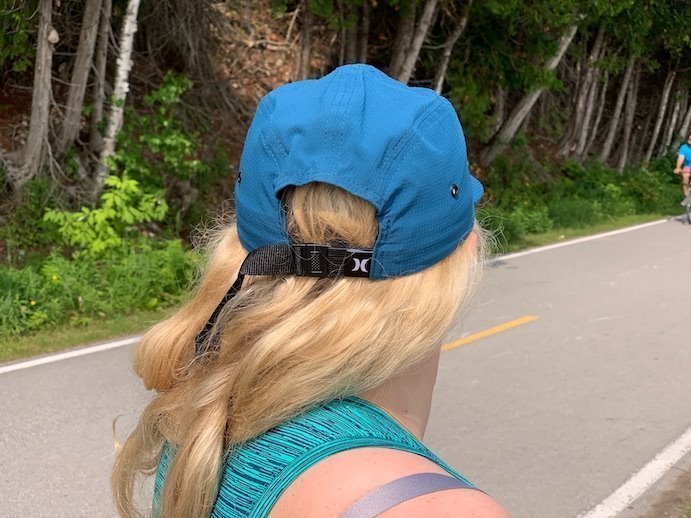 Hurley Women's One and Only Hat ($19.95)
This was actually my favorite hat of all the ones I tried out. The design is simple, comfortable and offers everything I need as an active adult who spends a lot of time in the sun. 
The ripstop-type fabric is very lightweight and lets the air through, keeping it cool on top and not ridden with sweat throughout my activities of hiking and biking. The hat's bill is broad, but still has a modern design and is just the right size to cover my entire face. The bill is actually taken from its sister company Nike as a Nike AeroBill designed for optimal sweat-wicking.
The One and Only Hat is adjustable in the back with an easy buckle design, making it able to size up or down depending on the wearer's size. I was able to tuck my ears inside the cap as well. I managed to keep this hat on while paddle-boarding and kayaking and didn't even bother taking it off during a casual lunch since the design is stylish and the bold blue color is flattering.
The Sun N Sand Performance Brim Hat runs incredibly small and, as such, was uncomfortable for me. The tightness of the hat around my head enabled me to only wear it for a short time before I needed a break. Not sure why they don't offer sizing.
It's unfortunate, as the hat is designed well, with a typical bucket-type brim that surrounds and covers the entire head. There are vents that cover the entire circumference of the hat that gives it great airflow. The lockable chin-strap is another terrific feature for keeping the hat on when active.
The grey color is complementary to both women and men, however, with the size running small, it may not fit many men's heads, as it barely fit my own albeit with a big head of hair. Big heads may want to opt for another brand or style.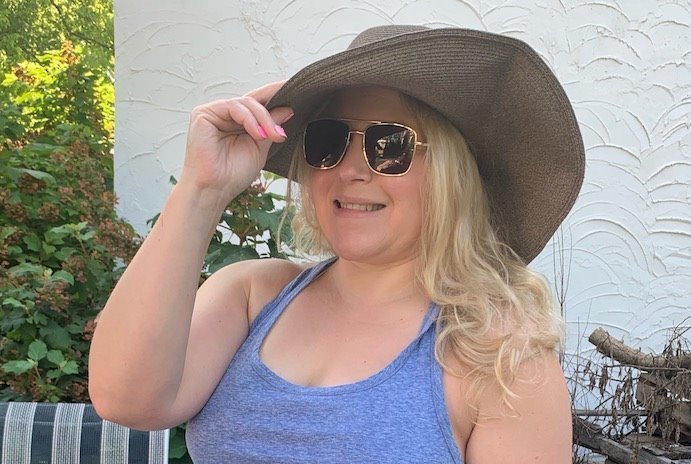 Physician Endorsed Sophia Sun Hat ($28.95)
A less sporty option for sun coverage is embodied by this stylish Physician Endorsed Sophia Sun Hat. Designed with a fun and floppy appearance, the hat looks feminine and chic, but is still a very effective way to guard yourself from the sun given it's impressive coverage.
I wore this hat in the cocoa color, a rich brown, to an outdoor casual wedding and received many compliments on its design. The floppiness gives the soft straw-like material flexibility and keeps the air flowing a little more than traditional straw sun hats.
I would not recommend this hat for any activity that involves motion, such as biking and kayaking, as there is no chin strap and simply set upon my head. But, it is a terrific option for watching ball games outside, taking casual walks or sitting by the ocean on a calm day. A blend of style with a lot of functionality and practicality built in.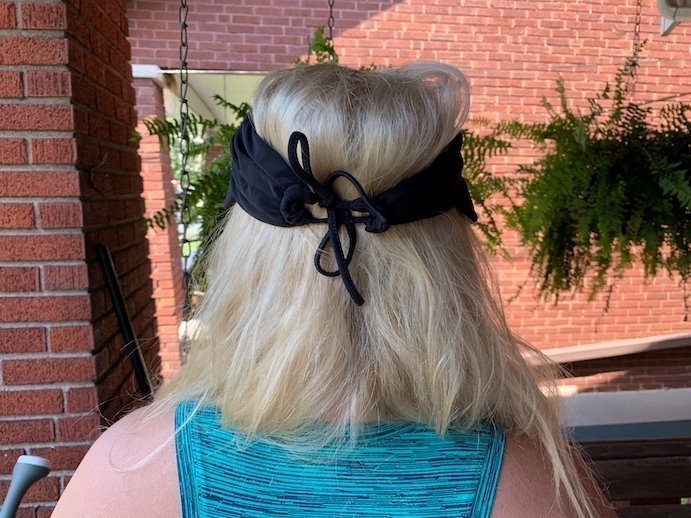 Wallaroo Women's Aqua Visor ($30.00)
I've always been partial to hats over visors since the latter leaves your scalp exposed, but this one gave me a run for my money in terms of comfort. The fabric of the Wallaroo Aqua Visor is so light and airy I could barely tell I had anything on.
There is a very smartly-designed tie in the back, which enables the user to tighten or loosen the circumference of the visor with ease. I was also able to keep my hair in a tight bun or ponytail and adjust the hat without having to change up my hair to accommodate the hat, as I had to do with other styles.
The wide, ruched band of fabric above the brim gives some additional head coverage, while the brim itself is extremely wide to give ample shade to one's face. For me, the brim is a little too wide and far-reaching, giving up some of the modernity of the design. I found out this visor floats, as it flew off in a gust of wind while I was wading in the lake, so that's a bonus!
O'Neill Lifeguard Hat ($23.95)
The O'Neill Lifeguard Hat truly looks like something on lifeguard towers around the world, but that's a good thing. The wide brim circled my entire head, giving me shade on both my face and shoulders throughout the day.
The straw construction means the hat is less breathable than those with mesh or built-in ventilation, but it's not too stuffy where I needed to take the hat off. Instead, I just loosened the chin strap to give me a little more space to cool off when sitting and not in motion.
The concavity of the hat's upper portion provides an easy grip to take the hat on and off and there's an inner elastic band that keeps the hat in place. The straw is very neutral, so both men and women can wear this hat.