The Training Arena - Q&A with Megan Romano
2013 Oct | By SwimOutlet.com Staff

Today starts a new monthly series on the SwimOutlet.com blog featuring a Q&A with an Arena athlete talking about all things training! The first features 22-year-old Megan Romano, a 2013 World Champion and NCAA champion at Georgia. Leave a question or comment for Megan to answer at the bottom by October 28 and you'll be entered to win an Arena backpack!
1.) We all know long training sessions are not always the most glamorous, what is the thing you love about training most and what's your least favorite?
I don't know many people who enjoy anything about practice (haha). But I love the feeling you get after having a really good practice and you're really pumped about practicing the next day. You can't wait to get to the pool and have an even better practice. I also like the feeling of getting stronger and better each day I practice. There is always something to work on. On the other hand, my least favorite thing about practice is waking up Monday, Wednesday and Friday mornings at 5:30 am. It's tough but you know it's for the best. Getting up and actually going to practice and actually jumping in the freezing cold pool is another one of my least favorite things. But once you're actually there and swimming, it's not bad.
2.) Is there a favorite drill or training routine that you like to do. Something that just gets you motivated?
Something that gets me motivated and pumped is probably racing the person next to me. No matter who it is, boy or girl, I love to race. So when the main set comes, especially if it's 50s or 100s or a lactate set, I'm always going to be ready to race. I also love fins. Going fast is really fun to me. And fins make you go really, really fast. So, I love fin sets.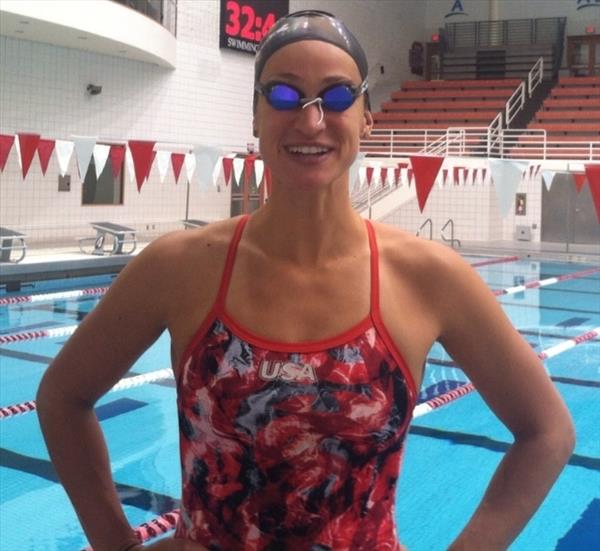 3.) What suit do you usually train in and give us any idea of any training accessories that you really like to use?
I really like one piece training suits with skinny straps. For that reason, I like the Arena Mast training suit. And like I said, I really like using fins. Fins are my favorite equipment to use during sets. Paddles are also fun. I prefer using any equipment verses nothing at all so I would take anything instead of nothing at all.
4.) What out-of-water training is your favorite?
WEIGHTS!! I don't know where I would be without them. I live in the weight room. I never miss a session and if I do, you know something is seriously wrong with me (haha). I just think it's fun. Seeing how much you can lift is exciting and it makes you feel strong. There are endless possibilities in the weight room and I think it kind of takes your mind off swimming.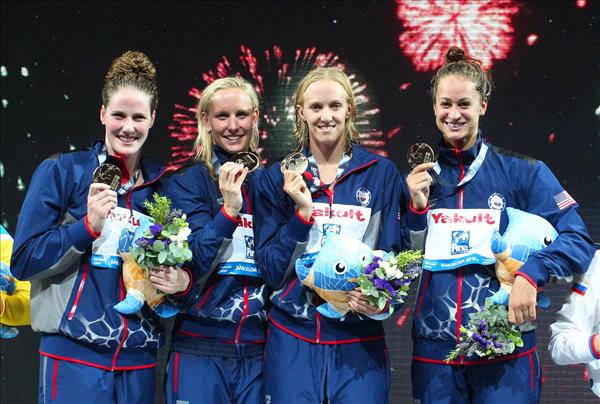 (c) RFEN 2011
5.) Talk about how tough (or not) it was mentally just missing the Olympic Team in 2012. Did it give you added motivation to train and take that next step?
Missing the Olympic team in 2012 was definitely one of the hardest things I've ever had to go through. It was tough as soon as it happened but I took it as a learning experience. As soon as the meet was over I took my frustration and turned it into positivity and went straight back to school, trained as hard as ever, and went to U.S. Open. With the times I swam at that meet, two weeks after Trials, I would've made the team in three different events. It is for sure always going to be in the back of my head but the past is the past and that's where I'm going to leave 2012 Olympic Trials. I'm looking forward to the future and I'm confidant things will work out. I'm a firm believer in the quote "everything happens for a reason."

6.) You made history with your anchor swim at 2013 Worlds to set an American record and win the 4x100m freestyle relay. What was the key for you leading up to the 2013 Worlds in terms of training and preparation?
I think that really it's just about getting up and racing. I personally don't think too much before meets or during meets. I just go out there and race. No matter how well or how badly I do, life is still going to go on. I've been swimming and training since I was 8 years old. The training will take care of itself. I've had enough experience underneath my belt to know what I need to do. I love to race and that's why I still do the sport. I enjoy it and I can't picture my life, right now, without it. Worlds 2013, especially that relay, with those amazing girls, was beyond words. The adrenaline I felt before jumping into the pool for that anchor leg was amazing and I look forward to doing it many more times.
Don't forget to leave a question or comment for Megan to answer at the bottom by October 28 and you'll be entered to win an Arena backpack!